School building conversion to housing and brownfield site decontamination in Vanier-Ottawa
Case Study prepared by Sara Farokhi-Boroujeni, Carleton University
Keywords: Brownfield, Adaptive-Reuse, Schools, Redevelopment, Community
LESSONS LEARNED
Le Saint Denis is an excellent example of sustainable renovation and and early silver LEED certificate for a retrofit project in Ottawa.
Residential intensification of vacant sites can have many positive economic, social, and environmental benefits to the surrounding neighbourhood and local economy.
A brownfields site with potential health hazards can also become a gem and transform to a sustainable unit.
Energy and other resources can be saved through retrofit and reuse of an existing structure. Capturing the embodied energy of the structure and the materials through reuse of buildings, in addition to some creativity and sustainable approaches can lower the cost of development and operation.
A site that otherwise, without remediation and clean up, would have been left vacant, generating limited tax revenue and being a target for vandalism and impacting neighbouring property values and standards, can be transformed to a safe, modern, and affordable residential center that even generates revenue.
The rehabilitation of an existing building and remediation of a brownfield site assists in meeting SGD goals of 6, 7, 8, 9, and 11.
This case demonstrates when condominiums are approached as the solution for an adaptive reuse and infill project in an area dealing with gentrification and high demand for houses. In this case, by providing a series of affordable units the buildings can be occupied with young professionals, empty nesters and single parents as owners rather than the building being purchased by non-occupant wealthier investors to be rented by the same people that could have been the owners, or to be torn down for higher density development.
This presentation was made in class on Dec.2, 2021. It was a brief summary of the main findings.
---
DESCRIPTION
Site history: Located on the 3.91-hectare property, formerly occupied by a steel and fabrication industry (Dominion Bridge), there are series of brownfields that have been either left vacant or built over years, including 345 Saint Denis and Nault Park that have been functioning as Park and School since 1957. As part of a (then) blooming industrial sector Dominion Bridge Company Ltd. set up a fabrication facility, along with series of other manufacturing and companies including sand and gravel, brick and concrete blocks, lumber, windows and doors, metalwork and fuel oil. Dominion helped build the Alexandria Bridge that stretches between Ottawa and Gatineau as well as the Minto Bridge which connects Maple Island and Green Island to the shore. Later in 1909 the villages merged to become Eastview (now Vanier) after a decision by the government of Ontario. With the Great Depression in 1933, and closure of the Canadian-Pacific rail line, which had served Vanier for more than 100 years, the industrial sector basically ended in 1960s. Beside all the positive effects in growth and development of the city, this industrial sector left us with a series of brownfield filled up with metal and industrial waste as well as underground furnace oil storage tanks as we saw in the case of 345 Denis St.
"The Phase II Environmental Site Assessment verified that the site (subsoil and groundwater) is contaminated with hydrocarbons from underground furnace oil storage tanks located immediately north of the building. This contamination is also suspected to be under the northeast portion of the building. Soil impacted with heavy metals in excess of Ministry of the Environment (MOE) standards was also discovered. The existing building contains asbestos on pipe wrap, in floor tiles and in plaster on the masonry. The quantity and severity of these contaminants is such that the property cannot be used for residential purposes without remediation and cleanup orencapsulation of the contaminated areas." (Report to Corporate Services, 2008)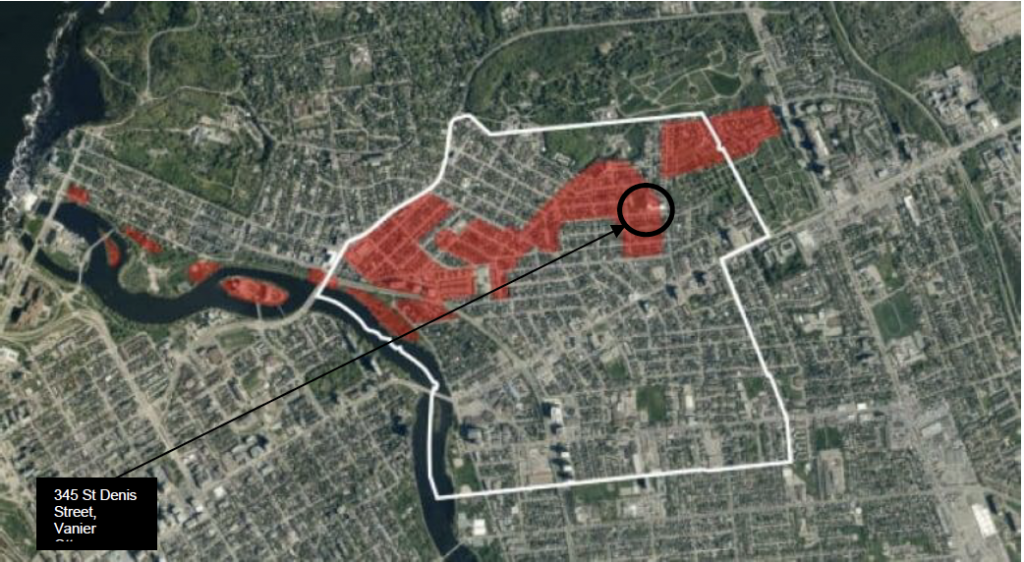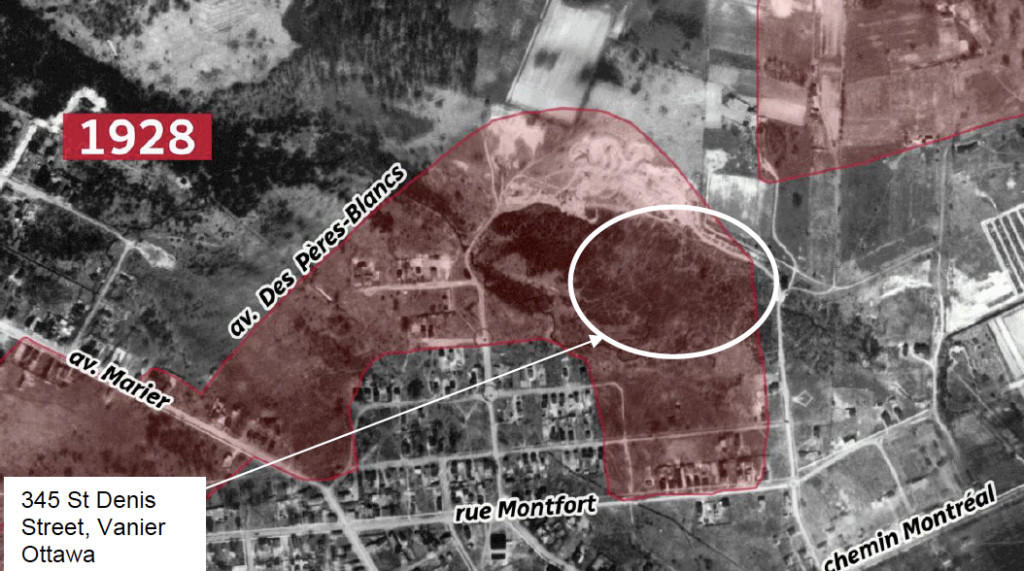 Building redevelopment: The City of Ottawa's overall smart-growth urban management objectives is based on placing less of an emphasis on the expansion of service boundary (into greenfields) and more on intensification on re already developed areas. Le Saint Denis, developed by Redevelopment Group in partnership with Gencon, is an infill condominium project, in response to the residential intensification and development of a brownfield with emphasis on restoration of existing structures, including restoration and reuse of former 1950s school (École Cadieux) near the Nault Park.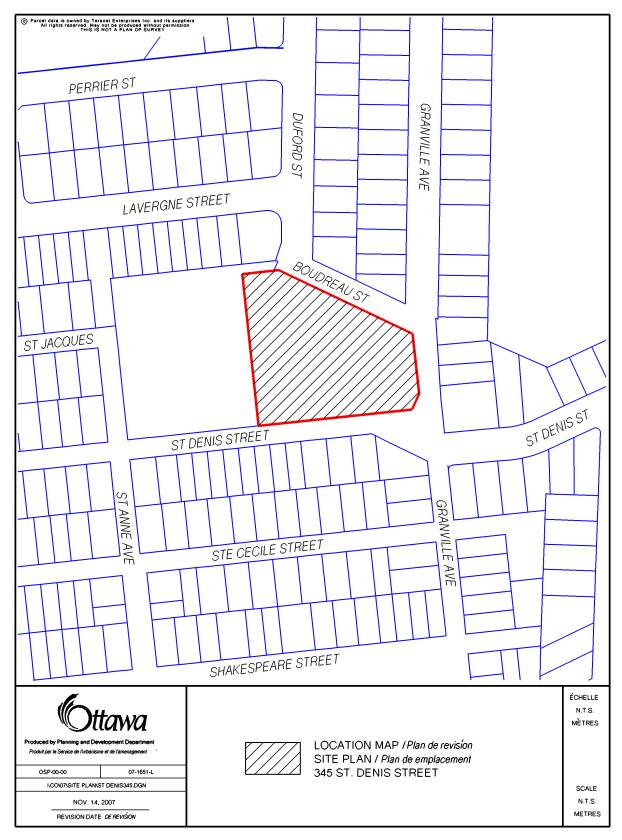 In order to achieve this goal, the ReDevelopment Group had to apply for a variance to change the zoning of the site from Public Use (PU) Zone to R3 – Residential Mixed Zone. As a result, a 3rd storey could be added to the existing two-story structure as well as a new structure known as the west wing could be built, complimenting the original design. The project created a 49-unit low-rise apartment building, in addition to the 19 new three-storey rowhouses in the former school yard called 'Janeville'. Eleven units face Boudreau Street and eight units face an internal private street that leads to a parking area. Other aspects of he project include a small parking area in the fronting St. Denis Street near the southwest corner of the apartment building in addition to the other parking available on site in response to the concern of the neighbours regarding visitor parking. This parking lot was initially hosting a couple of spots for a car share programme, which unfortunately was later removed from the site. Beside the efforts to keep the new condominium modern yet affordable for the neighborhood, the developer goals included to construct an environmentally sustainable building, which in fact was able to obtain a LEED Silver Certificate.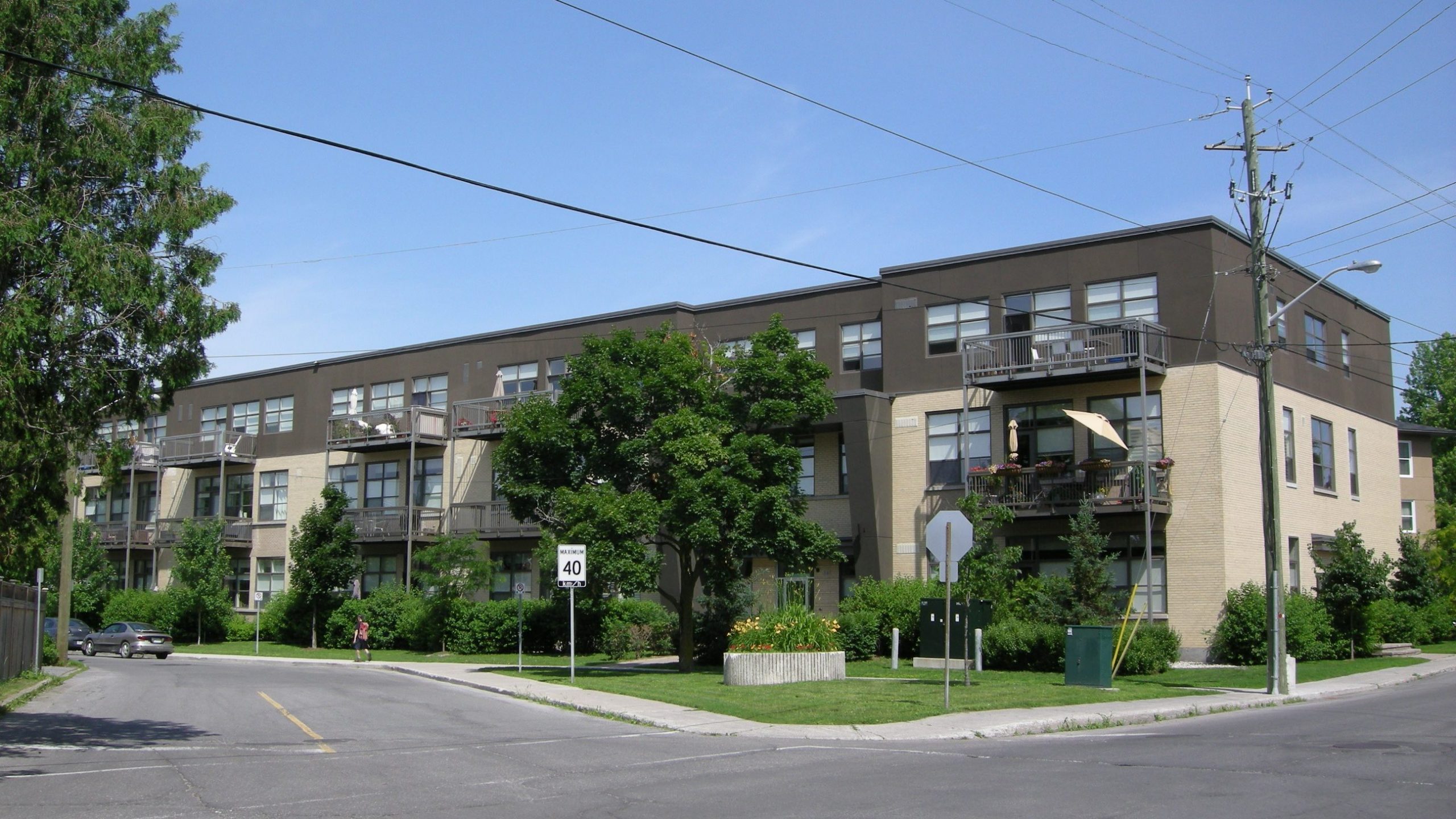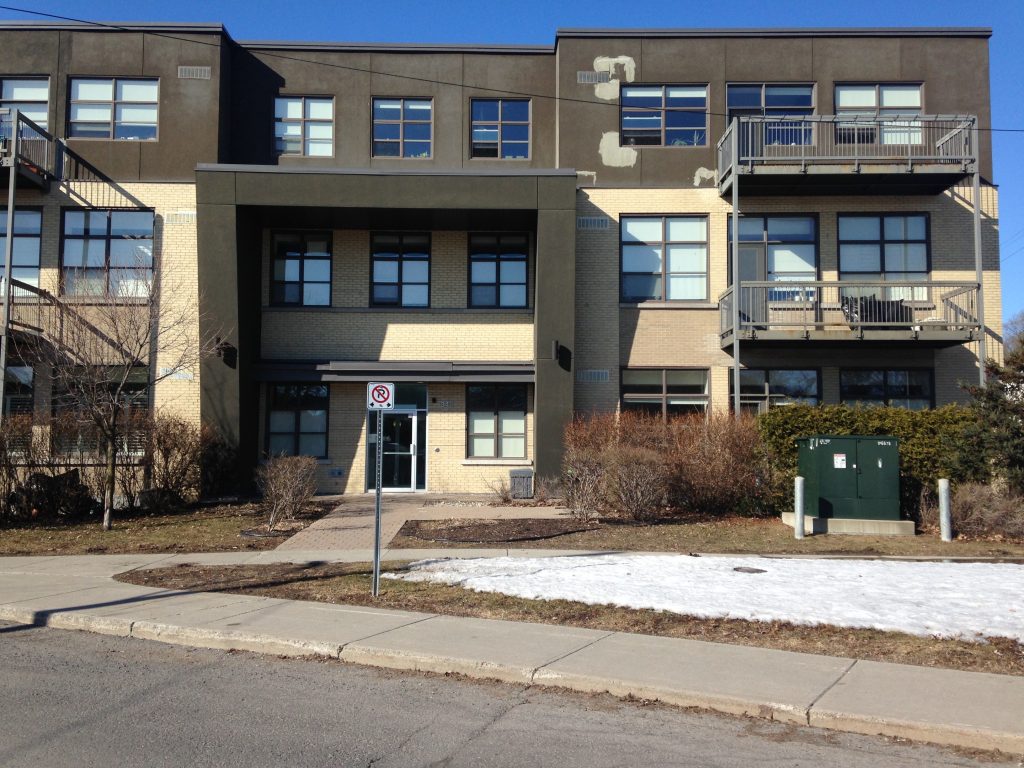 TIMELINE
The site has gone through various stages ever since it became an industrial sector and shaped the Eastview Village in 1900s. Eastview village was later renamed Vanier, which then merged with city of Ottawa in 2000.
Prior to 1957 Industrial landfills (the companies ceased operation during 1960s)
1957 School construction begins
1958 Opening of École Cadieux with 8 classrooms
1960 Addition of 9 rooms
1962 Addition of 4 room wing
1998 Brownfield landfill Redevelopment program program was launched and the site was listed as a brownfield
2006 School closed
2007 Property sold
2009 Construction
2014 LEED Certificate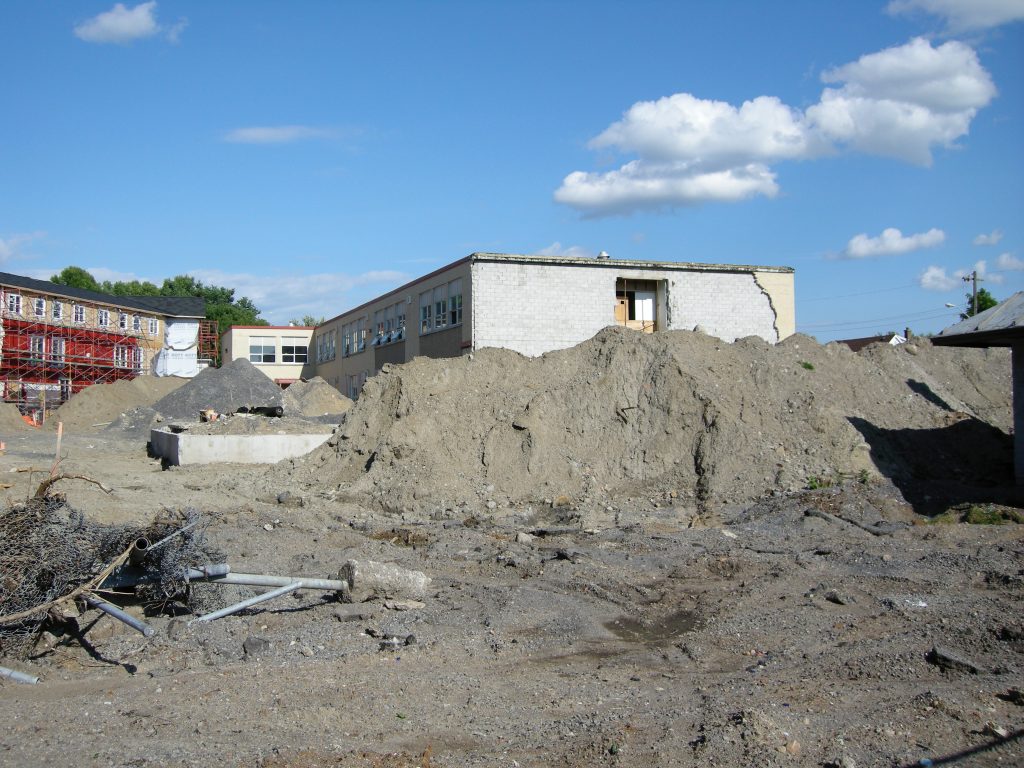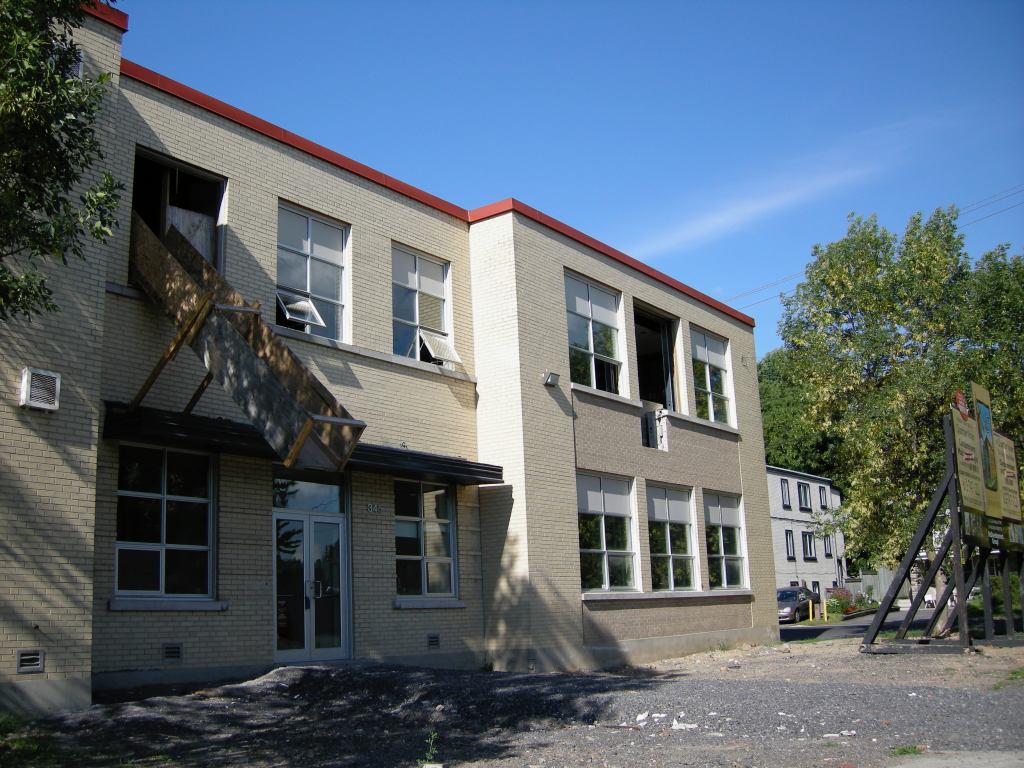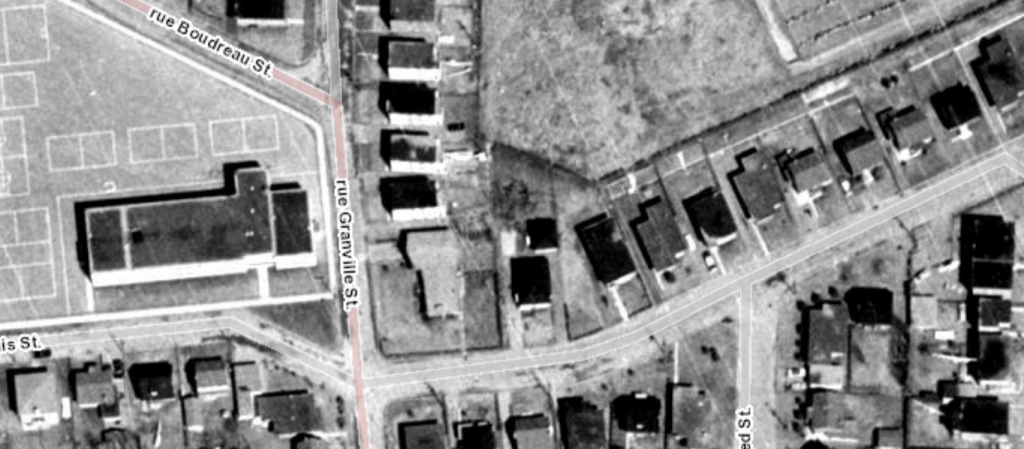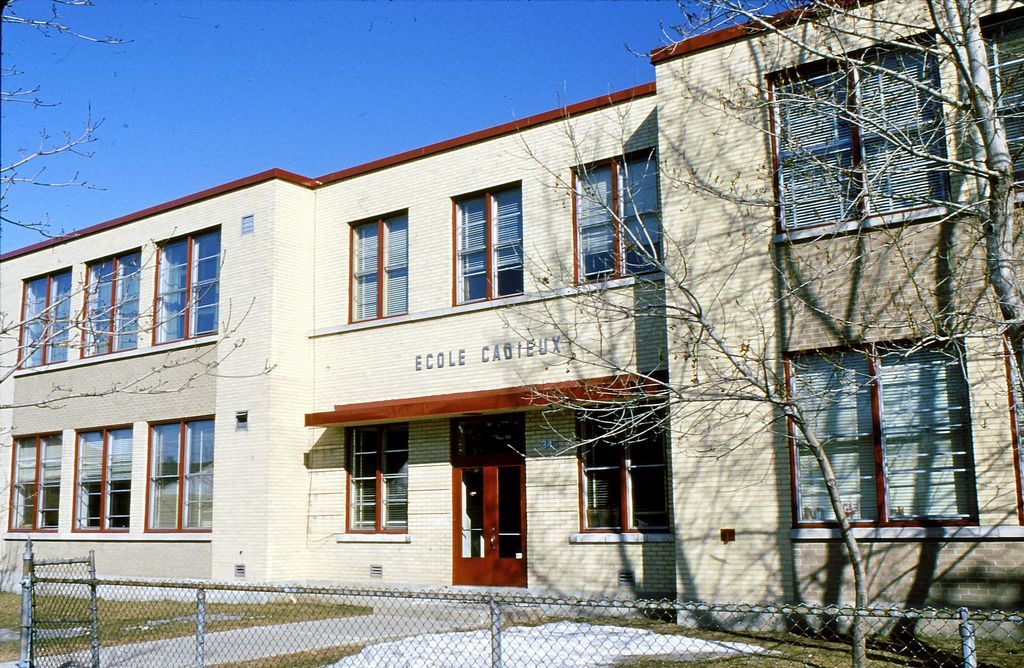 STAKEHOLDERS
Organizations:
City of Ottawa
Municipality of Vanier (pre-2002)
Ontario Ministry of the Environment (MOE)
Conseil des écoles catholiques d'Ottawa
Canada Green Building Council
Owners/users:
Current owner-residents of the housing
ReDevelopment Group (Builder)
Vanier community
Former school kids and staff
Consultants for the redevelopment:
Gencon Capital Resources Inc.
Golder Associates
Former senior Ottawa planner Dennis Jacobs
Environmental advocate Johnathan Westeinde
Liff & Tolot Architects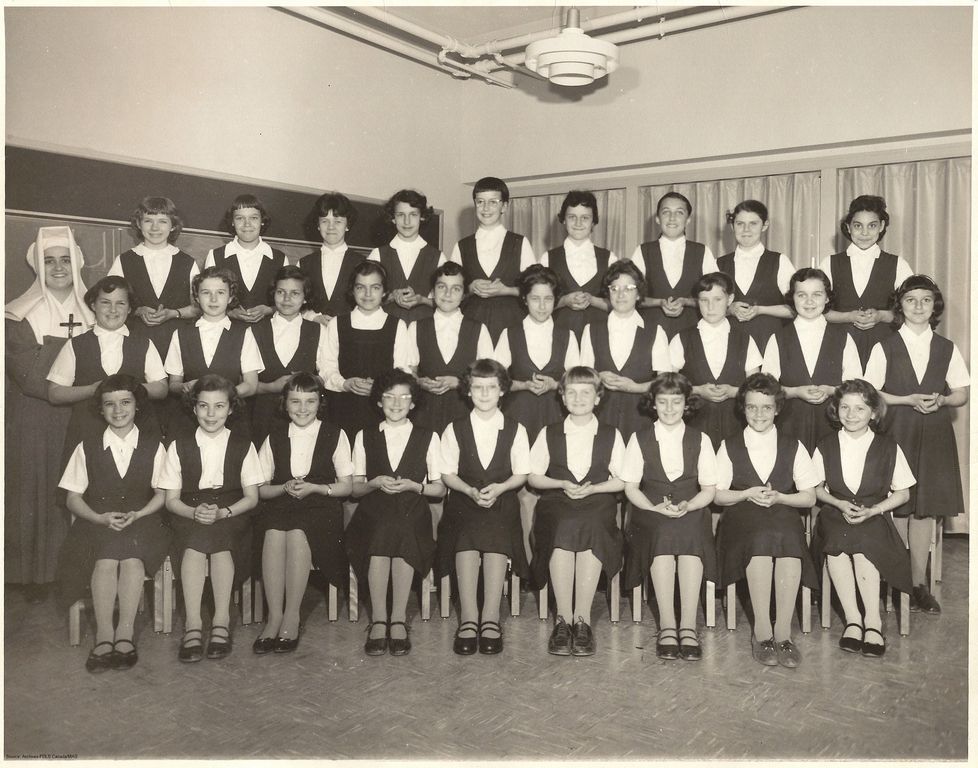 HERITAGE
Cultural heritage: As a former school, the site's historic and social values are associated with providing education for the younger kids through the the French catholic school board, which also had a role in uplifting the broader neighbourhood. Ottawa's School Heritage has many stories to tell, including of ongoing use, adaptive reuse and demolition. Vanier's schools have played an important role in the community, and many are still in use, while others are being adapted or sit empty.
As part of Vanier neighbourhood (previously Eastview) and its dynamic history over the past century, 'Le 345 Saint Denis' has different layers of heritage values. This includes from being an industrial hub and its association with the industrial functions, specifically the Dominion Bridge Company, to its association with francophone communities of the east part of Ottawa including Eastview village. The site also has a strong sense of place and contextual value as a place of education -performing as an school for over 5 decades- as well as its position and connection with Nault park. The rehabilitation project adapting to new housing, has been successful in preserving and safeguarding some of these values. The scale and massing of the project strengthens and compliments the neighbourhood's built fabric, which is currently a mixture of single detached houses, converted dwellings containing multiple units and small walk-up apartments. Redevelopment of the park and landscaping of the existing school and new infill, by providing although small yet private little gardens, yards and balconies for each unit, also contributes to preserving the low density character. By saving the existing structure, keeping the layout of the classes along the corridor, and preserving its connection to the improved public park, the site maintains many qualities of its former use.
The ReDevelopment group was also successful in providing a series of affordable condominium as an infill project to host the younger professional, empty nesters, and even a series of single mothers of Vanier, specially during the time that gentrification has become a hot topic for the area and neighbours where worried for the chance of a new high-rise with rental unites. And lastly with keeping the intangible values such as the name Janeville given to the newly added wing which is the original name of this largely francophone community.
SUSTAINABILITY
Environmental sustainability: Le Saint Denis not only demonstrates the ideals of sustainable development, but it also addresses the Environmental Strategy's policies. Located within a well-established neighborhood allows access to existing hard and soft services while also expanding the base of support for these services in the future. It is ensured that the whole project's environmental imprint will be minimized by attempting to attain a LEED standard.
As mentioned in the same report to Corporate Services and Economic Development Committee on 29 February 2008, the rehabilitation grant supported the redevelopment of the brownfield property while also ensuring that the contaminated land is adequately examined and remediated before development.
Brownfield redevelopment has been identified as a significant method for encouraging reinvestment in existing metropolitan areas while lowering the need for greenfield expansion. Brownfield site restoration and redevelopment contribute to the Environmental Strategy's goal of "clean air, water, and soil.
Social sustainability: Transforming a vacant property that otherwise without remediation and clean up, would have been generating limited tax revenue and being a target for vandalism and impacting neighborhoods values and standards. As well as providing affordable modern housing in oppose to the gentrification of the area and preparing targets for the investors with rental properties. Also, the attention and support for the adjacent park (Nault) to contribute to the betterment of the social life of the neighborhood.
Economic sustainability: The site rehabilitation and adaptive reuse of the École Cadieux not only had a great environmental and cultural impact on the future of the site and the community but also has been a great factor in the economical sustainability of the neighbourhood. The project had an overall economic impact estimated at $16.2 million in direct construction. Calculating direct impact as the revenue coming to the surrounding businesses and residents as the new job inventory, supply purchase, taxes, purchase of both construction supply and material and the daily spends through the crew in the neighbourhood. And the indirect would be the increase in the tax that will be invested in the area in future. As well as after occupancy, as there would be an injection of new goods and service spending in the businesses in the immediate area along Montreal Road as well as Beechwood Avenue. Both direct and indirect economic benefits to the local economy was calculated during the remediation and construction period through payroll, purchased material supplies and services and equipment rentals.
The economic benefits was approximately spanned over the estimated 10-month remediation and construction period and also after on a more sustainable bases. During the construction period (130 direct employment and 227-person indirect employment). (Report to Corporate Services, 2008)
MEASUREMENT
Leadership in Energy and Environmental Design (LEED): LEED is a rating system that provides a framework for developing green buildings that are healthy, efficient, and cost-effective. Different LEED rating methods are available based on the type of project, such as building design, interior design, building operation and maintenance, and so on (CaGBC, 2013). The ranking focuses on different critical aspects of both environmental and human health, such as Sustainable sites, water efficiency, energy and Atmosphere, Materials & Resources, Indoor Environment Quality, and Innovation & Design.
Le Saint Denis was rated using LEED Canada for New Construction and Major Renovations, achieving 33/70 points to obtain a LEED Silver Certification. If not the first, it is one of earliest adaptive reuse projects in Ontario to achieve LEED-Silver certification. As shown in the LEED scorecard in Table 1, La Saint Denis achieved points in the Sustainable sites, Water efficiency, Energy and Atmosphere, Materials & Resources, Indoor Environment Quality, and Innovation & Design.
Le Saint Denis Score Card LEED Canada – N C 1.0 Revitalization and Major Renovations 33/70 Points & Silver Rating achieved (CaGBC #11027, 2014)
Category

Mandatory Prerequisites and Credits Achieved

Sustainable Site:
7 Points Achieved out of 14
Redevelopment of Contaminated Site Alternative transportation, Public Transportation Access Alternative transportation, Bicycle Storage & Changing Rooms Alternative transportation, Parking Capacity Heat Island Effect, Roof Light Pollution Reduction
Water Efficiency:
4 Points Achieved out of 5
Water Efficient Landscaping, Reduce by 50% Water Efficient Landscaping, No Portable use or No Irrigation Water Use Reduction, 20% Reduction Water Use Reduction, 30% Reduction
Energy & Atmosphere: 7 Points Achieved out of 17
Optimize Energy Performance Best Practice commissioning Ozone Protection Green Power
Material and Resources:
6 Points Achieved out of 14
Construction Waste Management: Divert 50% from landfill Construction Waste Management: Divert 75% from landfill Recycled Content: 7.5% (post-consumer + ½ post-industrial) Recycled Content: 15% (post-consumer + ½ post-industrial) Regional Materials: 10% Extracted & Manufactured Regionally Regional Materials: 20% Extracted & Manufactured Regionally
Indoor Environmental Quality:
6 Points Achieved out of 15
Construction IAQ Management Plan: Durring Construction Low-Editing Materials: Adhesives & Sealants Low-Editing Materials: Paints and coating Low-Editing Materials: Carpet Indoor Chemical & Pollutant Source Control Thermal Comfort: Compliance with ASHRAE 55-2004
Innovation & Design Process:
3 Points Achieved out of 5
Innovation in design: Exemplary Performance: Water Use Reduction Innovation in design: Exemplary Performance: Recycled Content LEED Accredited Professional
United Nations Sustainable Development Goals (SDGs)
The sustainable development goals (SDG) can be used as another measurement tool for this case study. Developed in 2015 SDGs are guidelines to achieve more a sustainable future for all now targeting year 2030. As shown in Table 2, based on the attributes of La Saint Denis Project I have chosen the following SDGs that help achieving or at least move forward the targeted goals 6, 7, 8, 9, and 11. The areas affected include Clean Water and Sanitation based on the decontamination of the land and prevention of further polluting the soil and underground water. education and sustainable cities and communities respectively. As well as use of energy efficiency building system such as solar shades or energy efficient appliances and fixtures. In addition to supporting the local businesses and providing affordable safe residence. And lastly as mentioned a sustainable approach in all three areas of sustainability (Environmentally, Socially and Economically) and an overall improvement of urban lot from a vacant brownfield to an affordable infill project through an adaptive reuse approach.
SDGs related to Le Saint Denis United Nations Sustainable Development Goals (SDGs):
| | |
| --- | --- |
| 6. Ensure availability and sustainable management of water and sanitation for all | Targets: 6.3 By 2030, improve water quality by reducing pollution, eliminating dumping and minimizing release of hazardous chemicals and materials, halving the proportion of untreated wastewater and substantially increasing recycling and safe reuse globally 6.4 By 2030, substantially increase water-use efficiency across all sectors and ensure sustainable withdrawals and supply of freshwater to address water scarcity and substantially reduce the number of people suffering from water scarcity |
| 7. Ensure access to affordable, reliable, sustainable and modern energy for all | Targets: 7.2 By 2030, increase substantially the share of renewable energy in the global energy mix 7.3 By 2030, double the global rate of improvement in energy efficiency |
| 8. Promote sustained, inclusive and sustainable economic growth, full and productive employment and decent work for all. | Targets: 8.1 Sustain per capita economic growth in accordance with national circumstances and, in particular, at least 7 per cent gross domestic product growth per annum in the least developed countries 8.2 Achieve higher levels of economic productivity through diversification, technological upgrading and innovation, including through a focus on high-value added and labour-intensive sectors |
| 9. Build resilient infrastructure, promote inclusive and sustainable industrialization and foster innovation | Targets: 9.1 Develop quality, reliable, sustainable and resilient infrastructure, including regional and transborder infrastructure, to support economic development and human well-being, with a focus on affordable and equitable access for all |
| 11. Make cities and human settlements inclusive, safe, resilient and sustainable | Targets: 11.1 By 2030, ensure access for all to adequate, safe and affordable housing and basic services and upgrade slums 11.2 By 2030, provide access to safe, affordable, accessible and sustainable transport systems for all, improving road safety, notably by expanding public transport, with special attention to the needs of those in vulnerable situations, women, children, persons with disabilities and older persons 11.2 By 2030, enhance inclusive and sustainable urbanization and capacity for participatory, integrated and sustainable human settlement planning and management in all countries |
Works Cited
Articles
Bullen, Peter A., and Peter E.D. Love. "The Rhetoric of Adaptive Reuse or Reality of Demolition: Views from the Field." Cities, vol. 27, no. 4, 2010, pp. 215–224., https://doi.org/10.1016/j.cities.2009.12.005.
Kurose, Takefumi. "Review of Area-Wide Approach for Brownfield Revitalization: Case study in New York State Brownfield Opportunity Area." Nihon Kenchiku Gakkai keikakukei ronbunshū, vol. 80, no. 709, Architectural Institute of Japan, 2015, pp. 651–60, doi:10.3130/aija.80.651.
Reports, policies
Websites, news stories
"Through Developer's Eyes: Le StDenis by ReDevelopment Group," VanierBlogspot, 2012.
Belovic, Natalie. "Le Saint Denis Aims for Silver." Together for Vanier.
CBC News. "Live in Vanier? Your home might be on top of a dump."
Gloucester History. "Gloucester School section, The History of Gloucester Schools."
Kaul, Shivani. "Adapting Schools for New Educational Purposes." Ottawa School Heritage, 26 Oct. 2020.
Jones, Danielle. "32. Guigues School: Centre De Services Guigues." Heritage Ottawa, 19 July 2018,
Langston, Patrick. "André is back, living where he went to school five decades ago." Ottawa Citizen.
Ross, Susan. "Three Schools in Vanier." WASTE HERITAGE RESEARCH: Deconstruction, Salvage & Re-Use, 21 June 2021.