Rehabilitation of a Heritage Monastery: Le Monastère des Augustines, Québec City, Québec
Case study prepared by Emily Higginson, Carleton University
Keywords: Monastery, holistic health, rehabilitation, caregiving, cultural heritage
Lessons Learned
Le Monastère des Augustines of Québec City, Québec, is an admirable example of the rehabilitation of a heritage building that fluently encompasses the tangible and intangible heritage of the Augustinian religious order, by integrating and transforming their mission for the current day. The case study demonstrates how a religious group like the Augustinians—which has seen a sharp decline in relevance in the current day—can transform and transmit their own cultural heritage and keep it alive and vibrant for the next generations, in an innovative way. For over 350 years, the Augustinians practiced a culture of caregiving, spirituality, sustainability, and social commitment. Their mission of caring for the sick has transformed to self-care and responsibility for those who take care.
The revitalization of a historic religious site into a hospitality facility takes advantage of an awe-inspiring building that might otherwise have gone unused. The research has demonstrated that adaptive reuse is more sustainable in the long-term (Elefante 67). Reuse of this historic site not only sustains the embodied carbon offset but allows for the continuation and conveyance of the social mission of the original inhabitants.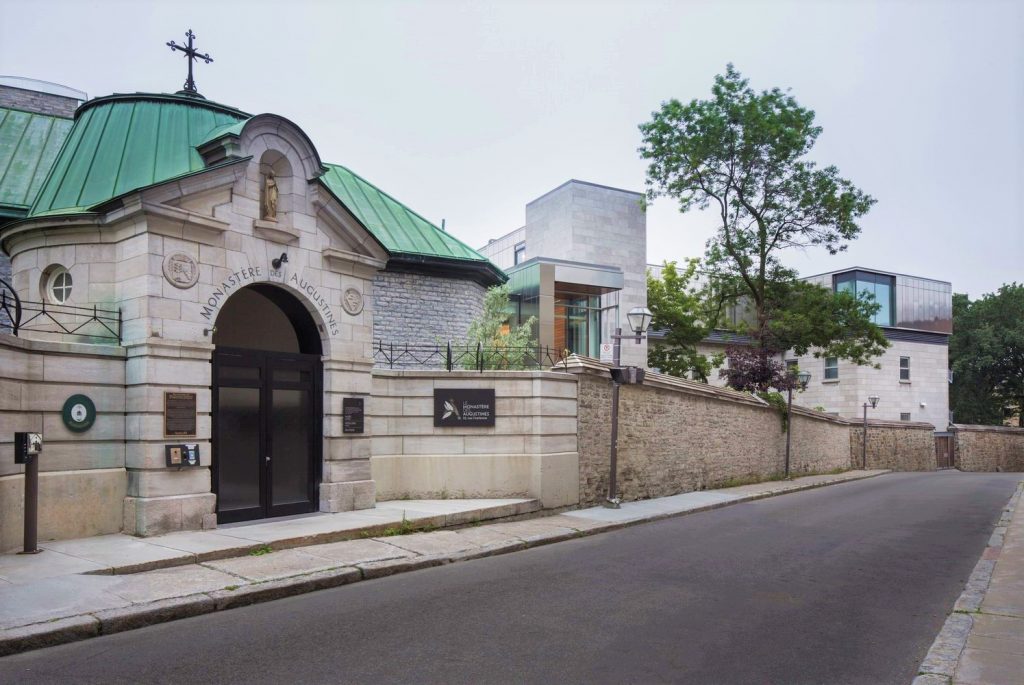 The incorporation of the Augustinian sisters' healing knowledge in a historic setting contributes to individual and community self-care and healing in a sustainable and holistic way. Through this site, those seeking relief from a stressful world can find spiritual connection or mental restoration in a non-denominational setting. The historic building and museum participate in an important part of wellness and self-care—the bridging of past and present enables guests to visualize the intention of the hotel's mission (Kim & Yang 809). The carefully curated collection of Le Monastère acts as a "key mediator" between hotel guests and the holistic wellness concept initiated by the Augustinian sisters (Kim & Yang 809). Authentic rooms (the original nuns' cells), meditation spaces, and the display of historical objects and furniture (both in the museum and in use in the hotel), help to create a space that allows for quiet, healing, perspective, and recovery without distraction (Kim & Yang 809). Staying in a historic monastery is unique and immersive, where guests are confronted with the lived experience of the Augustinian sisters. The hotel's origin as a space of meditation, healing, and quiet reflection promotes its current mission and the inherent spiritual and peaceful qualities of the building provide an atmosphere of deep reflection and self-care (Kim & Yang 810).
Presentation
The attached presentation offers an introductory summary of the case study's key points and initial findings. It was presented in class on November 24th, 2022.
Description
Le Monastère des Augustines of the Hôtel-Dieu de Québec was founded by the Augustinian Order in 1639 in Québec City, Québec. Three Augustinian nuns travelled from France to Canada to establish the monastery and hospital, and for nearly four centuries, it has been run by the Augustinian order, who founded 11 other monastery-hospitals in Québec (Simard; Provencher St. Pierre 53-4).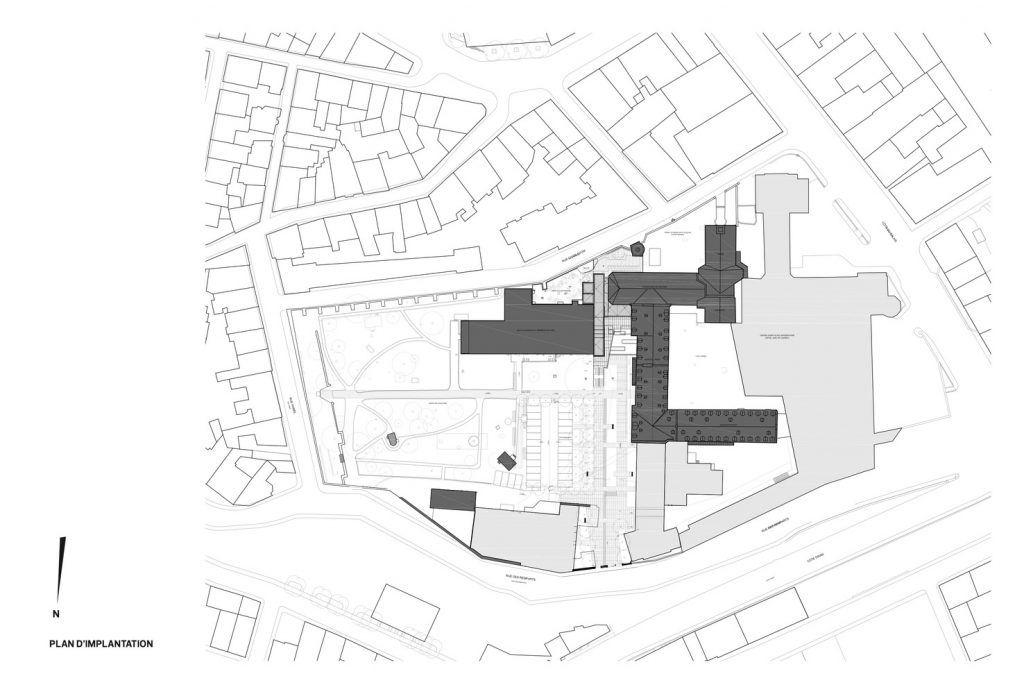 As caretakers of a unique cultural heritage, both tangible and intangible, and witnessing the religious decline in Québec, the Augustinian sisters decided to preserve their mission and traditions by creating the "Fiducie du patrimoine culturel des Augustines," or the Augustinian Cultural Heritage Trust (Provencher St. Pierre 55). A social utility trust, it highlights "the memory and heritage of Québec's Augustinian sisters for the entire population and future generations" ("Fiducie"). Ownership of Le Monastère was transferred to the Trust, the monastery was carefully rehabilitated, and the site opened to the public. Their institutional statement, which carefully summarizes their mission, is as follows:
"Through its cultural and social vocation, Le Monastère des Augustines bears witness to the way of life, as well as the social and spiritual works, of the Augustinian Sisters in this country. Inspired by the fervour and compassion that motivated the sisters, it continues to function as a place of welcome, hospitality, memory, rest, and renewal" ("Le Monastère").
Since 2015, Le Monastère des Augustines has offered healing and wellness programs, stays in traditional monastic rooms in the nuns' original cells, special support offerings for caretakers, therapy workshops, and healing foods, all within a monastic heritage setting (Kim & Yang 805; "Le Monastère"). Le Monastère has been an active member of the Association of Healing Hotels of the World and the Wellness Tourism Association since 2015 (Kim & Yang 805). It offers a broad range of wellness initiatives, from yoga, qigong, and meditation to art therapy workshops and respite stays, all within a non-denominational setting (Kim & Yang 805; "Le Monastère").
Timeline
| | |
| --- | --- |
| Date | Event |
| Time Immemorial – Present | The land encompassing what we now call Quebec City is the traditional and unceded territory of the Huron-Wendat (Wendake-Nionwentsïo) and Innu (Nitassinan) Nations ("Native Land"). |
| 1639 | The Augustinians of the Mercy of Jesus arrive in New France to found the Hôtel-Dieu de Québec (Simard; Provencher St-Pierre 53). |
| 1644 | The Augustinians moved to the hospital and monastery's current location in downtown Québec City (Simard; Provencher St-Pierre 53). |
| 1755 | The monastery and hospital were almost completely destroyed by a fire (Simard). |
| 1756-1758 | The monastery and hospital were rebuilt and restored (Simard). |
| 1936 | The Hôtel-Dieu de Québec (including Le Monastère des Augustines) was designated a National Historic Site of Canada (Canada's Historic Places). |
| 1990 | The Canadian Heritage Information Network analyzed the collection of Monastère des Augustines. At that time, they found that little documentation on the collection existed (Provencher St-Pierre 58). |
| 2000 | The Augustinian religious community decided to assemble the archives and collections from their 12 monasteries in one place and disseminate this information (Simard). |
| 2003 | Classified a historic site through the Quebec Cultural Heritage Act ("La Fiducie;" Simard). This included the classification of four archives and more than 700 objects from the Hôtel-Dieu Monastery (Provencher St-Pierre 54). |
| 2009 | The "Fiducie du patrimoine culturel des Augustines" was founded (Provencher St-Pierre 54). |
| 2013 | Augustinian nuns transferred ownership of the Monastery to the Fiducie (Provencher St-Pierre 54). |
| 2013-2015 | Archaeological digs undertaken at the Monastery (Artefactuel). |
| 2012-2015 | Rehabilitation of the Monastery (ABCP Architecture; RAIC). |
| 2015 | Monastery opened to the public as a heritage complex including a hotel, restaurant, archives centre, and museum (Provencher St-Pierre 54). |
| 2019 | Signatory of the Social and Solidarity Economy Commitment as an actor in social innovation ("Le Monastère"). |
RightsholDERS AND Stakeholders
Organizations
La Fiducie du patrimoine culturel des Augustines (Augustinian Cultural Heritage Trust): A social trust and charitable organization, it preserves the Augustinians' cultural heritage. The population of Quebec is the main beneficiary.
Centre Catherine-de-Saint-Augustin (The Catherine-de-Saint-Augustin Centre): A sister organization to the monastery, this centre commemorates Catherine de Saint-Augustin who worked at the monastery until her death in 1668. She was beatified by Pope Saint John Paul II in 1989 and is considered one of the co-founders of the Catholic church in Canada ("La Fiducie").
Augustines de la Miséricorde de Jésus: La Fédération des Monastères: A Federation of six monasteries that uphold the spiritual tradition of the Augustinians ("The Federation").
Partners and Public Donors:
Government of Canada
Government of Québec—Santé et Service Sociaux Québec (Ministry of Health and Social Services)
City of Québec
Partners and Private Donors:
L'Appui pour les Proches Aidants: Caregiver support in Québec.
La Fondation Virginia Parker: The first donor from the private sector to support the project of Le Monastère des Augustines ("Le Monastère").
Cossette: A branding company that collaborated in the visual identity of Le Monastère ("Le Monastère").
Owners/users
Québec community: The Augustinians transferred ownership of their monastery and collection to the Augustinian Cultural Heritage Trust to ensure the transmission of their cultural and material heritage to the population of Québec.
Global community: Le Monastère is now a non-denominational hotel space open to visitors from any faith, background, or community.
Rights holders
Québec City and Le Monastère were built on unceded land traditionally occupied by the Huron-Wendat (Wendake-Nionwentsïo) and Innu (Nitassinan) Nations ("Native Land").
The Augustinian Cultural Heritage Trust (La Fiducie du patrimoine culturel des Augustines) primarily controls the site. It is the Trust's mission to protect and preserve the Augustinians' legacy and to make it accessible to the public. Among the Trust's primary achievements, it undertook the monastery's extensive rehabilitation project and now ensures the site's maintenance. It also ensures the preservation of the monastery's collections and archives and highlights the heritage value of the monastery through ongoing consultation with the Augustinian sisters. 100% of donations go directly to the social and cultural mission of the Augustinian sisters ("La Fiducie").
Heritage
Cultural Heritage: Monasteries traditionally being places of rest, retreat, and spiritual growth (Kim & Yang 803), Le Monastère encompasses these values and presents itself as a holistic, non-denominational health retreat grounded in the traditional historical and cultural heritage of the Augustinian sisters. The Augustinians realized that their rich cultural heritage was at risk with widespread religious decline in Québec, and so they elected to ensure the transmission of their cultural heritage through the creation of a heritage complex that includes a hotel, museum, and archives (Provencher St-Pierre 53).
Museum and archives: The monastery's museum and archives began development in 2003 after bringing together the artifacts and archives of the 12 Augustinian monastery-hospitals in Québec and housing them under one roof at Le Monastère des Augustines (Robitaille 5). The collection is comprised of over 40,000 artifacts and one linear kilometre of books, documents, and archival records (Robitaille 5; "Le Monastère").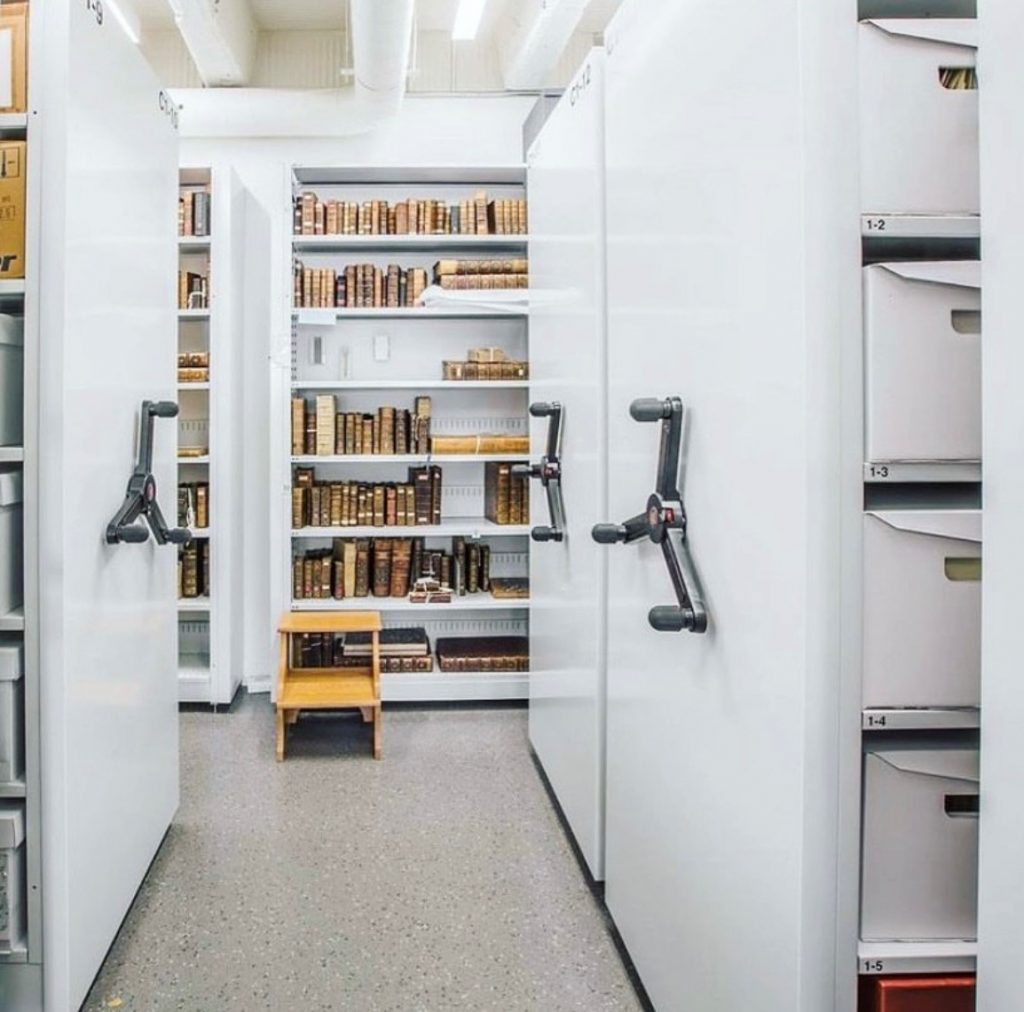 The museum houses a permanent exhibit that showcases the development of the Augustinian sisters in their mission to provide care in Québec ("Le Monastère"). Temporary exhibits are also offered. At the time of this writing, the museum offers an exhibit entitled "Re-Cueillir," or "Re-Connect," which is "based on the theme of renewal" ("Le Monastère"). This exhibit offers the visitor a sensory experience using museo-therapy that displays objects and archives and delves into the history of renewal cultivated by the Augustinian nuns ("Le Monastère").
Most of the objects that were not incorporated into the museum's collection were retained and re-used in the hotel (Provencher St-Pierre 64). Original furniture such as chairs, wardrobes, bureaus, and side tables furnish the "authentic rooms," the rooms inspired by the cells of the nuns. Chairs, benches, and small tables furnish the restaurant and entrance hall. It was considered a fitting use for these everyday objects to continue to be used in a heritage hotel context—as witnesses to the everyday life of the Augustinian sisters, they can enrich the visitor's experience through their presence (Provencher St-Pierre 64).
Archaeological heritage: In 2013-2015, archaeological excavations took place at Le Monastère, carried out by Artefactuel, a cooperative of archaeological consultants ("News"). They worked inside the monastery during those three years respecting the project's construction schedule. The archaeologists used archival plans and writings from the monastery to delineate their work areas. Many discoveries were made regarding the site and the history of the nuns' lives there, including confirmation of the fire in 1755; the discovery of a previously unknown cistern that was used to hold water and, as soap residues testify, for laundry at one stage; and the discovery of a network of water pipes that would have been vital to the nuns' work in the hospital and monastery ("News").
Heritage Value: Le Monastère was designated a National Historic Site of Canada in 1936 (Canada's Historic Places). According to Canada's Historic Places, the heritage value of the site is associated with two main features: firstly, the Hôtel-Dieu de Québec (of which the monastery is a part) being the first permanent hospital established in North America north of Mexico, and secondly, the Augustinian sisters themselves, establishing the site, living, and working there for over 350 years, all with the intention of alleviating human suffering (Canada's Historic Places).
Natural Heritage:
One of the character-defining elements of Le Monastère is "the landscape features, including the walled cemetery, garden and cloister" (Canada's Historic Places). The rehabilitation of the site included the re-establishment of two important natural heritage features original to the monastery—the cultivation of medicinal plants and the reintroduction of honey bees.
Most notable is the restoration of the original herb garden, where medicinal plants are grown for use at the site. In 2017, in collaboration with Laval University and the Huron-Wendat Nation, Le Monastère re-created the medicinal garden in the Apothecary's Courtyard, the central courtyard of the monastery (Dessureault). A combination of native and European medicinal plants were sown, chosen through research into the nun's original garden and use of medicinal plants at the hospital and monastery (Dessureault; Hodgson). The first nuns primarily treated patients with readily available medicinal plants that could be cultivated on-site. The garden would have been taken care of by a nun experienced in medicines, an apothecary (Hodgson). The current garden was planted with approximately 23 plants that the Augustinian nuns would have originally grown, including plants native to Europe in the 17th century, as well as plants native to Québec that would have been introduced by the local Indigenous population (Hodgson).
In addition, the Augustinian nuns originally kept bees at Le Monastère starting in the 1800s. By 1929, they had accumulated about 45 beehives which produced over 1,000 pounds of honey ("Le Monastère"). In 2019, two hives provided by Alvéole were installed at the rehabilitated monastery as part of an urban beekeeping initiative ("Le Monastère"). The honey is used in the kitchen and the hospital and is sold at markets to the local community ("News").
Sustainability
Environmental Sustainability. Integrating the mission of Le Monastère, environmental sustainability is one of the "guiding principles" of the project.
From 2012 to 2015, Le Monastère underwent a $42 million rehabilitation project that combined the historic structure with modern additions. A great concern for environmental sustainability is reflected in the rehabilitation (Garon). To respect the heritage character of the buildings, the rehabilitation had to be inconspicuous, therefore many resourceful solutions were implemented (Garon).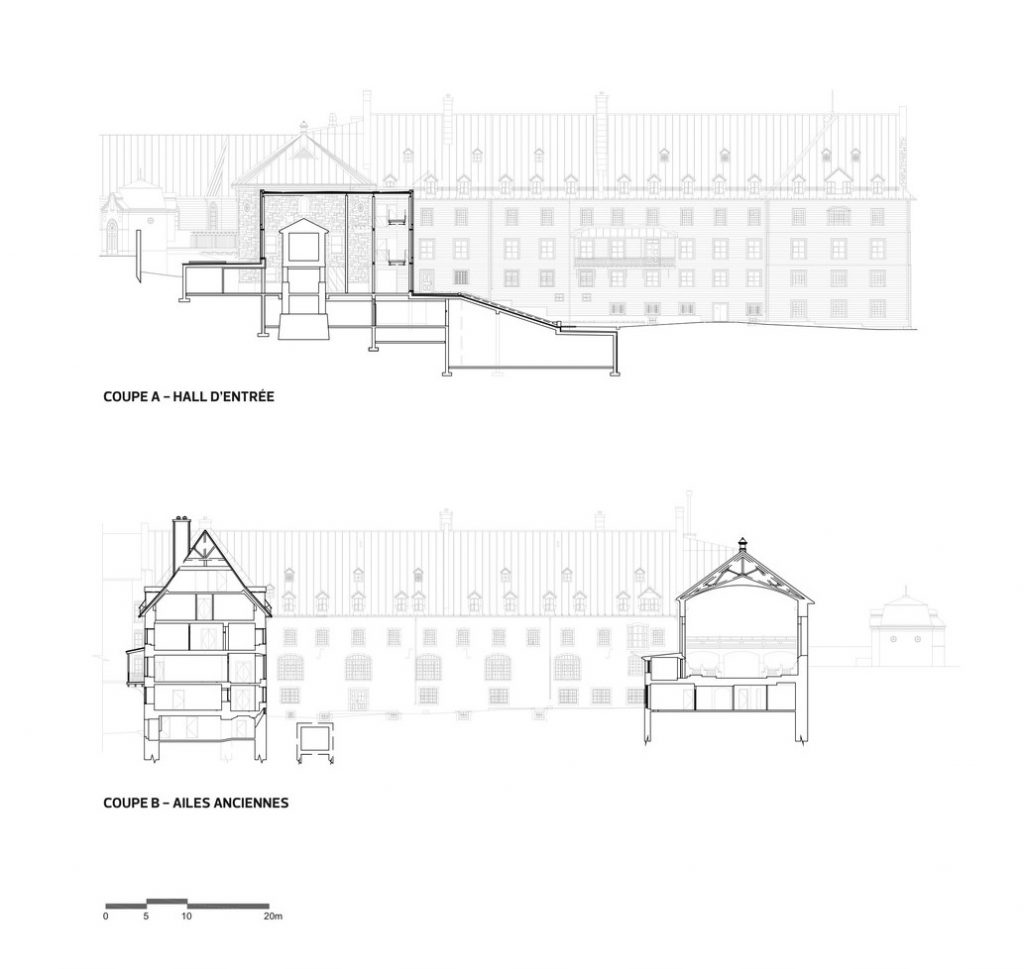 The building underwent many interventions while minimizing demolition and maximizing the salvage of existing building elements. The project included the restoration of the roofs and facades of the old wings, window repairs, structural repair, bringing the building up to mechanical, electrical, and plumbing standards, restoration and redevelopment of interior spaces such as the vaults and the attic, conversion of the nun's cells to contemporary rooms, restoration of finishes and built-in furniture, landscaping, and some demolition of ancillary buildings (Garon). All floor and ceiling finishes were removed to accommodate piping and wiring, and were carefully salvaged, numbered, and reinstalled (Garon). Furthermore, local, high quality, durable materials were incorporated, LED lights and motion sensors were installed, and low VOC glues, solvents and paint were used ("Le Monastère").
To maximize energy efficiency and cost savings over time, a geothermal heating and cooling system was installed, which required the installation of geothermal wells beneath the parking lot (Garon). Engineers had to be clever with the installation of electromechanical interventions. Fireplaces and stairwells were used for ventilation ducts, and a mechanical room was set up in the attic. Thermal wheels were incorporated into the system to recover heat, and moving air provides ventilation. The uninsulated masonry walls also aid in temperature calibration—for example, the 10-metre-high glazed wall surrounding the structural walkway is moderated by radiant air conditioning (Garon). By not modifying the building envelope and by retaining the single-pane windows, the engineers were able to maintain the existing dew point within the building, therefore maintaining the inherent durability of the building structure (Garon). They were even able to maintain museum conditions in the exhibition space (Garon).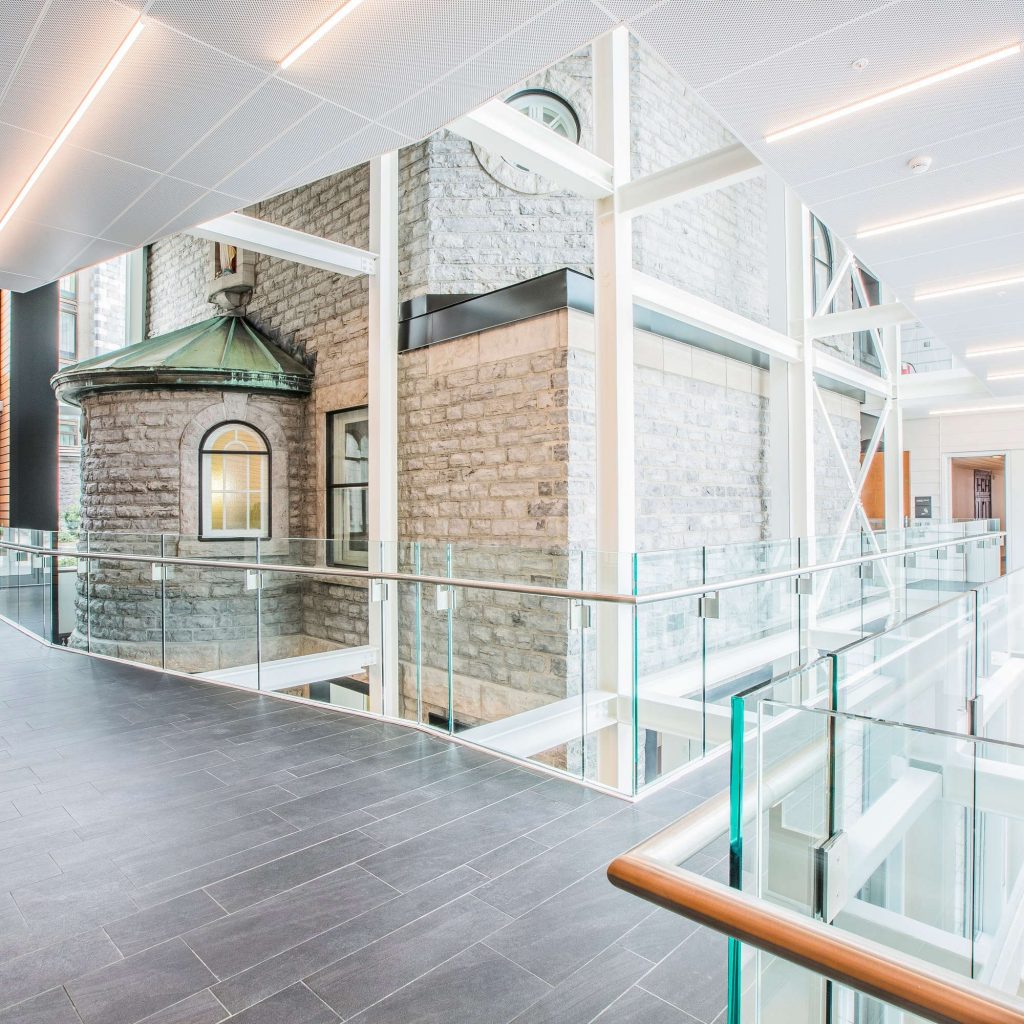 The oldest foundations in North America were discovered at the site planned for the main mechanical room. To preserve them, a new plan quickly had to be adapted and a new space was dug out of the rock in the basement, while still respecting the heritage character of the site (Garon).
Because of its design, materials of construction, and embodied energy and carbon, Le Monastère is a significant example of "the greenest building… is the one already built" (Elefante 67). The materials used at Le Monastère—such as exterior masonry, metal roofs, and wood framing and finishes—have low recurring embodied energy, which is the energy required to maintain, repair, restore, and even clean the materials (Carroon 8). Because of its age, the embodied energy and carbon of Le Monastère—being the energy associated with raw materials, production, and assemblage of these materials—has already been offset. Subsequent restoration and repairs of the buildings will contribute to this offset, lowering the "environmental debt" of the building by avoiding new construction costs (Carroon 7).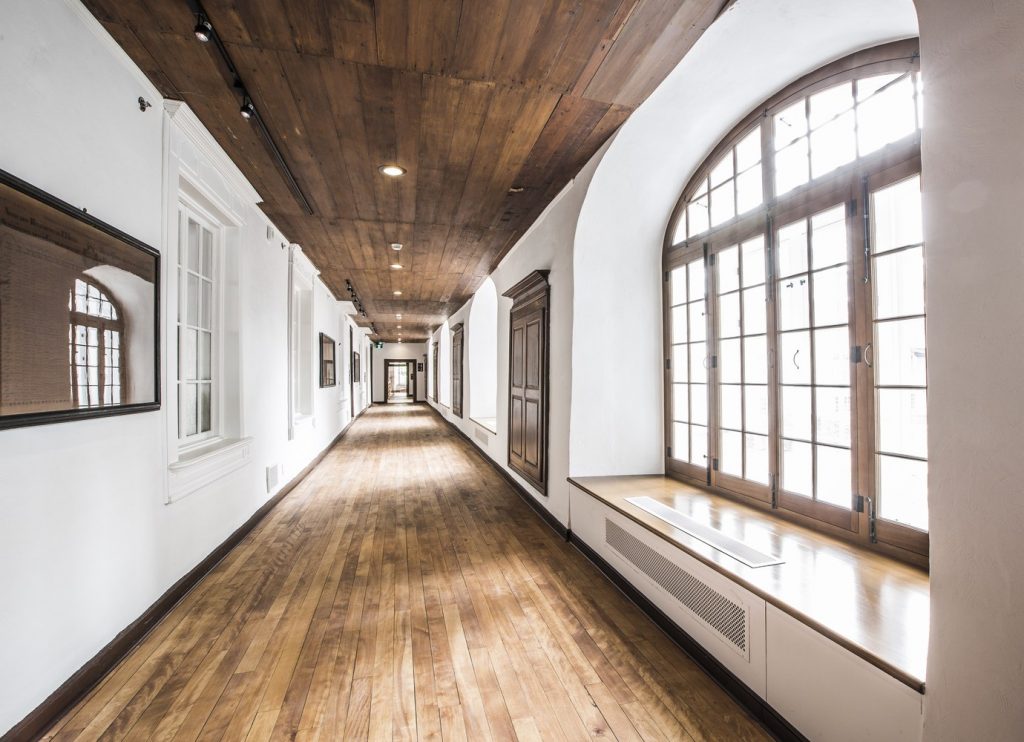 Additionally, Le Monastère incorporates other environmental sustainability initiatives such as a 3-way waste management system that includes composting, recycling, and waste, the installation of a garden and two beehives (an urban beekeeping initiative established by Alvéole), the installation of an electric car charging station in the Monastery parking lot, and purchasing and practices to avoid over-packaging ("Le Monastère").
Socio-Cultural Sustainability
The social and cultural sustainability of Le Monastère are fundamentally intertwined. Through its cultural legacy of providing care and healing, Le Monastère is committed to offering programs and initiatives that support caregivers, healthcare workers, and health workers in social services, community, and education, as well as those accompanying the sick in the hospital next door. Le Monastère believes that by tending to the well-being of caregivers first by encouraging self-realization and action, this will influence their ability to care for others and in turn influence others to act toward change and well-being. In this way, Le Monastère hopes to inspire a social movement for individual and collective healing and well-being ("Le Monastère").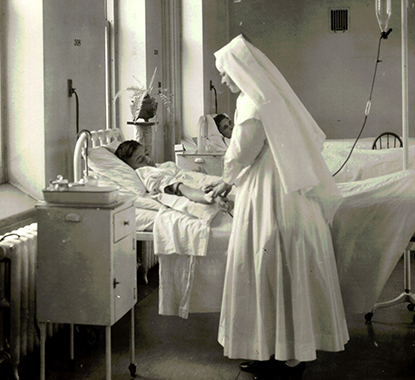 Pulling from the rich caregiving and compassionate work of the Augustinian sisters, Le Monastère strives to renew the values of hospitality, reflection, and well-being for the current day. Adapted from research and experimentation conducted around the knowledge of the Augustinians, their approach involves (list adapted from "Le Monastère"):
Hospitality
The use of objects in their collection as triggers for growth ("Place-Based Pedagogy")
Simplicity and slowing down
Self-compassion and self-care
Sustainable health activities that contain the four pillars of health: mind, body, emotions, and spirituality
Meaning drawn from experience
Integration of experience
Le Monastère offers a variety of services that incorporate this approach, including individual/group respite stays; resources for organizations; art therapy, music therapy, and social museology workshops; thematic supports groups (on themes such as mourning, self-compassion, and creative expression); psychosocial support and active listening; and community sharing ("Le Monastère").
Responsible use of resources has been a way of life for the Augustinian sisters. Respecting and using carefully what is granted to us is a guiding principle incorporated into daily practices. The promotion of healthy lifestyles, conscious dining highlighting local and organic food, propagation of medicinal and heritage plants, work-life balance initiatives for employees, and partnership development with local organizations to promote community knowledge and involvement all contribute to individual and collective well-being and enrichment ("Le Monastère").
ASSESSMENT AND Measurement
Le Monastère meets some of the United Nations' Sustainable Development Goals, including Goal #3 Good Health and Well-Being; Goal #5 Gender Equality; and Goal #11 Sustainable Cities and Communities. Goal #3 most strongly aligns with the sustainable socio-cultural mission of Le Monastère.
Measure
Performance
UN Sustainable Development Goal #3: Good Health and Well-Being

Ensure healthy lives and promote well-being for all at all ages.
Le Monastère is a non-profit organization that strives to preserve and share the cultural heritage of the Augustinian nuns, as well as—in keeping with the Augustinians nuns' way of life—offer a healing retreat for those who need it, primarily for caretakers and those who support others. The Augustinians' way of life was and continues to be rooted deeply in healthcare and self-care. The social mission of Le Monastère embodies the vision of Goal #3, by ensuring healthy lives and promoting well-being for all.

Target 3.4 By 2030, reduce by one third premature mortality from non-communicable diseases through prevention and treatment and promote mental health and well-being.

Le Monastère excels in the promotion of mental health and wellbeing. Target 3.4 mentions mental health and well-being but only in the context of premature mortality from non-communicable diseases. Some aspects of health and well-being that are not emphasized adequately in Goal #3 are mental health, holistic health, and autonomy in healthcare through herbal medicine, food, wellness, rest, peace, etc.
UN Sustainable Development Goal #5: Gender Equality

Achieve gender equality and empower all women and girls.
Le Monastère, and other monasteries like it, are unique in that they were run by women. In 17th century Québec, and even today, organizations led by women were not a common occurrence. While colonization is a problematic subject that will not be covered in this case study, the establishment of the religious order in New France in the 17th century was run primarily by women. Male religious orders were not as common in the 17th and 18th centuries in New France ("News"). Women, traditionally considered caretakers, could be autonomous in how they ran the monastery, and were generally considered more useful in Canadian society at that time ("News"). The Augustinian nuns played a crucial role in Québec society in establishing a system of medical care and were highly influential in establishing the healthcare system as we know it today ("News").

With the rehabilitation of Le Monastère, the Augustinians wanted to transfer their vocation for taking care of the sick, to taking care of those who care for the sick. This mission is reflected in their offerings of respite stays for family and professional caregivers ("News"; "Le Monastère").

Target 5.4 Recognize and value unpaid care and domestic work through the provision of public services, infrastructure and social protection policies and the promotion of shared responsibility within the household and the family as nationally appropriate.

Target 5.4 speaks to the traditionally undervalued role of women as caretakers. Through its social mission, Le Monastère seeks to acknowledge and care for caretakers ("News").

Target 5.5 Ensure women's full and effective participation and equal opportunities for leadership at all levels of decision-making in political, economic, and public life.

The Augustinian nuns made the decision to transfer the ownership of their monastery to a social utility trust, the Augustinian Cultural Heritage Trust, to ensure the preservation of their cultural heritage, and they continue to be consulted on all decisions made regarding their heritage. The nuns recognized a need to preserve their social mission, their cultural and material heritage, and transform it for future generations. This women-led initiative serves to profoundly empower the lives of the women whose decision this was, and the women who came before, who established, built, sustained, and dedicated their lives to Le Monastère.
UN Sustainable Development Goal #11: Sustainable Cities and Communities

Make cities and human settlements inclusive, safe, resilient, and sustainable.
Le Monastère contributes to sustainable cities and communities through the innovative reuse of a heritage building and through their commitment to sustainable food, waste management, work-life balance, local collaborations, and healthy lifestyle promotion ("Le Monastère"). Le Monastère's practices are particularly relevant for the following targets:

Target 11.4 Strengthen efforts to protect and safeguard the world's cultural and natural heritage.

Target 11.6 By 2030, reduce the adverse per capita environmental impact of cities, including by paying special attention to air quality and municipal and other waste management.
Awards and Certifications:
5 Green Key certification: Le Monastère upholds the highest standards of social and environmental responsibility in all areas of its operations.
Green Pages: Awarded to Le Monastère because of the eco-responsible measures adopted.
Vaolo: Le Monastère was selected to be part of the collaborative social innovation platform Vaolo, which aims to create change through a new way of travelling that is inspired by justice, ethics, and social responsibility.

Works Cited
Books/Book Chapters/Journal Articles
Carroon, Jean. "Buildings and Environmental Stewardship: Understanding the Issues." Sustainable Preservation, Greening Existing Buildings. Wiley, 2010. Pp. 3-18.
Dufaux, Francois. "Recognizing the Spirituality of Places: the concretization of intangible values in the act of building the religious heritage of Québec." Historical Studies, Vol. 78.
Dufaux, Francois. "Le monastère des Augustines de l'Hôtel-Dieu de Québec: Une histoire opérationnelle des bâtiments." École d'architecture de l'université Laval, Ville de Québec, 2008.
Elefante, Carl. "The Greenest Building is… One that is Already Built." Forum Journal, vol. 21, no. 4, 2012, pp. 62-72.
Kim, Bona & Xiaotao Yang. "'I'm Here for Recovery': The eudaimonic wellness experiences at the Monastère des Augustines Wellness Hotel." Journal of Travel & Tourism Marketing, Vol. 38, no. 8, 2021, p. 802-818.
Provencher St-Pierre, Laurence. "Ethnology in a Museum Context: Exploratory study of the collection of the Monastère des Augustines." Ethnologies, Vol. 40, no. 2, 2018, pp-51-73.
Policies and Reports
Websites