Merging the Old and the New: Adding to the Old Post Office in Cambridge, Ontario.
Case Study prepared by Amani Hamzeh, Carleton University
Keywords: Urban renewal, adaptive reuse, bookless library, discovery center, family-oriented, Cambridge, Old and New.
LESSONS LEARNED
The Old Galt Post Office adaptively reuses a significant heritage building by seamlessly inserting a new contrasting addition, illustrating how adaptive reuse can not only be stylish and modern, but sustainable. This project was successfully finished by abiding by the heritage guiding principles and working towards the LEED Gold standards, with an effective team of experts and the help of the community throughout the planning stages. (ArtsBuild, 2020, p. 17) It also shows that designated buildings are not always in poor condition and that there are opportunities for them to flourish and continue to thrive for upcoming generations to experience. More challenging points for the heritage designated structure includes that the interior was not salvageable when transformed into an open floor plan layout (ERA, 2014, p. 12). The old layout would have not been fully accessible which goes against today's building code and the Idea Exchange restrictions. Not all elements of a heritage building can be sustained through a rehabilitation.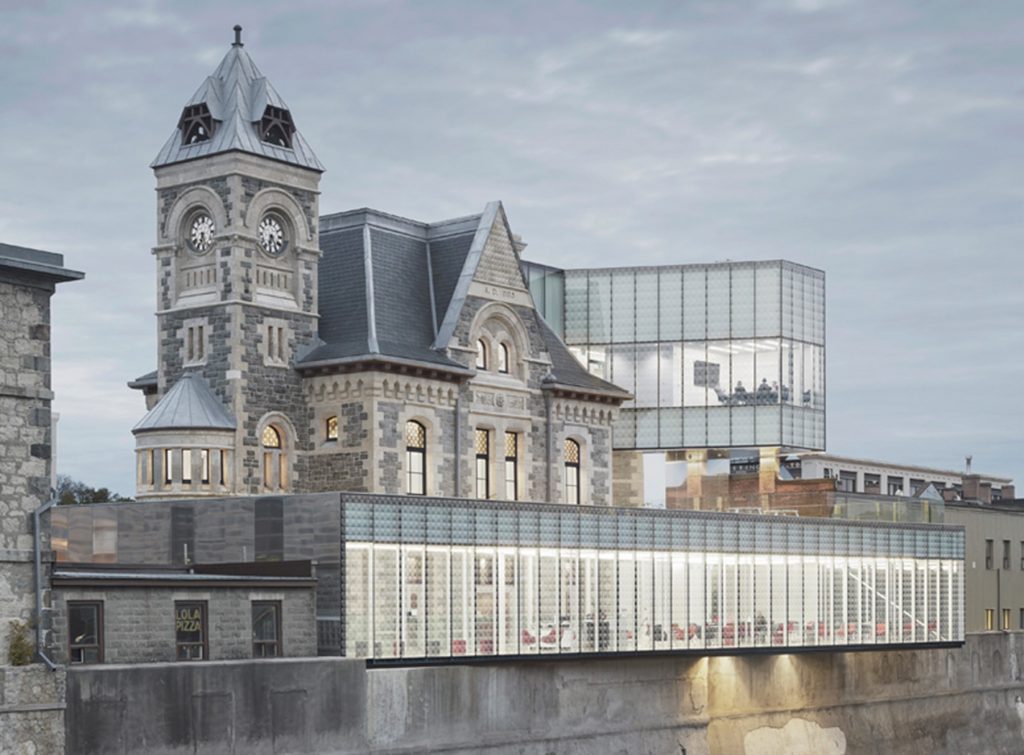 PRESENTATION
This slideshow was presented in class on November 24th, 2022, a summarized version that includes all necessary key points, tables, and images. Idea Exchange Case Study Presentation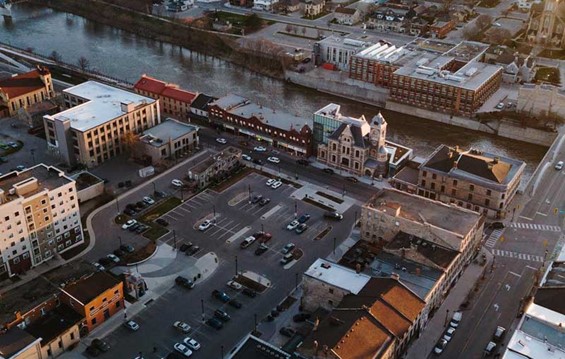 DESCRIPTION
The Old Galt Post office is located in the urban core of Cambridge, Ontario. The building was re-established by the City of Cambridge as a modern branch for the Idea Exchange library. All Idea Exchange buildings are owned by the city and operated by the Cambridge Public Library Board. Although they are municipal facilities, they are all operated by the Cambridge Public Library Board. As Idea Exchange is Cambridge Public Libraries and Art Galleries business name, the Library Board is effectively carrying on business as Idea Exchange (ArtsBuild, 2020, p. 7). The historic building went through an adaptive reuse and restoration construction to merge the old and the new, by adding an additional nine thousand square feet and creating a larger multi-purpose space for the community to interact with while respecting the heritage. This new Idea Exchange location is one of Canada's first "bookless" libraries, it offers multiple creative studios, a discovery center, a maker space, and a heritage reading room café that is run by a local coffee shop (2020, p. 6). The team's mission is "to create an environment of curiosity and discovery through the exploration of the arts and new technologies. his will foster creativity, spark innovation, develop human capital, and support lifelong learning" (2020, pg. 5). The Idea Exchange gives its users a space to engage in creative thinking and collaborate, an opportunity to foster innovation with access to cutting-edge technologies.
At the main Idea Exchange location, Queen Square in the City of Cambridge, a rapid increase in the number of families and children that kept showing up to the programs started becoming overwhelming to the team. The new location for the Idea Exchange was needed when Queen Square underwent a renovation, to be able to continue providing the community with a wide range of programs safely and more effectively they needed to find a solution (ArtsBuild, 2020, p. 9). The City of Cambridge also projected that the population would go from 135,000 in 2019 to 176,000 in 2030 (2020, p. 9). This data helped them succeed in the case of expanding their facilities and purchasing the Old Post Office. Greg Hayton, former CEO of Idea Exchange stated that the "Idea Exchange is the future of culture in our community. Our vision focuses on a passion for art, reading, knowledge sharing, and creating. We are excited to provide innovative programs and services in this dynamic facility" (NewsRelease, 2014, p.1-2).
The Old Galt Post Office had been one of the few of Fuller's post offices that survived, many have been demolished in the 20th century. According to the Canadian Register of Historic Places, 20 of Fuller's post offices still stand today. The building had run as its original purpose for half a century, subsequently, it then functioned as office space, an art gallery, and a theatre, and shifted between different stores and restaurants succeeding the year 1936 (ArtsBuild, 2020, p. 6). After sitting vacant for seven years, it was purchased by The City of Cambridge in 2013 (2020, p.6). The historical structure was valuable to the public and that led to its recent modern adaptive re-use to what we now know as today, The Idea Exchange bookless library.
TIMELINE
(Arts Build Ontario, 2020, p. 6)
1881-1885
Architect Thomas Fuller was selected by the Government of Canada to design 80 post offices around the country to serve as landmarks.
1887
The Old Galt Post Office was fully constructed and housed the city's post office, offices for customs, and an examining warehouse
1936
The Post Office in Cambridge runs for 51 years until this year
1960's
Housed municipal offices. Hosted a theatre company, art gallery, and small stores.
1982-1983
Space shifted between a restaurant, nightclubs, and multiple pubs.
Designated an Ontario Heritage Site.
2007
Fiddler's Green pub closed, and the building sat vacant until 2013
2013
The building was purchased by the City of Cambridge.
2014
A heritage consultant was brought in to do a conservation master plan. The design of the restoration begins.
2015
Heritage impact assessment prepared. The construction project started in November.
2018-Present
Idea Exchange is open to the public.
AWARDS
All awards listed are retrieved from RDHA's portfolio website
| | |
| --- | --- |
| 2022 | Governor General's Medal for Architecture |
| 2020 | Chicago Athenaeum International Architecture Award |
| 2020 | Architecture Master prize Award of Excellence |
| 2020 | OAA Design Excellence Award Finalist |
| 2019 | National Trust for Canada Award Recipient |
| 2019 | CAHP Award of Merit |
| 2019 | Azure AZ Award for Design Excellence |
| 2019 | Azure AZ People's Choice Award |
| 2019 | Architizer A+ Awards Finalist |
| 2019 | The Plan Awards Finalist |
| 2018 | Canadian Architect Award of Excellence |
| 2018 | Architecture Master Prize Award Recipient |
| 2016 | Architectural Review MIPIM Future Project Awards Commendation |
RIGHTSHOLDERS AND STAKEHOLDERS
The Old Post Office is situated upon the land traditionally used by the Haudenosaunee, Anishinaabe, and Neutral People. The City of Cambridge acknowledges this and works on relationship building with Indigenous People who they share the land with today (CityofCambridge, n.d). Throughout the stages of new construction, the stakeholders and partners of this project were carefully chosen, and the community was always involved from start to finish. Many meetings were conducted for the sake of public opinion on the project, feedback was then used to create different iterations by the Design Steering Committee (StevensBurgess, 2015, p. IV). After all, this project was designed to not only preserve and bring life to the local heritage building that Cambridge residents cherished, but it was mainly driven to best-fit community needs.
The project funding was provided by municipal, public and private donors. The approved cost was 15.3 million which was mostly covered by municipal funding. 1.6 million was granted from Parks Canada and the Canadian Heritages Canada 150 program (ArtsBuild, 2020, p.18). This project received many donations that range from as little as a dollar to hundreds of thousands of dollars. One of the project partners, Monigram Coffee Roasters, held a fundraiser that raised 6,600 from their customers, this was used towards the Children's Discovery Centre Technology and Materials (2020, p. 18). Toyota Foundation donated 50 thousand dollars which were then used to purchase new technology such as laser cutters for their innovative space. Amongst other donors, Thomas Taylor donated a large sum of 120 thousand dollars. Taylor was a Cambridge resident and a frequent library user when he was younger, to honor his donation the Idea Exchange made a music space with different instruments for the library members to use (2020, p. 19).
Monogram Coffee Roasters, a local company and project stakeholder, rents out the cafe on the ground floor. (Artsbuild, 2020, p. 11). The Idea Exchange explored many options to fulfill the space, they wanted an independent coffee shop that had similar values as them that could make a positive impact on the users of the library. Their mission is to "find beautiful, thoughtfully sourced coffee to roast, create menu items to complement, and establish an atmosphere that is warm and welcoming." (Monigram, n.d) Monigram's main location at 16 Ainslie St. is known by the community as one of the small businesses in town. This location is in a back parking lot, in a century-old building in Galt. The owners, Monica & Graham Braun, restored the space in 2012 to create a cozy and welcoming environment for their customers (Monigram, n.d). They have raised donation funds and supported local artists and musicians to show their support to surrounding residents. Today their local coffee shop thrives in the heart of Cambridge in their primary location and inside the Old Post Office.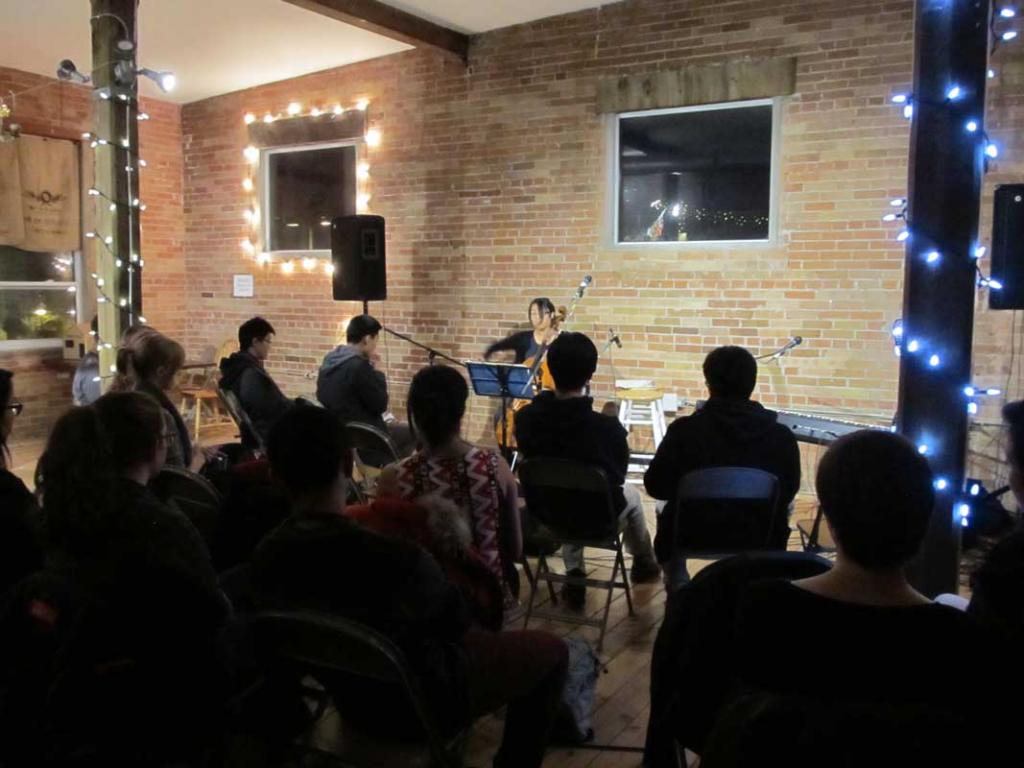 Government
City of Cambridge
Parks Canada
Ontario Ministry of Culture
Accessibility and Diversity Services Committee
Helen Kelly CEO of Idea Exchange
Private
Monigram Coffee Roasters
Toyota Foundation
Architect
Thomas Fuller
RDH Architects
ERA Architects
Rounthwaite, Dick and Hadley Architects Inc.
Construction
Collaborative Structures Limited (CSL), led by Drew Fletcher
Consultants
Christie Digital, Digital projection technology
John Coniglio, digital lighting specialist at Westbury National
Canada Green LEED Council to receive certification
Community
Brad Paddock, Community at Large
Galt Residents Paid staff and Volunteers
CULTURAL AND NATURAL HERITAGE
By the late 1800s, Galt village, now Cambridge, was known for it being "prettily situated on the Grand River, in a valley surrounded by high hills" (ERA, 2014, p. 12) The place was fast rising into prosperity; and already begins to assume the appearance of a town. The urban planning was distinctive, the streets are neatly planned out, and the employment of stone in building and it gives the houses and buildings an exclusive architecture (Wright, 1997). Galt possessed a steady rate of the incoming population; this came from a diversified economy and the variety of cultural and civic institutions that were not found in other villages (ERA, 2014, p. 13). It's becoming began with welcoming different industries, retail trade, and residential neighborhoods. One of Fuller's public buildings was then erected in Galt, and it housed a post and customs office, the property sat on the east bank of the Grand River. The 2014 Heritage report by ERA explains the architectural style vividly, it is 2 and a half story building with a steep parapeted gable roof and an attached clock tower. To differ from the other Scottish-style buildings that it surrounded, the building features a unique design that effectively blends the High Victorian Gothic and Empire styles in a distinctive composition, and it interconnects well to its site and setting. Different textures and windows coat the façade, and locally rich textured limestone is used on the exterior walls with the smother textures of stone that line the trims. A corbelling effect with the stone is used under the gabled roof which shows a hint of a medieval style. The Old Galt Post Office was designated under Part IV of the Ontario Heritage Act in 1982 by the City of Cambridge for its distinctive architectural and historical value (ERA, 2014, p. 13- 17).
The lack of maintenance and its old age caused the structure to be in poor condition but stable enough to go through rehabilitation. The exterior façade has significant original material remaining, and the mass masonry of coursed limestone and granite was cleaned and repaired to keep its legacy (ERA, 2014, p. 71). Different elements of the exterior had been modified to accommodate the new addition and support its loads. The entrance stone masonry had been affected by the water infiltration and impact from snow removal equipment, thus the need for a partial reconstruction (2014, 74). Other issues included open, dislocated, and cracked masonry units which were likely due to environmental stress and long-term settlement (2014, 76). However, the interior heavily deteriorated. The layout needed to be changed due to the degenerated structure. Issues included chronic water infiltration and wood rot, which affected the flooring, walls, and overall layout of the interior (2014, 78). Therefore, the recommendations from heritage investigators and engineers led to the walls being substantially removed and replaced with built-up wood beams and wood posts to create a more open floor layout that would support the load of the newly built space (2014, 80). The new architectural addition communicates well as it merges the old and the new. The third-floor maker space is an example of how it highlights the view of the old clock tower by framing it with skylight windows.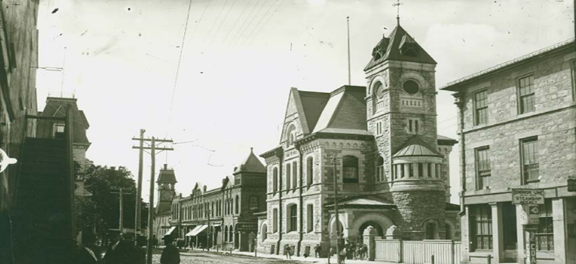 SUSTAINABILITY
Environmental sustainability: The team at RDH Architects had the duty and challenge to design an addition to the Old Post Office that will double the building's size for programming needs, fire and life safety requirements, barrier-free accessibility, mechanical, electrical, and engineering services, LEED Gold certification while respecting the heritage elements and Conservation Master Plan, and the Standards and Guidelines for the Conservation of Historic Places in Canada. (StevensBurgess, 2014, p. 5) The standards are consistent with the City policy which embraces sustainability and recognizes the cultural, social, environmental, and economic needs of the community.
As Carl Elefante once stated, "The greenest building is… the one already built." Building an addition to the Old Post Office not only protects the heritage and history of the building, but it also then requires fewer materials and construction time to establish which leads to a greener building. Within the structure, all materials that are used are recycled and sourced regionally, use of green adhesives and sealants, and all interior furniture and cleaning products do not harm the environment. When it comes to environmental impacts, RDHA has designed the new addition to be raised 20 feet over the Grand River which is buoyant in the event of a major flood. (Cogley, 2019) Additionally, a green roof is integrated into the new addition to reduce building energy costs, reduce storm runoff, decrease roof temperatures, and lastly may include native or adapted plants to provide a habitat that promotes biodiversity. (ArtsBuild, 2020, p. 17)
The Idea Exchange's location is in the heart of Cambridge, it is surrounded by other institutions and local businesses which makes it easy for surrounding neighborhoods to commute in a more sustainable method. However, if walking is inconsiderable, the plaza that it faces offers bicycle storage and electric vehicle charging stations.
Social sustainability: Charles Montgomery mentioned in his book Happy City that "Happiness is a house with many rooms, but at its core is a hearth around which we gather with family, friends, the community, and sometimes even strangers to find the best part of ourselves." (Montgomery, 2014, p. 37) All Idea Exchange libraries provide community space to interact and have access to tools and information. Becoming a member to use most resources and attending various events is free. Visitors are treated with the same level of respect and no barriers get in the way of meeting accessibility requirements. It is a safe space that meets everyone's needs.
Cultural sustainability: Investing in more community spaces is the key to urban planning, it creates a positive impact within a city, and occupying vacant historic buildings for community use is not only sustainable but also preserves heritage for future generations. Cambridge Mayor at the time, Doug Craig, stated that "This truly is an exciting project and one that pays tribute to our rich heritage but also builds on our dynamic future. The breathtaking views along the Grand River will serve as a one-of-a-kind backdrop to the community space and restaurant perfect for the whole family" (NewsRelease, 2014, p.1). The Idea Exchange continues to nurture the community and creatively direct it to enhance the user's experience with creative opportunities.
Economic sustainability: A diversified selection of businesses runs along the Grand River and Main Street. The Old Post Office does a great job attracting people from the community and outside the city to explore the designated building and the new facility that it now holds. Additionally, people tend to explore the block after their library visit and purchase goods and services from the vendors around it. The same happens vice versa when people shop at one of the stores and spot the unique post office, this then leads to a possible new member at the library. Although it is free to use the resources at the Idea Exchange, they hold fundraisers and receive online donations to support the operating maintenance costs of the Old Post Office. They also receive profit from renting out the café space to Monogram Coffee Roasters on the ground floor. The Idea Exchange also runs with a team of volunteers that help direct library users, run events, and teach visitors how to use different tools they carry. Operating costs are cut down in regard to heating and lighting. The panoramic windows on each floor allow natural light to seep through and warm the building during the day, light harvesting and heat recovery from its BAS system also reduce heating costs. (ArtsBuild, 2020, p. 18)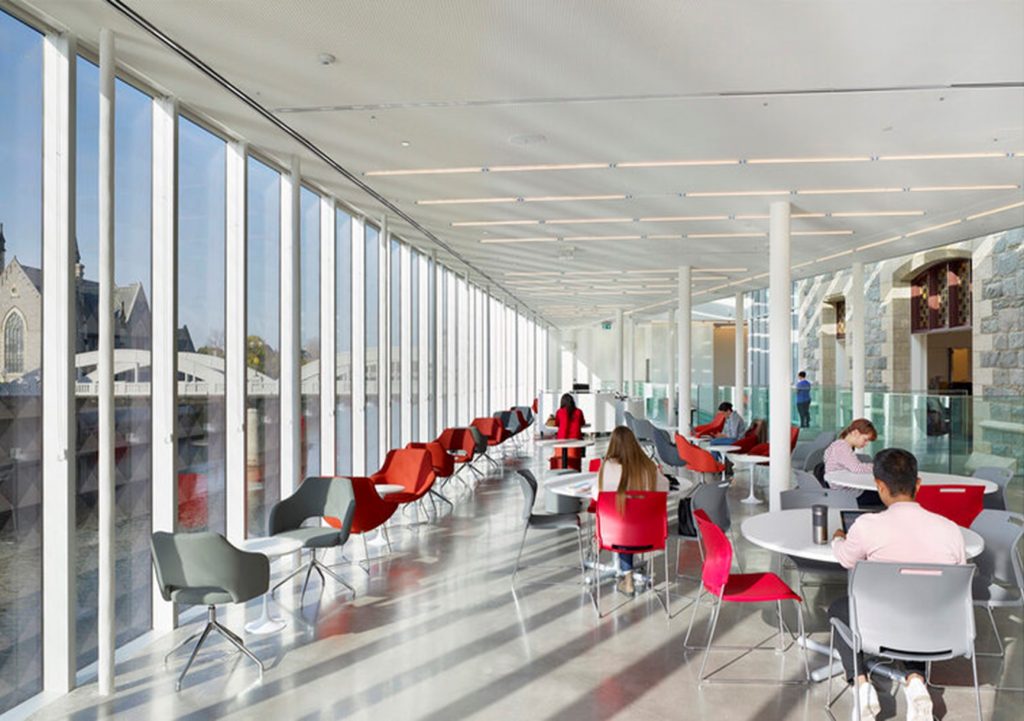 ASSESSMENT AND MEASUREMENT
Environmental issues within real estate have been a common subject when discussing carbon emissions and energy consumption, thirteen percent of Canada's greenhouse gas emissions are from the building sector (GOV, 2022). However, many enhancements have been made in the last two decades when it comes to building construction and sustainability. The high interest in certified green buildings has persuaded different perspectives to act green. Investing in sustainable development not only makes an impact on the environment but also lowers energy consumption and decreases maintenance costs in the long run. Building green is one thing and getting certified is another. There are many known environmental certifications for real estate in North America, Leadership in Energy and Environmental Design (LEED) "provides a framework for healthy, efficient, carbon and cost-saving green buildings." (GreenBuildingCouncil, 2022) For building certification, the structure being built needs to meet required prerequisites that will then earn them points to a certain level of LEED. (2022)
The Old Post Office rehabilitation was constructed with LEED Gold in mind. Although it has not officially been certified, the list below shows all the criteria in a scorecard that coordinates with this project:
| | |
| --- | --- |
| Sustainable Sites | The city has removed all contaminated soil from the site and near the rainwater disposal equipment. |
| Water Efficiency | Valdor Engineering has rated this section with LEED Silver since "the stormwater management analysis incorporated the benefits from the green roof and detention/retention tank which will be used for peak flow control and water reuse for toilet flushing" (Valdor, 2020). |
| Energy & Atmosphere | Emission reduction planned and documented. |
| Material & Resources | The heritage building was rehabilitated, and materials used for the addition were regionally sourced. Sustainable purchasing for Interior furniture would score points. |
| Indoor Environmental Quality | The post office would score points in this section for its design regarding natural lighting and the views it offers of the grand river. Indoor air quality, green cleaning, and occupant comfort would also score points. |
| Innovation | All sustainable building cost impacts were documented |
| Regional Priority Credits | The heat island effect is thought through, and to mitigate this a green roof and light-coloured concrete were used on the new addition. |
| Integrative Process Credits | The community and maintenance staff were involved and integrated throughout the design and construction process. |
The 17 Sustainable Development Goals (SDG's) issued by the United Nations is a set of targets and guidelines that consist of three sustainable categories: people, planet, and prosperity.
"This agenda is a road map for people and the planet that will build on the success of the Millennium Development Goals and ensure sustainable social and economic progress worldwide. It seeks not only to eradicate extreme poverty but also to integrate and balance the three dimensions of sustainable development economic, social and environmental in a comprehensive global vision"

(United Nations, 2016).
The goals are interconnected, meaning that progress in one area can support progress in others. The chart below shows all the SDG's that relate to the Heritage designated post office and how it applies to it.

List of targets: Sustainable Development Goal (UN SDG, 2016)
How the project/policy/place does
SDG 4: Quality Education
4.8: Build and upgrade education facilities that are child, disability, and gender sensitive and provide safe, non-violent, inclusive, and effective learning environments for all
The Idea Exchange has a mission to "support and inspire [the] community in the exploration of reading, arts, innovation, and learning." The new location expands their accessible free resources with different parts of Cambridge (ArtsBuild, 2020, p. 5)
SDG 9: Industry, Innovation, and Infrastructure
9.8: increase access to information and communications technology and strive to provide universal and affordable access to the Internet
Referred to as the 'digital library', the building is intended to inspire creativity and skills development through community access to cutting-edge technologies. This opens up opportunities and access to tools for free.
SDG 11: Sustainable Cities and Communities
11.4: Strengthen efforts to protect and safeguard heritage 11.7: provide universal access to safe, accessible, and public spaces
The Idea Exchange takes place in The Old Post Office which is a century-old historic building. With respect to its designation, it has been through rehabilitation to increase its space for its new function as a bookless library
WORKS CITED
Books/Book chapters/Journal articles
Policies and reports
Websites
All images are reproduced for educational purposes.