Redeveloping Hamilton's Barton Village by Social Enterprise and Community Engagement

Case Study prepared by Jonique Gardien, Architectural Conservation and Sustainability Engineering Student, Carleton University
Keywords: Urban, Social, Café, Hamilton, Barton Village
LESSONS LEARNED
Urban re-development is represented in many ways and should consider the legacy of built form.  The 541 Eatery and Exchange is an example of a location in downtown Hamilton's Barton Village, which occupies a former bank listed on the city's built heritage inventory. This area has a strong history, representative of the community's unique identity that is full of essence and story. This 'built form' – shown in such buildings, changing heritage, and urban layout – completely represents the Village. By considering these concepts, a better understanding can be present in their potential value of cultural heritage. This continually builds a Sense of Place as well. This creates an atmosphere where buildings and conservation efforts are linked to each other through authenticity and cohesive urbanity. Through 541 café's 'Pay it Forward' program, they have formed a socially encompassing built environment that can meet the three pillars of sustainability with ease and success. The localized food system which was developed by the Compass Point Bible Church provides a haven for those who are socially and/or economically dependent, and promotes holistic education that improves the community through access and transparency. People directly work together on their projects, within the community garden, and through their cooperative internship skills training program. They also host youth camps, developing humility and empathy as youth learn how to give their time in the most willing manner. They learn basic work training skills, and also become producers in the community garden behind the Eatery. The successful engagement with so many diverse stakeholders in the community has created a glowing lamp in a gloomy community trying to ignite all of their bulbs. Investing in people from Barton Village is giving the community motivation and encouragement to continue helping each other and 'Pay it Forward'. It is such a movement that is picking up more than speed, but attitudes and enlightenment. The mainly volunteer-run café is instilling confidence in the Community's potential which is representative by their initiatives.
PRESENTATION      PDF
This presentation took place on Nov. 21, 2017.
It briefly outlines the key points of this case study including Sustainability and the Cultural Heritage of place, as well as the positive impact this Café has created in the community.
DESCRIPTION 
The 541 Eatery and Exchange is a café in downtown Hamilton that directly addresses the needs of the local community of Barton Village. As named, the Eatery is a place to purchase café food and beverages from local sources, which are known for being healthy alternatives and very holistic meals. The Exchange factor is another monumental word in the title, and part of the meaning, as the large tables support the metaphor of an exchange of interactions that the community undergoes throughout the 541 experience.
Over its one hundred plus years of existence, the use of the building located at 541 Barton St. East has changed from a bank, to residential apartment units, to most recently a social enterprise. Compass Point Bible Church invested in the property, in 2013, when they began the transformation. The renovations were conducted by McCallum Sather Architects, their lead Architect, Drew Hauser, purchased the site (McCallum Sather Architects). A facility audit was completed and all building systems were updated or modified – including interior design. A new commercial kitchen, prep areas, and dining spaces were installed, and millwork, flooring, lighting, and furniture concept were also the firm's responsibility (Behance.net, 2014).
Hamilton's Barton Village, in downtown Hamilton, Ontario, Canada, was home to 367 businesses in the 1960's, and was an economic engine for the City. Houses in the area were lived in by significant people to the City including Robert Land, the United Empire Loyalist and founder of Hamilton (Weaver, 2017). In 2017, less than 166 businesses exist in the neighbourhood, and citizens find it hard to tell the difference between vacant and occupied properties. Following the decline of Hamilton's steel industry in the 1980s and 1990s, approximately one hundred thousand people lost their jobs; the effects linger on today (Freeman, 2006, 135). This neighbourhood history has lead to the revitalizing moment the City is pushing for to instill progression in the Village, and that is what 541 has become a part of. As a vacant building, there was direct potential for it to be something that can give to the community, and once it was rented, renovated, and the Eatery and Exchange opened in 2014, that's exactly what it became – a generous gem in the community. Its influence continues to expand as it is now transforming the empty parking lot behind the site into a community garden, for example. Even other sites in the Barton Village are being converted to new small enterprises, including a former Bank of Montreal into a new Lebanese restaurant called La Luna Express, and the West Avenue School (1880s) turned into residential units (Heritage in Hamilton, 2014). These changes are a combination of demographic need and Village revitalization.
The ongoing evolution of the Street is an organic process, built on the commitment of local residents and all stakeholders. The 541 project, with its open design, large tables, and immersive volunteer programs, is fully investing in the area and showing the community a light to creating a more livable space in the all-inclusive Barton Village of Hamilton.
TIMELINE
| | |
| --- | --- |
| Early 1900's | As industry invests in Hamilton, the Barton Village community grew with increased employment availability |
| 1907 | Bank of British North America, (which is later the Bank of Montreal) built at 541 Barton St. East |
| 1950's-1960's | Hamilton becomes increasingly dependent on Steel-related industries |
| 1980's-2000 | Major manufacturers close due to continental and global competition – three of Hamilton's largest employers. Otis Elevator, Firestone and International Harvester shut down local operations |
| 1980-2000's | Bank of Montreal closes and is used as apartments |
| 2013 | Building purchase and renovations begin |
| 2014, May | Re-opens as "541 Eatery and Exchange" |
| 2014 | Heritage Property Conservation Award from the City of Hamilton |
| 2015 | City of Hamilton's Urban Design Award for Outstanding Achievement |
The timeline is cited from the combination of the Canadian Encyclopedia and McCallum Sather Architects projects on the website(s) sourced below.
STAKEHOLDERS
Organizations:
Compass Point Bible Church: The organization responsible for renting the main space of the Eatery, and securing the property for its' present purpose. The Church uses the basement space for institutional purposes, and the main floor is homed by the Eatery.
Heritage Inventory Group(s): Responsible for assessing possible Heritage sites in the City of Hamilton and updating previous published reports. The City of Hamilton also plays a role in this, and City representatives are responsible for the designated building and heritage awards this specific site of 541 Barton has obtained.
Barton Village Business Improvement Area (BIA): Is developing the business area and surrounding neighbourhood through long-term sustainable initiatives. This is done by promoting business within the BIA through various mediums of communication like newsletters, radio, and business directories (Urban Marketing Collaborative, 2011).
Owners/users:
The Public: The continual support for the Eatery. The Public is the force behind the movement with large fundraisers and media coverage. The support from the public expands the Eatery's network and positively effects their environment.
Drew Hauer: The lead Architect for McCallum Sather Architects in Hamilton, Ontario. He purchased the site, renovated it with his firm, and rents the property to the Compass Point Bible Church which operates the Eatery.
The Leaders: The planning management team for the Eatery, those who lead the executive meetings and continue planning for the Eatery's future. Sue Carr and James Peters are the leaders of the Eatery. Sue Carr is a leading member of Bible Point Bible Church and James Peters is the Chair of the Steering Committee who  has a background in business and community involvement (541 Eatery and Exchange, 2015).
Charles Mills: Architect who designed the building when it was constructed in 1907. Charles Mills operated his own office from 1890-1909. He was immediately successful in Hamilton with commissions from commercial, industrial, ecclesiastical, and residential works within the area. He followed many eclectic styles including Scottish Baronial and Renaissance Revival (Allen, 2017).
Consultants:
McCallum Sather Architects: Consultants responsible for the major renovation begun in 2013, and finished before opening in 2014. Team leaders were Drew Hauser (the lead architect, site owner), and Dora Lomax. They provided Architecture, Conservation and Heritage, Interiors and Mechanical Engineering services (McCallum Sather Architects).
Seguin Engineering – Electrical:  Project team responsible for updating the electrical and mechanical systems of the Eatery during the renovation in 2013, which was also finished before opening in 2014. This company opened in 2010 and specializes in electrical design of buildings and building systems (Seguin Engineering Inc., 2017).
CULTURAL AND URBAN HERITAGE
The former bank at 541 Barton Street is not specifically designated as a heritage site officially by the City of Hamilton. However, the site has won two awards within one year of functionality that relate to its' heritage and formulated design. In 2014, the Eatery won the Heritage Property Conservation Award, followed by the Hamilton Urban Design Award for Outstanding Achievement in 2015. The building is currently on the list of the 'Inventory of Buildings of Architectural and/or Historical Interest'. Currently, only three buildings on Barton are designated under the Ontario Heritage Act, and eleven are in the Inventory including 541 Barton (City of Hamilton, 2002, 36).
In Barton Village  almost 30% of commercial lots are vacant (Urban Marketing Collaborative, 2011, 75) reinforcing the importance of  impactful and positive development in this area of downtown Hamilton. The 541 Barton Street area of the Village is in critical condition and quite vulnerable to degrading conditions in their current state; this is why the BIA (Business Improvement Area) is working so diligently to confirm and continue their efforts.
Moving forward, the neighbourhood development plan wants to include some overlapping heritage practices like respecting the age of buildings, and revitalizing will be prioritized over building demolition. The BIA in collaboration with the City of Hamilton, is continuing to encourage owner-occupied buildings to encourage healthy walk-ability and the essential impact of having inclusive stakeholders' in all projects regarding the Village. This is a hopeful beginning to curbing negative effects of redevelopment including gentrification, and a positively directive force for conserving the areas cultural heritage.
The physical and sociocultural dimensions of liveability are inherited characteristics from the legacy of that built environment. Since a character of a town is the foundation built by either; industry, agriculture, built form, or a historical event, these representations help communities create a collective identity, and to build a strong foundation there should be focus on that identity (Knox and Mayer, 2013, 67).
When observing the identity of the 541 Eatery and Exchange within the Barton Village, they have built a strong sense of place in their environment. They have a distinct mix of wider local social relations that create a stronger and more resilient community by their large foundation of support and stakeholders. There's a nickname coined for this similar idea called "the townscape movement" that was born in the 1950's to be a new paradigm for human-scale environments (Knox and Mayer, 2013, 87). These environments are needed to unfold the potential of street sequences, scenes, and public spaces that subconsciously and definitively the variety of idiosyncrasy in built form. By their works and dedication to community improvements, so far the 541 has been and is the ideal engine to fuel this methodology.
When it comes to their food thoughtfulness we can establish that localized food systems help localize the economy, and the consumers of 541 are primarily co-producers. There is a large volunteer base, and many volunteers are part of the work-employment cooperative programs with the City of Hamilton. The site largely focuses on exemplifying their cultural heritage as their social enterprise is a result of circumstances that provide a special delivery of information and education that heeds better choices made by the community as a wholesome directive.
Hamilton's Barton Village is a model for urban re-development that is positively exemplified by social enterprise establishments like the 541 through conservation and community re-modelling.
SUSTAINABILITY 
Environmental sustainability: 
By the end of summer 2016, the 541 had begun a Community Garden behind the building. It is located in a run-down, abandoned, and previously fenced in parking lot. They use the food produced from here on their menu, and donate the excess to local food banks. Youth camps are run throughout the summer for participation in the Garden, as well as volunteers who regularly work at the 541 are continually engaged with the greenery in the back lot. There are layers of education being prospered and supported through this initiative, such as improved appreciation and understanding for "food sustainability", as well as sensible adaptive reuse of the back-lot space.
The 541 also works very hard to only purchase local products to be sold at their location. All drinks and food products come from Southern Ontario or Québec. This decreases the carbon footprint of "food miles" while also support the local economy to be more aware of the product availability nearby. The support of local products supports a positive feedback loop in the neighbourhood to continue this sustainable generosity.
Social sustainability: 
In 2015, the Eatery was the recipient of the Award of Outstanding Achievement and Excellence in Civic Generosity under Urban Design and Architecture awards by the City of Hamilton (McCallum Sather Architects). The café is described as "socially conscious" that's "welcoming, accessible and beautiful". Because they use internal currency there is a large sense of development within this place that is welcoming and safe for human engagement and interaction. The Jury stated that the adaptive reuse of the building into a social enterprise creates an evolving place in Barton Village. And by the superb public relationship that's been created by this space, the street is being transformed to a more welcoming exchange for ideas and support.
The programs run by the Eatery are various, diverse, and support a wide range of stake-holders in the community. They run combined work programs with employment City programs to help people gain skills and experience in a workplace. Their famous button program allows for those who can afford to give can provide a meal for those in need. And continually, the Eatery is run by at least 80% volunteers. Other than the Directors and Managers, each person is a volunteer. The 541 promotes a strong air of humility, and humble direction by doing this, and also cutting costs to be able to afford high quality food for the community at a lower economic range. Volunteering is an act that changes people's lives. Those acting in it, and those they interact with. It is very important to address root problems to poverty in order to solve the cause, and a large part of that understanding is empathy, awareness, and humility. By investing in so many people with a diverse background in history and skills, the 541 is fostering a strong resilient community by support and acceptance.
Cultural sustainability: 
The 'Neighbourhood Report' for Barton Street East states in their vision:
"Barton will become a vibrant main street and the focal point of a complete community…the historic presence of this street will be reflected in its rebirth as a mixed use corridor, inclusive housing, diverse services, and new job opportunities." (The Planning Partnership, 2014, 45)
The 541 Eatery and Exchange is a driving force in Barton Village. They are driving for more people to be understood, to be heard, so each individual who has been part of the ever-changing neighbourhood can have a voice in their transformation. By providing a safe place where people can engage and connect, a unique opportunity presents itself; where people begin understanding themselves and their role in their neighbourhood. Through spaces that grow awareness and humility, core issues begin to be addressed, people are empowered by investment and belief, and a cultural understanding become imminent. The people of Barton Village know what they had before the economic crash in Hamilton when industry reliability proved to be a mistake, and there is new hope to find a more diversified economy and resilience through newfound avenues of the people in the Barton Village. The Eatery supports this by housing a new found sense of place through strong foundations like volunteering, education, providing opportunities, and food sustainability.
Economic sustainability: 
The 541 obtains quite an economical model, due to their high number of volunteers by rewarding experiences, they are able to cut other costs that would usually be a bearing on new social enterprises, and invest in more local economies and high-quality products for everyone equally. They hold bi-monthly fundraisers to increase awareness of their message and existence within downtown Hamilton, and they work to inquire about a larger network in Hamilton for economic assistance. These help the 541 throughout the year to continue providing their services to their most advantageous potential. The Eatery can support their efforts by their organized initiatives like fundraising and a strong foundation of volunteers, in order to continue their strong production of a hopeful light in the community.
MEASUREMENT 
Here, the 541 Eatery and Exchange will be observed from the point of view of Kate Clark's Sustainable Development and Cultural Heritage, where the author observes how heritage can contribute to the sustainable development goals. (Clark, 2008, 82)
The Sustainable Development Goals (SDG's), authored by the United Nations is a plan of action that exists for the three pillars of sustainability; people, planet, and prosperity. The goals look to obtain universal peace in a wholesome freedom through eradicating poverty in all forms due to its presence as the largest global challenge. All countries and stakeholders are acting in a partnership that will implement the goals in a planned manner to aid in this resolution and revolution to secure the future of the planet. (United Nations, 2017)
Heritage in many ways can play a key role in strategizing a more sustainable present and future for citizens and the populous. Despite the 541 not being a designated heritage property, I believe an interesting path lies with their impact on the community and their sustainable initiatives on inclusion and aiding in solving some root causes of poverty within their grasp. The United Nations sustainable development goals provide an aura of awareness that seems daunting, but can easily tie into many similarities of heritage applications. Below there will be comparisons of the roles heritage can contribute to the UN's SDG's and how the 541 is possibly executing that role.
| | |
| --- | --- |
| List of measures (UN SDG, 2017) (All points: Clark, 2008, 83) | How the project/policy/place does |
| (a) The role of heritage in sustainable consumption and production – Re-using historic buildings helps reduce construction waste, materials, and economically cheaper for maintenance than demolition | The 541 is located in a building over 100 years old with a changing use based on demographic need and economic engagement. The renovation it undertook gave way for a new revitalization to provide a hopeful beacon for potential heritage site around the city and their potential uses. |
| (b) The role of heritage in the economy – heritage projects can contribute to regeneration and business activities through conservation work | Heritage projects can contribute to regeneration, as the 541 has completely helped the Barton Village evolve into its driving potential presently, by empowering the people and providing a local identity for the community members. |
| (c) The role of heritage in sustainable communities – social impacts lie in participation, where people receive wider community benefits, a cohesion with the community, empowerment, self-determination and local identity. | For the 541, the impact of participation is representative in personal development. People who took part in community heritage projects – or in this case I would convert those results to the similar atmosphere of the Eatery – had gained confidence and self-esteem, increased social engagement and learning skills.  Youth are often under-represented regarding heritage projects and impact, but by the potential of the 541 as a heritage building, it is already setting a high standard for diversified engagement with the community. |
The pictures below show various activities taking place at 541, a busy lunchtime, the Chef harvesting from their back-lot community garden, and their button jars that really capture their social enterprise in one symbol. Credit to, and sourced from the 541 Eatery and Exchange's Instagram.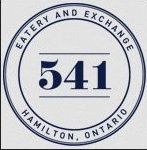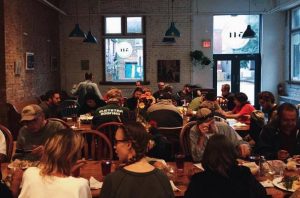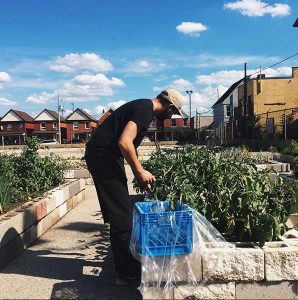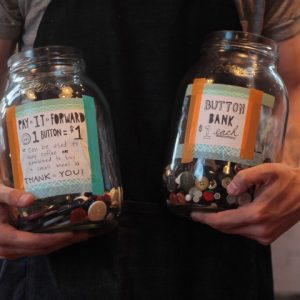 To conclude, the 541 Eatery and Exchange offers an exemplar lead role for the re-development of Hamilton's Barton Village. Their considerations for location and the purpose they have stated in this community has proven continuously to be more than ideal. The people are supportive of their message, and engaged in their activities. There is a large amount of respect for each other in this community by the hope and support that takes place through the "food sustainability", training, and education that takes place in and around the Eatery. By homework clubs, Youth camps, a foundational volunteer program, and a skills training for people entering the workplace all create more than just a café that serves food to local visitors. Their adaptive reuse of a building that has a story-telling history that represents the evolution of the City of Hamilton, has made positive and regenerative use of a potential heritage site with many improving impacts and outcomes for the local community.
REFERENCES
Books/Book chapters/Journal articles
Carroon, J. (2010). Sustainable Preservation: Greening Existing Buildings. Hoboken, N.J: Wiley.
Clark, K. (2008). Only Connect: Sustainable Development and Cultural Heritage. The Heritage Reader. New York: Routledge.
Corner, John; Harvey, Sylvia. (1991). Enterprise and Heritage: Crosscurrents of National Culture. London, UK: Taylor & Francis.
Fowler, E. P., (2007). Heritage in the 'Burbs, How to make suburbs a lasting legacy. Alternatives, Canadian Environmental Ideas + Action 33.2-3.
Freeman, B. (2006, Oct 14). Hamilton: A People's History. Toronto, ONT: James Lorimer & Company Ltd.
Knox, P. L., & Mayer, H. (2013). Small Town Sustainability: Economic, Social, and Environmental Innovation. Basel, Switzerland: Birkhauser Verlag.
Rodwell, D. (2007). Conservation and Sustainability of Historic Cities. Singapore: Wiley-Blackwell.
 Reports
City of Hamilton: Planning and Development Department. (2002, Sep). Hamilton's Heritage: Volume 2. Inventory of Buildings of Architectural and/or Historical Interest. Retrieved from https://d3fpllf1m7bbt3.cloudfront.net/
The Planning Partnership. (2014, Jan). Barton and Kenilworth commercial corridors background report. Retrieved from https://www.hamilton.ca/
Urban Marketing Collaborative. (2011, May). Commercial Market Analysis for Barton Village BIA. Toronto, ONT: J.C. Williams Group. Retrieved from http://www.investinhamilton.ca/
Websites
Allen, T. (2017, May 14). Best of Charles Mills. The Inlet. Retrieved from http://theinletonline.com/
Goad, C. E. Insurance Plan of the City of Hamilton, Ontario, Canada. (Hamilton; Montreal: C.E. Goad, reprint March, 1914), sheet 076. Retrieved from: http://digitalarchive. mcmaster.ca/
Hayes, M. (2016, Oct 7). Eatery's currency concept brings hope to Hamilton's Barton St. East. The Globe and Mail. Retrieved from https://beta.theglobeandmail.com/
Heritage in Hamilton. (2014, Sep 7). Stop 16 – West Ave at Barton St. E. WordPress. Retrieved from https://heritageinhamilton.wordpress.com/
Hill, R. G. (2016). Biographical Dictionary of ARCHITECTS IN CANADA 1800-1950. Dictionary of Architects. Retrieved from http://dictionaryofarchitectsincanada.org/
McCallum Sather Architects. (n.d.). Hamilton, Ontario. 541 Eatery & Exchange. Retrieved from http://mccallumsather.com/
Seguin Engineering Inc. (2017). About Us. Seguin Electrical Engineering. Retrieved from http://sei-ee.com/
Tae Photography. (2014, Dec 16). 541 Eatery and Exchange. Behance. Retrieved from https://www.behance.net/
United Nations. (2017). Transforming our world: the 2030 Agenda for Sustainable Development. The United Nations: Sustainable Development Knowledge Platform. Retrieved from https://sustainabledevelopment.un.org/
Weaver, J. C. (2017, Feb 24). Hamilton. The Canadian Encyclopaedia. Retrieved from http://www.thecanadianencyclopedia.ca/
541 Eatery and Exchange 2015. (2015). 541 Eatery and Exchange. Retrieved from: https://www.fivefourone.ca