Shorefast Foundation, Fogo Island, Newfoundland: Regenerating Natural and Cultural Heritage through Sustainable Tourism
Case Study prepared by Jennifer Toby
Keywords: social enterprise, cultural heritage, vernacular building, sustainable tourism, Newfoundland outport, fishing community revitalization
Lessons Learned
This case study looks at the revitalization of the former cod-fishing communities of Fogo Island, Newfoundland, through the work of the Shorefast Foundation, a registered charity. Shorefast operates three social businesses: The Fogo Island Inn, Fogo Island Fish and Fogo Island Workshop. Shorefast Foundation also has a range of Charitable Programs including Fogo Island Arts, Ocean Ethics program, Community Economies Pilot, Geology at the Edge, heritage conservation, academic residencies, microlending and boat building. The national and international attention directed toward Shorefast Foundation and the now iconic Fogo Island Inn has put the spotlight on the core intentions of its founders: to highlight the importance of valuing and supporting the natural and cultural heritage of small rural communities in a sustainable way. The objective is to create an economic development model that is viable, livable, and equitable based on the inherent cultural and physical assets of place. Shorefast has strengthened traditional skills and built heritage through the restoration and repurposing of numerous private and public spaces and by reaching out to the future through its use of contemporary architecture, dialogue and arts. By established itself as a leader in community regeneration through sustainable tourism, Shorefast Foundation is challenging the predominant "techno-economic business model." This includes centering the economy on the place and by making the community of Fogo Island the engine and beneficiary of economic capacity and resilience. This case study builds on the authors visits to Fogo Island between 2010 and 2019, and interviews with Zita Cobb, Shorefast founder.
This set of slides was presented in class on December 2, 2021, and shows initial findings.
---
Description
Fogo Island is an Island off the coast of Newfoundland. It is the farthest east location in Canada, and with tongue firmly in cheek, claims to be one of the four corners of the flat earth.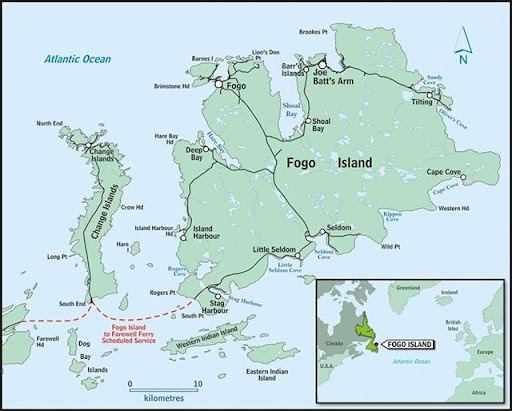 "Shorefast is a registered charity whose mission is to build cultural and economic resilience on Fogo Island and to serve other communities by sharing place-based models of economic development. There is no private gain – the business is operated for the exclusive benefit of strengthening the cultural heritage, supporting ecological sustainability, and investing in the economic well-being of Fogo Island." (Shorefast website)
Shorefast Foundation is based on understanding the relevance of the past and having a dream for the future for Fogo Island. The role of small rural communities is often undervalued and their capacity to adapt and recreate into a new future is difficult. The result can be a loss of hope in a viable future and an exodus to the cities. Shorefast has identified multiple ways to sustain the natural and cultural heritage of Fogo Islanders with the goal of keeping the community intact and engaged with the world. This is carried out through a combination of social businesses and charitable programmes.
Social businesses include:
The Fogo Island Inn is a multiple award winning 29-room Inn designed by Newfoundland born architect Todd Saunders. The Inn was built using philanthropic and government grants. All surpluses from operations return to Shorefast Foundation to be utilized for the benefit of the community. The distinctive posts which suspend one end of the Inn are reflective of the vernacular architecture of outport fishing communities. The Inn is built in an X shape to reflect the paradoxical tensions that informed this project: old and new; local and from away (Cobb interview).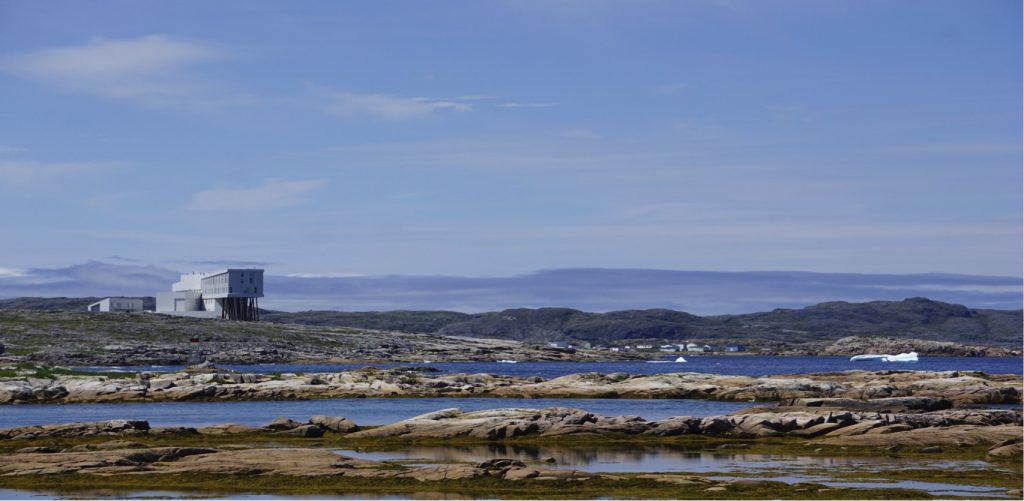 Fogo Island Fish sells high quality, sustainably fished cod and other seafood products to restaurants and individual patrons in Toronto.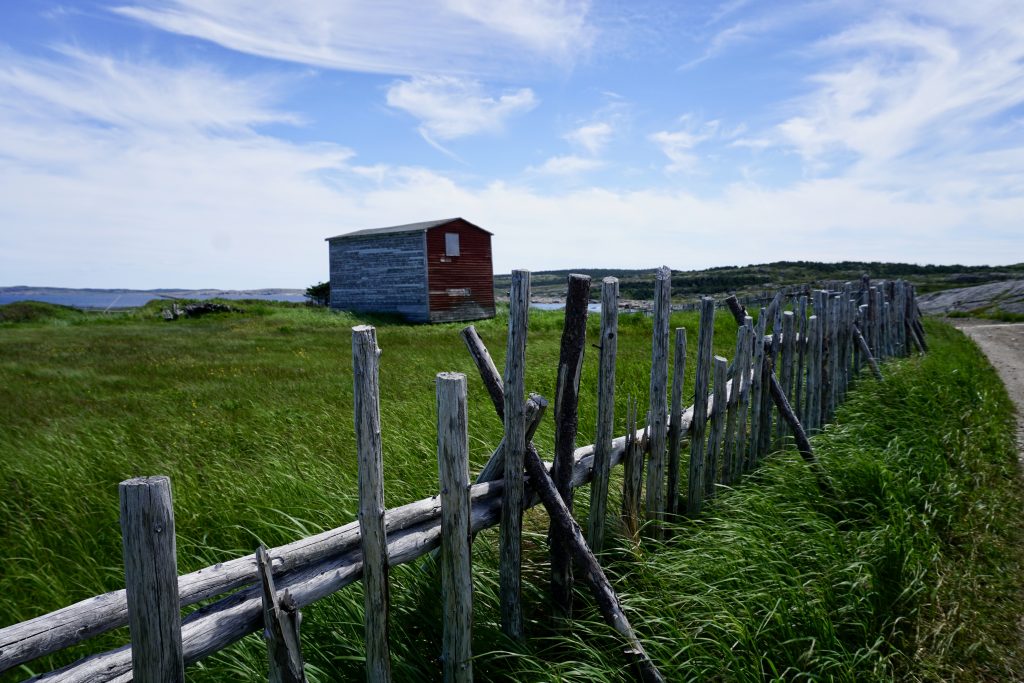 Fogo Island Workshop brings together emerging and renowned designers with craftspeople on Fogo Island to provide economic benefits for the local community while helping to conserve cultural heritage. Furniture making, quilt making and rug hooking skills have been revitalized.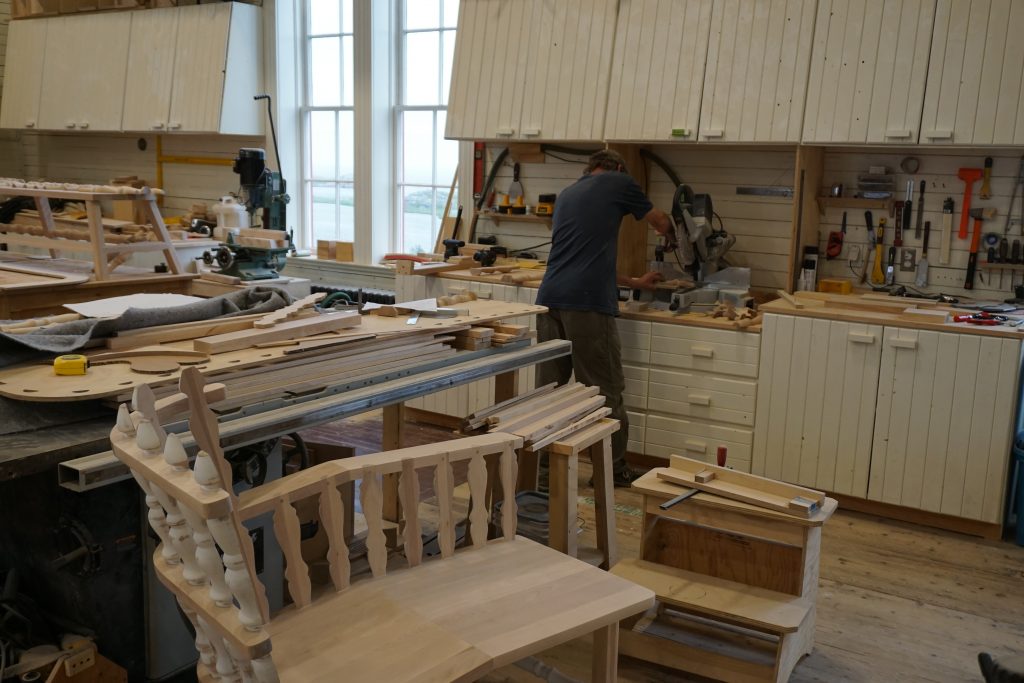 Charitable programs include:
Fogo Island Arts, one of Shorefasts' founding projects, is a contemporary art residency and exhibition program that brings artists from around the world to Fogo Island.
Community Economies Pilot is a pan-Canadian initiative to strengthen community economies by sharing what has been learned at Fogo Island.
Heritage conservation of historic homes, churches and public buildings is ongoing to preserve not only the historic wooden buildings but also the traditional ways of knowing and community. The Punt Premises is home to a fleet of punt boats, artifacts and structures which brings to life the vibrant inshore fishing era and outport culture to young people and visitors (Punt Premises).
Geology on the Edge is a community-based geology program.
New Ocean Ethic is rethinking the way we use ocean resources and co-exist responsibly.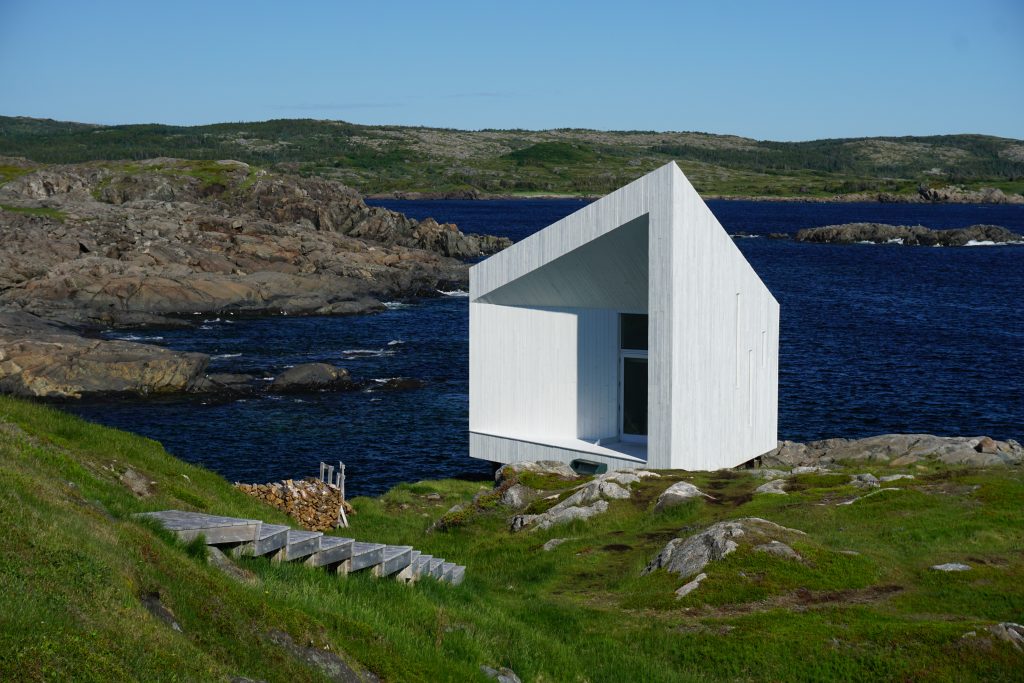 HERITAGE
Fogo Island is on the ancestral homelands of the Beothuk people who came to Fogo Island for summer fishing. When the first Europeans arrived "contact between these groups was not congenial" (Mellin, 7). Conflict with settlers forced the Beothuk to move inland, resulting in loss of food sources. Starvation and illness led to rapid decline of the Beothuk population throughout Newfoundland, until sadly, in 1829, the last known Beothuk person, Shawnawdithit, died in St Johns of tuberculosis (Heritage np).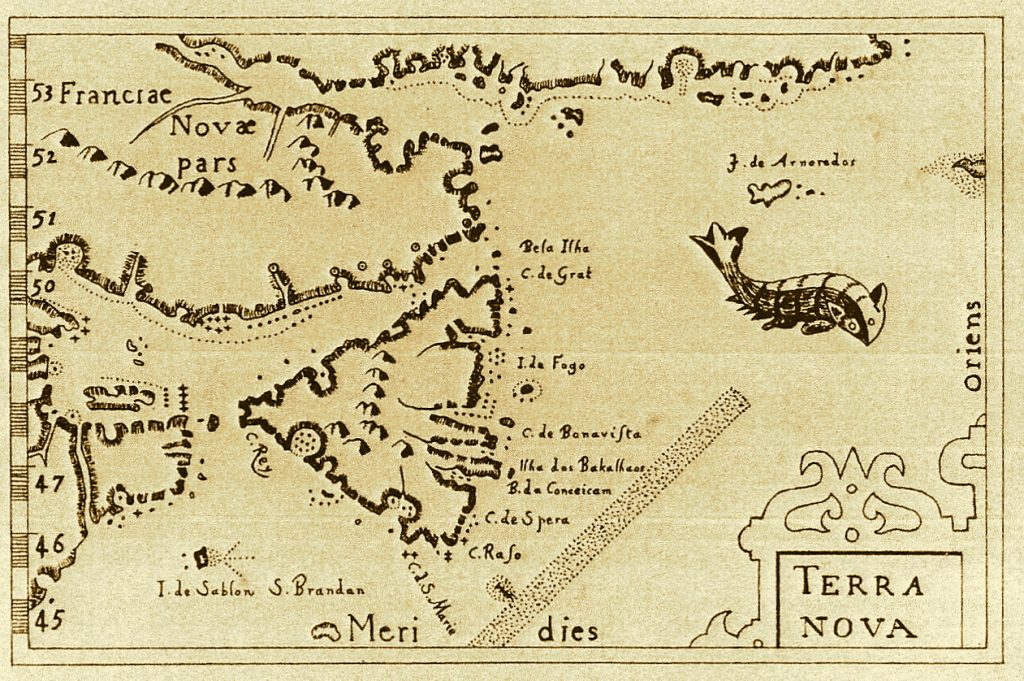 Fogo island was Identified on European maps as early as 1606 as Y de Fogo when European fishers came for summer fishing. By the 18th century, settlers came from England and Ireland to settle in tiny communities along the coast. Cod was instrumental in the colonial power structure of the merchant outport economy which exploited local populations and cod fish resources for the economic benefit of a distant business owner far removed from the environmental and economic impact. Fogo was a non-cash accumulating society under the merchant system, with scarce (to non-existent) health care, and minimal education provided by the churches. Diets based on cod fishing were supplemented with produce from kitchen gardens, small animal husbandry, and berry picking. Pride was taken in making and doing for yourself as there was little economic or government engagement (Mellin, p 67). On Fogo Island, as in many outport communities, life was centered around fishing, family, and faith. There was also a deeply ingrained sense of welcome and hospitality.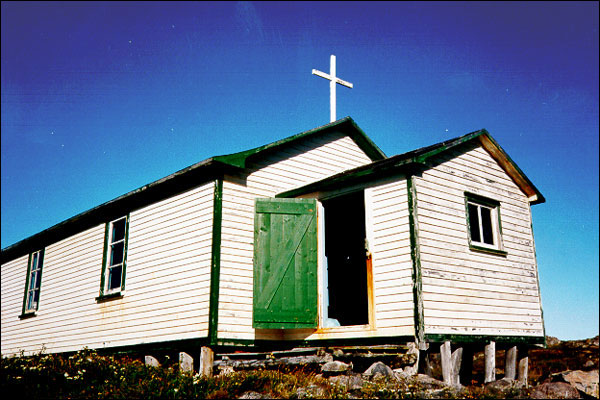 Starting in the 19th century, the cod stock began to decline due to overfishing. With the introduction of drop net fishing trawlers to the inshore fishing grounds in the 1940s the cod were eventually depleted beyond their capacity to replenish (Heritage). The Cod Fishing Moratorium imposed by the Canadian Federal government in 1992 was a response to the outcome of environmental degradation for economic gain. In 2021, almost 30 years after the moratorium was imposed, the fish begin to show signs of regeneration, although the amount of regeneration is under dispute. Limited cod fishing is now being allowed (CBC).
Prior to the early 18th century, fishermen were not allowed to build permanent structures so they devised a system of "shores" or posts jammed into the rocks and built small shelters that sat lightly on the land. The fishing sheds are often painted ochre red with white trim (Mellin). A white identifying mark on each shed door helped fisherman identify their fishing shed when returning from the ocean in the dark or fog. The fishing sheds and salt box houses painted a variety of bright colours are living examples of the vernacular architectural style. Many elements of the natural and cultural heritage remain intact on Fogo Island, and led to the town of Tilting, Fogo Island to be designated a National Historic Site of Canada in 2003 (Parks Canada). In 2019, Shorefast opened the restoration of the Punt Premises to showcase the history of inshore fishery life in an outport community, The Premises are designed to hold on to traditional knowledge and share it with new audiences and generations (Punt Premise).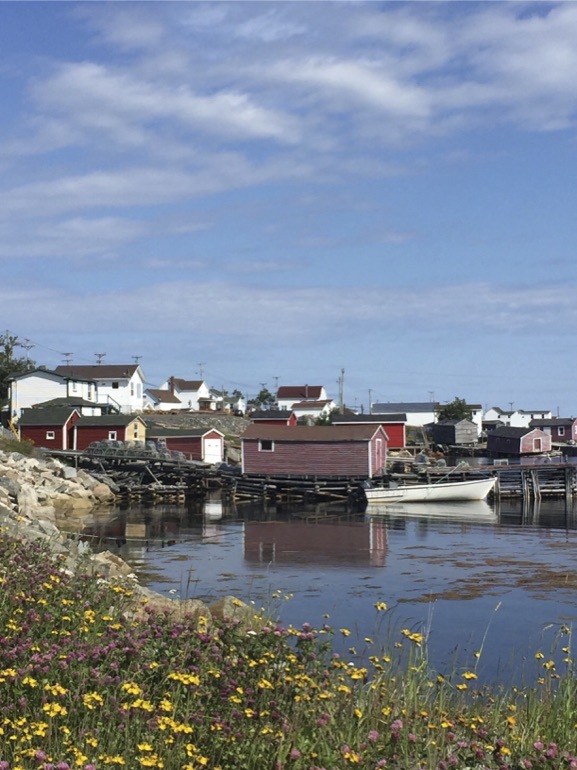 TIMELINE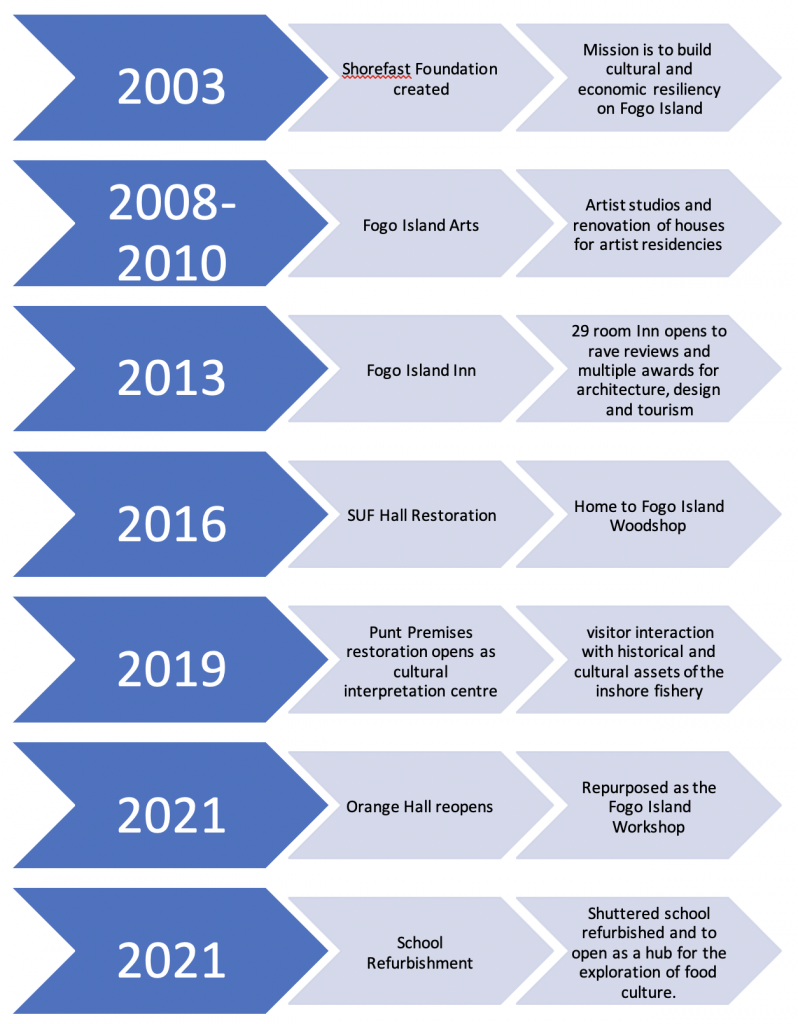 STAKEHOLDERS
Citizens and governments: Human life on Fogo Island has always been centered on cod fish. From the Beothuk Indigenous peoples to the earliest European fishers that came for the summer months, to the small outport communities that survived on fishing, cod was at the center of economic, family and community life. When overfishing resulted in the decline of cod populations and the imposition of the Cod Fishing Moratorium by the Canadian Federal government in 1992, the population on Fogo Island began to decline and it became a community frozen in time with no clear way forward. In 2003, 8th generation Fogo Islander, Zita Cobb formed Shorefast Foundation as a registered charity "to empower the community to create a new future'.
Fogo Island, the Province of Newfoundland and all Canadians have a stake in this unique historical, cultural and economic undertaking. The significant international attention that Shorefast has generated is reflective of interest in the possibility of innovative ways of restructuring rural economies into more sustainable models.
Financial Stakeholders: As a registered charity, all financial gains generated by Shorefast social businesses are reinvested in the community for the benefit of Fogo Islanders meaning the residents of Fogo Island are the ultimate stakeholders.
There has been very significant contribution of financial resources and time by Zita Cobb, as well as by her brothers Alan and Tony Cobb.
The Federal and Provincial governments each contributed $5 million to build the Inn and the Provincial government has contributed further funds to some of the ongoing projects such as the Punt Premises.
Philanthropic donors have contributed to specific projects such as the Punt Premises.
Fogo Island Economic Development Partnership. The three largest employers – Shorefast, the Municipality of Fogo Island and the Fogo Island Fish Cooperative – work together to strengthen cultural and economic resilience on the island.
Over 300 Fogo Islanders work for or provide services to Shorefast.
Microlending has been extended to small operations on the island.
Academic and Artistic Stakeholders: Fogo Island Arts has had numerous contemporary artists, writers, curators and artisans participate in residencies in Fogo Island, furthering their own artistic career and opportunities while also building the capacity and reputation of the Fogo Island Arts program in the international contemporary art market. Academic researchers engage in ocean studies, geology, community, arts and business research to build and share knowledge. Community Economies Pilot was created to share what has been learned at Fogo Island with four other locations in Canada
SUSTAINABILITY
Environmental, social, cultural and economic sustainability are at the core of what Shorefast set out to achieve on Fogo Island. A holistic approach focused on community revitalization rather than economic gain ensures that Shorefast maintains a consistently high standard of sustainability in all its operations.
Environmental Sustainability:The use of local materials and traditional knowledge and skills in the construction of the Fogo Island Inn, studios and reconstruction projects reduced transportation costs and environmental impact of the construction projects. Use of local building techniques and historical construction knowledge developed over centuries allowed for adaptations for the climate and landscape and minimum environmental impact of the build. There is ongoing consideration of lowest possible usage and impact of water, waste and electrical systems in the buildings and surrounding landscape.
At the Fogo Island Inn, the Inn dining room focuses on local food sources and ingredients, including produce from a market garden created by a local resident (with seed funding provided through Shorefast microlending). The primary activity for Inn guests and community members is to go for a walk in the community or on the trail system.
Fogo Island Fish uses traditional and sustainable hand line fishing methods during a three-week period each summer to capture cod and seafood, producing a high-quality fish and seafood sold at a premium price.
Fogo Island Workshops support local craftspeople and the use of local materials for furniture, crafts and quilts. There is, however, a negative environmental impact created by the impact of the air travel, car and ferry transportation for materials and guests to get to Fogo Island.
Social sustainability: The many programs initiated by Shorefast have instilled pride in local history and traditional ways of knowing. There has been a resurgence of traditional knowledge of fishermen through Fogo Island Fish, and of the crafters, artisans and boat builders that built the Inn and are now making items for sale in the Fogo Island Workshop. The artist residencies through Fogo Island Arts bring artists from around the world to Fogo Island, and their art exhibits and artist tours are open to the public.
At the beginning of the project, Shorefast engaged the community through Asset Based Community Development model. There were years of planning and discussions with the community prior to building the Inn. Questions such as: What do we know? What do we have? What do we love? were asked in this phase of the project.
When Fogo Island Inn first opened, every Fogo Islander was invited to spend a night at the Inn free of charge. There are designated tours of the Fogo Island Inn for visitors not staying at the Inn, (but dinner reservations are usually filled by Inn guests). A popular part of the Fogo Island Inn experience is connection of an Inn guest to a community host who takes the guest on a community tour or hike.
Education scholarships for local students encourage education and support application for well-paying jobs on Fogo Island.
Shorefast will share their knowledge and experience through the newly created "Community Economy Pilot Project" in Newfoundland and several locations across Canada to distill and share the Fogo Island experience.
Economic sustainability: As a charitable entity, all proceeds from the Shorefast social businesses are reinvested for the benefit of the community of Fogo Island while Shorefast charitable programs operate Fogo Island Arts and numerous community initiatives.
Shorefast has created over 300 direct jobs and many indirect jobs on Fogo Island and beyond. Economic Nutrition Labels were created to identify who benefits from each product and service.
The high cost to stay at the Fogo Island Inn reflects the cost of paying fair salaries to staff.
MEASUREMENT
It is difficult to objectively and comprehensively measure the impact of a complex initiative such as that undertaken by Shorefast Foundation. Financial indicators are necessary, but incomplete. Measurements need to be created, tracked and documented to determine if upward or downward trends are emerging. The goal of measurement is to determine whether Fogo Island is becoming more (or less) viable, liveable and equitable. The following two approaches provide an initial assessment.
UN Sustainable Development Goals
Shorefast addresses many UN Sustainable Development Goals, the most applicable being SDG Goal 8 "Promote inclusive and sustainable economic growth, employment and decent work for all." This includes activities that address two targets:
Target 8.3: Promote policies to support job creation and growing enterprises.
Target 8.9: by 2030, devise and implement policies to promote sustainable tourism that creates jobs and promotes local culture and products.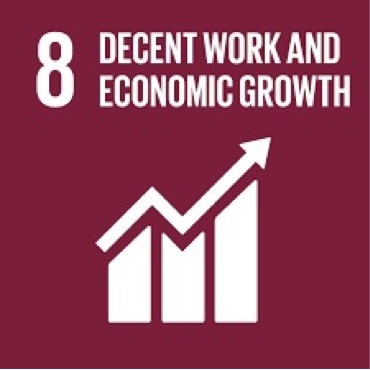 Viable-equitable-livable
A model of sustainability that illustrates the inter connectedness of society, environment and economic sustainability, shifts the focus to bridging concepts of 'viable, equitable and livable' (Berthold et al).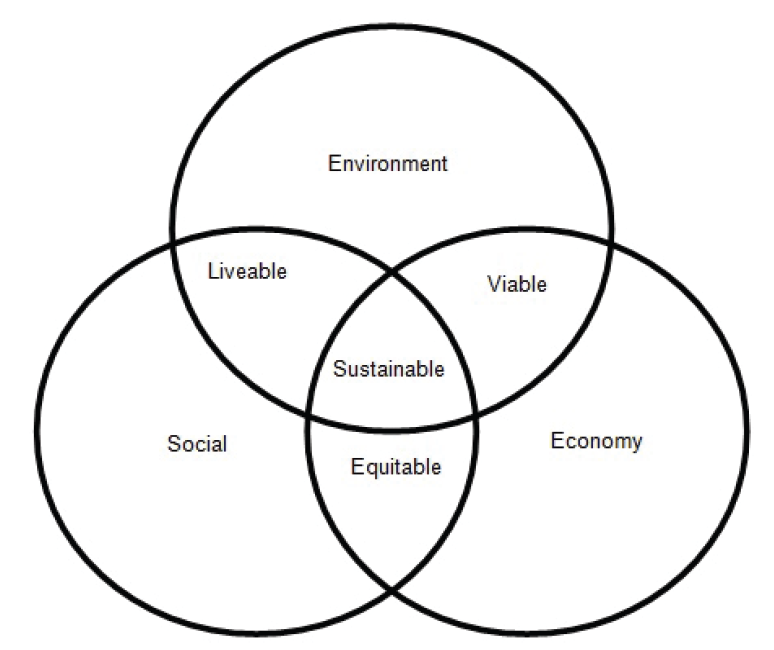 Viable (Economic and Environmental sustainability): The question of whether the innovative model created by Shorefast is viable has always hung in the air. The Fogo Island Inn is a very expensive Inn (costing in the thousands of dollars per night) and it is located far away from all major urban centres (276 kms to St John's).
While the weather can be pleasant in the summer months, Fogo Island has a northern climate. There are no major attractions other than natural beauty of the landscape. The Inn does not seem viable, and yet, it has a high occupancy rate. Inn guests rate the Inn very highly for the quality of the hospitality and value the natural and cultural beauty of Fogo Island. Guests appreciate their connection to the environment and the local community. Shorefast has won numerous prestigious awards in the tourism, business, sustainable tourism, and cultural industry and has an active following on social media and mass media.
Government loans have been repaid and the economic benefits of Shorefast are evident when walking around the communities. New small businesses have opened. Homes and community buildings have been revitalized. More families with small children have chosen to live on Fogo Island. As Zita Cobb said in a recent interview for the television programme 60 Minutes, by increasing the viability of other businesses, her goal is to make Shorefast an ever-smaller economic player on the island (60 Minutes).
The increase in popularity of Fogo Island as a tourism destination has made ferry access from Newfoundland to Fogo Island challenging in the summer months, requiring Fogo Island to lobby for additional ferry capacity. There is a high environmental and economic cost to travel to Fogo Island by plane, car and ferry which may cause viability concerns in the future.
Equitable (Social and Economic Sustainability): Shorefast has changed the economic structure by creating a unique hybrid business model. The three social businesses operate for profit and their profits are reinvested in charitable programs for the benefit of the community. This, of course, has hinged on the willingness of a financially successful businesswoman to invest in this model and forfeit personal financial gain. Sharing the knowledge and experience in Fogo with other communities in Canada through the Community Economies Pilot shares the benefit with other communities who may not have a financial partner with the financial and business resources of Zita Cobb. This is also an equitable model for the government to consider innovative ways to invest in small rural communities.
Liveable (Social and Environmental Sustainability): Newfoundlanders have a deep commitment to place and an intense sense of belonging. Families are moving back to the island. The movement to distance work inspired by the pandemic supports Fogo as a place where people can work from home. For this to be a realistic option, reliable high speed internet connection is needed. Another challenge is that housing prices have increased over the past decade. The overall Canadian housing market, significant highly paid employment of Fogo Islanders in the Alberta oil sands, as well as the increase in tourism brought by Shorefast have contributed to this reality.
Works Cited
Articles and Books
Barthel–Bouchier, Diane. Cultural Heritage and the Challenge of Sustainability. London and New York: Routledge, 2016.
Berthold, Étienne et al. "Using sustainability indicators for Urban Heritage Management: A review of 25 case studies." International Journal of Heritage and Sustainable Development, vol. 4, no. 1, 2015, pp.23-34.
Brown, Kate, "How a $41 million luxury hotel is sustaining an Ambitious Arts and Ecology initiative on a Remote Canadian Island." Artnet, June 7, 2019.
DeSilva, Megan and Jane Henderson, "Sustainability in Conservation practice." Journal of the Institute of Conservation, vol.34, no.1, 2011, pp. 5-15
Evan, Phillip. "The Culture of Outports Project." Master Shipbuilders of Newfoundland and Labrador Vol 1, edited by Calvin Evans, St. John's: Breakwater Books, 2013, pp. 211-222.
LeRoux, Heather. "Social Culture of Outports." November 27, 2014.
Landorf, Chris. "Evaluating Social Sustainability in Historic Urban Environments." International Journal of heritage Studies, vol.17, no.5, 2011, pp. 463-477.
Mellin, Robert. Tilting House Launching, Slide Hauling, Potato Trenching and other Tales from a Newfoundland Fishing Village. Princeton Architecture Press, New York, 2003.
Saarinen, Jarkko, ed. Tourism and Sustainable Development Goals, Research on Sustainable Tourism Geographies. London and New York: Routledge, 2020.
Sealy, Peter. "At the end of the earth", Domus, May 8, 2013.
Slawinski, N. "Global Philanthropy: Local ideas, Global Potential – the Shorefast Foundation." The Routledge Companion to Philanthropy, edited by T.Jung, S. Phillips, S. & J. Harrow, London and New York: Routledge, 2016.
Slavinski, Natalie and John Schouten. "Strengthening Newfoundland and Labrador through Social Enterprise: A Place Model". Op-Ed., Faculty of Business Adminstration, Memorial University. January 25, 2019
Teaching Case Studies
Websites
Header Image: Fogo Island Inn, Joe Batt's Arm, Fogo Island, Newfoundland. Photo Credit, J. Toby, 2017