Binational Initiatives for River Management; Highlighting the Various Restoration Efforts of the Detroit River
Case Study prepared by Jan Rosete, Carleton University
Keywords: Urban natural heritage, river rehabilitation, binational efforts, aquatic ecosystems, chemical pollution
LESSONS LEARNED
Analyzing the different approaches made towards sustaining the quality of the Detroit River highlighted numerous hidden aspects that goes towards river rehabilitation. One main idea that stemmed from this case study is how it requires numerous community-based approaches to achieve positive results. There are many initiatives like the Detroit River International Wildlife Refuge (DRIWR) and the Detroit River Cleanup Committee (DRCC) who are committed to purifying the river, protecting its watershed, and repopulating native species. Since the river runs between both Canada and the United States, it takes the join effort of both countries, sometimes even international help, to achieve lasting results towards restoration.
The Detroit River also holds such a rich history that preserving it almost seems mandatory and out of respect to the people whose lives depended on it. From harboring fugitive slaves across to Canada, to being a shipment corridor, to even being a traditional water resource for Indigenous groups who reside along the perimeter, everyone has a part in the development of the Detroit River and its current conditions. However, despite all the consistent efforts of the many initiative groups along the River, it will take much more time and money for the river to be in a state it was before industrial development was introduced. These efforts can also only be executed onto lands already owned by the respective conservation group, and sadly can not be applied to private property unless consent is given. This is proven to be difficult especially when property owners and environmentalists do not see eye to eye.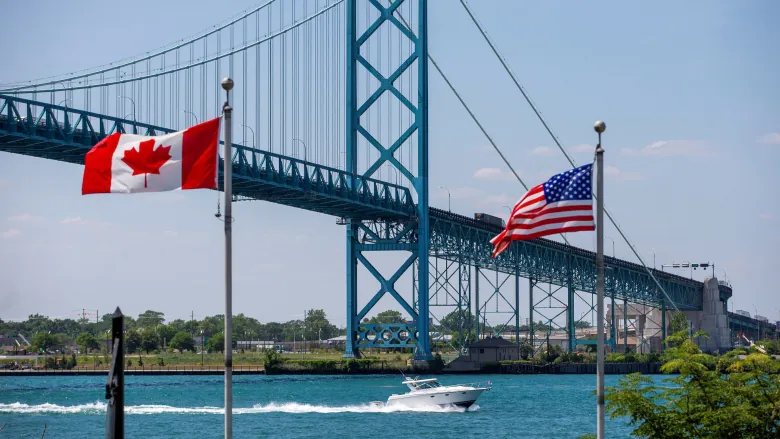 ---
This presentation focuses mostly on the development of the Detroit River International Wildlife Refuge (DRIWR)and what events have led to this river being designated a dual heritage river status (Essex Region Conservation Authority, 5). It highlights aspects of environmental sustainability and also touches on social and cultural aspects the river symbolizes. This was presented on December 2nd, 2021.
DESCRIPTION
The Detroit River contains a culturally heavy past and a poor environmental record. Being on the border of Detroit, MI and Windsor, ON, it played a key role in their growth as a car manufacturing city especially during the introduction of industrial development in the 1700s-1800s. The river was used as a transport corridor to help move shipments along, allowing for both economies to grow and develop (Essex Region Conservation, 4). This overreliance on the river, however, has led manufacturing companies to abuse the river's qualities and dump their toxic waste into it. This has led to the major pollution of the river, as chemical pollutants such as "mercury, pesticides, [and more]" (State of the Strait, 385) have poisoned the watershed, causing the poisoning of aquatic species. This rapid urbanization has also led to fortifying the river's coastal wetlands with concrete and/or steel, losing about 97% of its original wetland properties" (State of the Strait, 465).
Events like the Rouge River in 1960, a connecting river to the Detroit River, has burst in flames due to the heavy amounts of chemicals and oil slicks (CBC News). This has motivated both governments to invest in river cleanup and rehabilitation in response to the Federal Water Pollution Control Administration identifying this river to be one of the "most polluted rivers in the United States" (Hartig 2018, 459). To understand the importance of local efforts like the DRIWRand what led to their development, it is necessary to examine the roles federal and provincial governments had in developing their existence.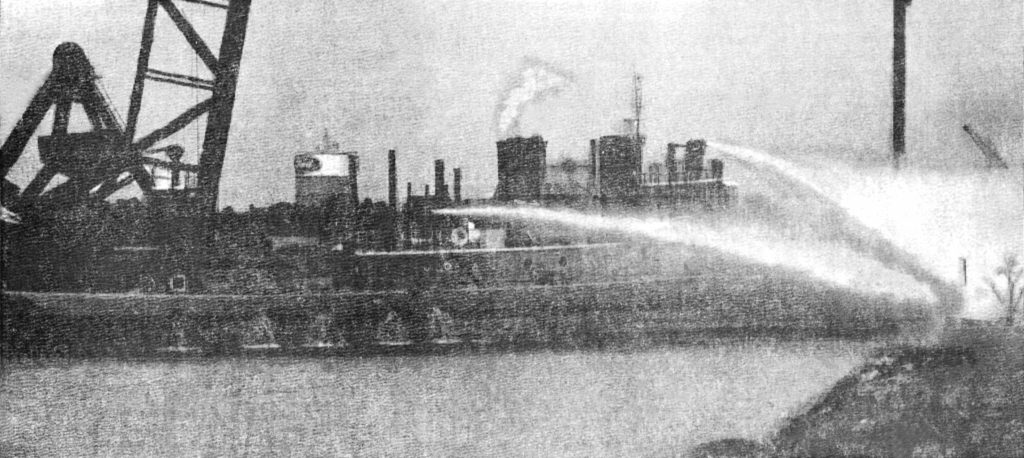 The Great Lakes Water Quality Agreement (GLWQA) was first signed in 1972 and this agreement symbolized the partnership between the United States and Canada in terms of protecting the Great Lakes (Great Lakes Law). Their main purpose is "to restore and maintain the chemical, physical, and biological integrity of the waters of the Great Lakes Basin Ecosystem" (National Research Council of the United States and the Royal Society of Canada). Although it's non-binding and there are no legal implications if targets are not met on both sides, it does motivate and turn to lake wide community planning for more direct solutions.
This led to many scientific analyses of the Great Lakes, one of them being the Lake Erie Lakewide Action and Management Plan (LAMP). LAMP is a bi-national ecosystem-based strategy that was developed for restoring the Lake Erie basin and its connecting rivers (Environment and Climate Change Canada and the U.S. Environmental Protection Agency, xi). By 2023 LAMP has outlined several key goals to help restore and protect the Lake Erie habitat, one of them mobilizing outreach not just from volunteers but also by local programs from both sides of the river (Lake Erie Lakewide Action Plan 2020 Annual Report).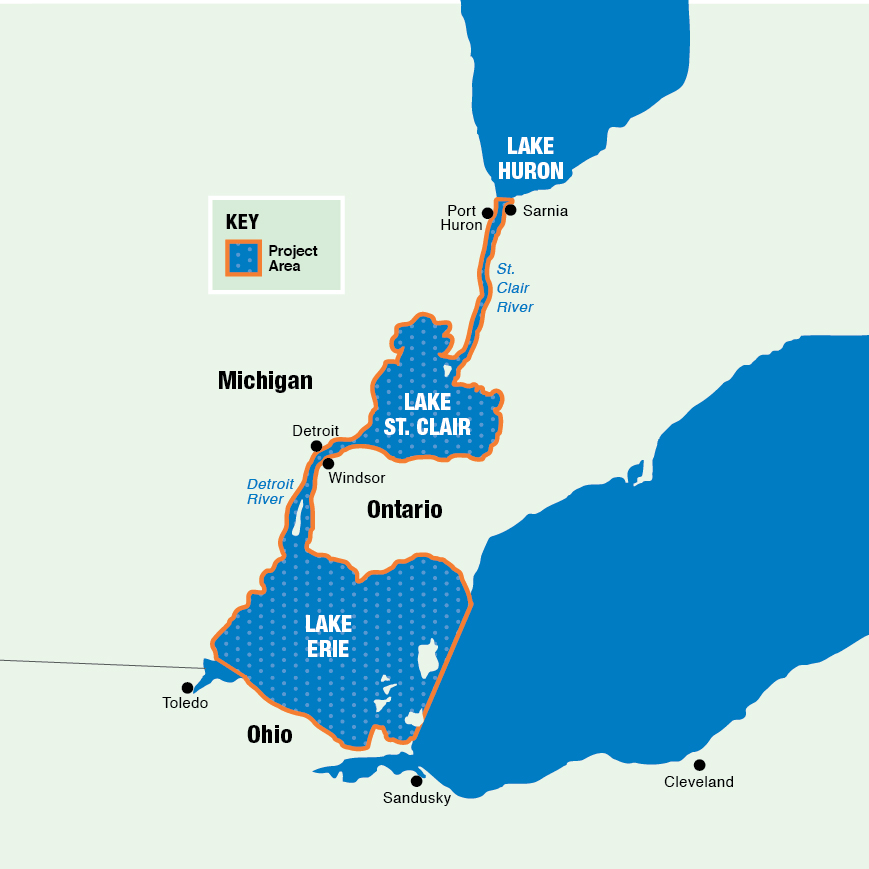 The DRIWR is a program developed in 2001 with the aim of "protecting endangered species, restore water quality, and improve the current economy of both countries" (U.S. Fish & Wildlife Service). This American based project aims to restore the river and its ecosystems through protecting valuable wetlands and repopulating native species. The DRCC on the other hand, is a Canadian based initiative located in Essex, Ontario and operates on a "community-based partnership that [protects], [restores], and [enhances] the Detroit River ecosystem" (Detroit River Canadian Cleanup). The DRIWR takes care of the many islands situated along the river meanwhile, ecological restoration has been going on for almost three decades through the efforts made by the DRCC. Highlighting these two initiatives have shown how important, culturally and environmentally, upkeeping the Detroit River is for both countries and how joint efforts are mandatory in terms of restoring this "area of concern" (Environmental Protection Agency).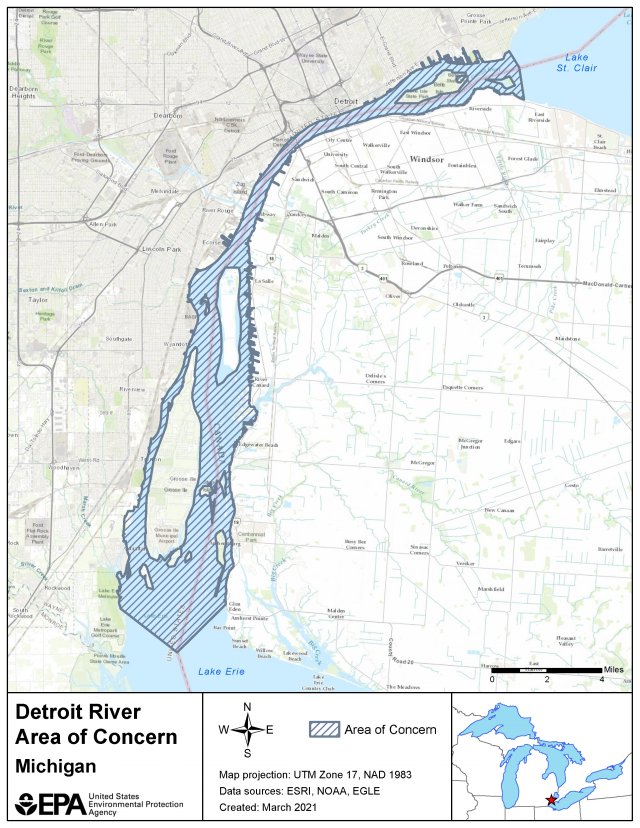 TIMELINE
| | |
| --- | --- |
| Period | Events |
| 1700s-1900s | Industrial development has taken place during this time and people believed in the thought that the "solution to pollution is dilution" (Detroit River Canadian Cleanup) Not only was the Detroit River being impacted environmentally from this misconception, but the overall toxicity forced some fisheries to close, negatively impacting the fishing industries and the economy. |
| 1961 | The Wyandotte National Wildlife Refuge was conceived, which proposed tighter restrictions on river pollution and introduced government funding for cleaning the river (U.S. Fish & Wildlife Service). |
| 1970 | The overall impact of rising mercury levels especially hurt fisheries this time, as efforts by both countries were not enough. This led to a million-dollar investment by both countries towards mobilizing their constituents towards river cleanup (Hartig 2010, 3111). |
| 2001 | After decades of conservation efforts, the Detroit River was designated an American heritage river in 1998 and a Canadian heritage river in 2001 (Essex Region Conservation Authority, 5). Following its recognition of its unique dual heritage status, came numerous initiatives from both sides of the river, such as the DRIWR and the DRCC, to restore the river and its properties. |
| 2001-Present | Ever since then, significant progress has been made to restore the overall watershed. The DRIWR's long-term goal is to protect and restore a healthy ecosystem that can support wildlife populations and diversity. They also aim to coordinate efforts regarding "[protecting] the remaining relatively healthy headwaters, biotic refugia, riparian habitat, and floodplains" (Hartig 2010, 3125). Through annual reports the DRCC shares their results in making sure that the Detroit River is taken off the Area of Concern list (Environmental Protection Agency). They do this by reporting on habitat restoration, monitoring native and invasive animal species, and much more (Detroit River Canadian Cleanup). |
STAKEHOLDERS
The Detroit River is the focus of numerous stakeholders within Canada and the United States, and most of the time these groups will provide a joint effort in restoration, management strategies, monitoring, research efforts and even policy formulation. Untangling this intricate web of stakeholder participation would prove to be a difficult task because not only are local groups invested in restoring the Detroit River, but provincial/statewide projects are included, as well as in a federal/national level.
Canadian Stakeholders (Essex Region Conservation Authority)
Environment Canada
Ontario Ministry of the Environment
Ontario Ministry of Natural Resources
Essex Region Conservation Authority
Detroit River Canadian Cleanup
Detroit River Canadian Heritage River Systems Management Strategy Committee
Great Lakes Institute for Environmental Research
Hiram Walker & Sons
Windsor Port Authority
DaimierChrysler Canada
City of Windsor
Essex District
Town of Lasalle
Town of Amherstburg
CanAM Indian Friendship Centre of Windsor
Caldwell First Nations The Council of Three Fires (The Three Fire Confederacy)
American Stakeholders (Essex Region Conservation Authority)
United States Environmental Protection Agency
Greater Detroit American Heritage River Initative
City of Detroit Recreation
South East Michigan Council of Governments
Greater Detroit American Heritage River
Detroit River International Wildlife Refuge
Wayne County Government
Ford Motor Company
Detroit 300
Government of Belle Isle
Fort Wayne County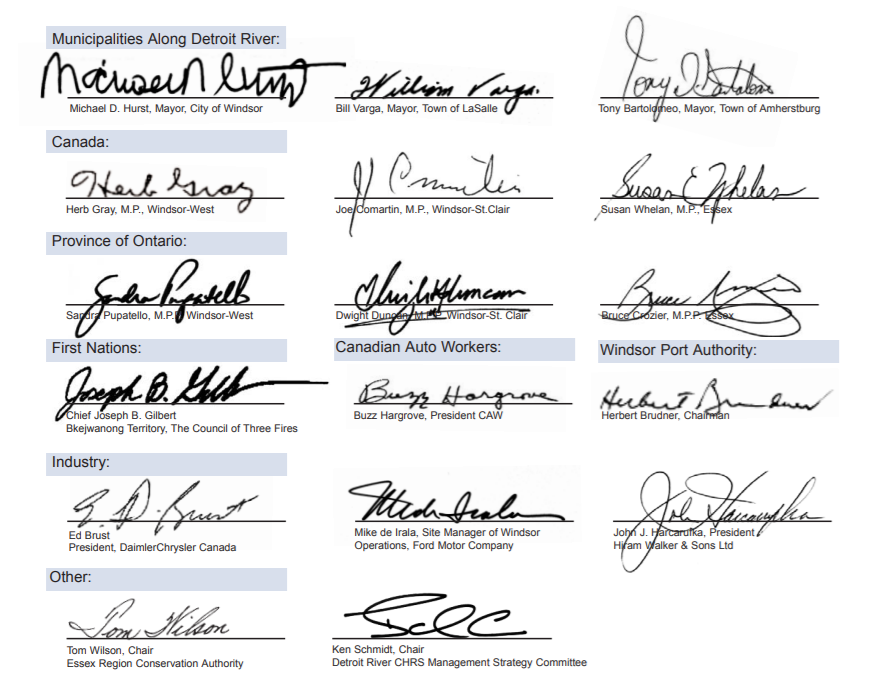 HERITAGE
Natural heritage: UNESCO states that natural heritage refers to areas "that constitute the habitat of threatened species of animals and plants and natural sites of value from the point of view of science, conservation" (UNESCO). Canadian and American initiatives mostly focus on upkeeping and restoring numerous wetlands along the river as it is not only home to numerous aquatic mammals and plant species, but wetlands also "minimize erosion and act as water filters by removing nutrients and sediments from river runoff" (Canadian Heritage Rivers System). The Detroit River also flows directly into the Lake Erie basin, thus creating an issue as high chemical inputs in the Detroit River will go directly into a freshwater reserve that 11 million Canadians and Americans rely on, as well as hundreds of other aquatic species.
The rehabilitation of the Detroit River allows for native fish species, like the lake sturgeon (State of the Strait, 20), to not only repopulate but also possess a less concentration of toxins within their bodies. The re-emergence of native species in the river will allow to support the traditional prey in the area, which also include humans. The river is also home to many rare species found nowhere else in Canada and acts as a migration route for many birds and butterflies (Dingell et al. 2).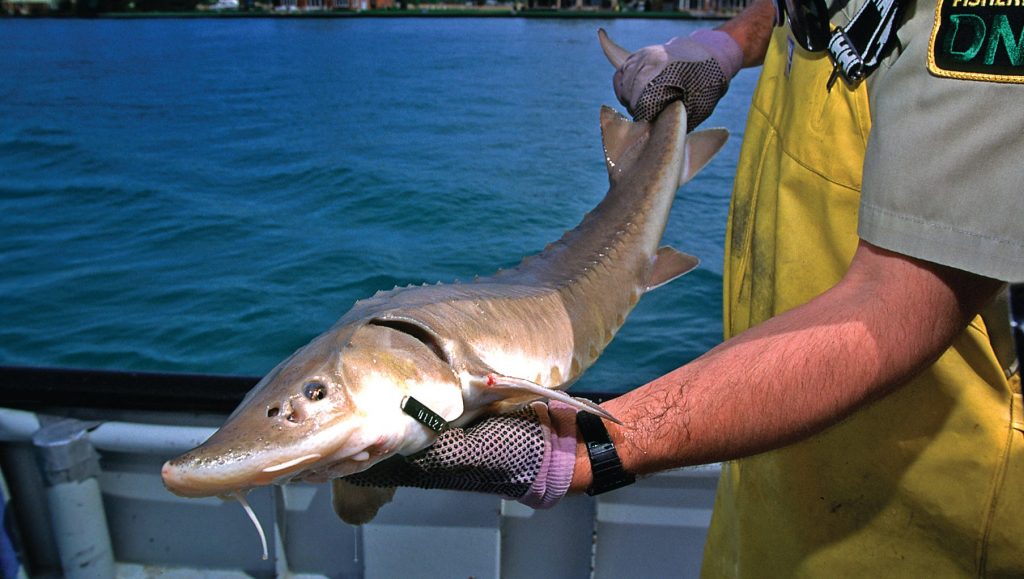 Cultural heritage: For centuries, the Detroit River has witnessed and supported the endeavors of both countries in their journey towards urbanization. Before European contact, the river has been recognized to be the lands of the Three Fires Confederacy, which is an Anishinaabe alliance of the Ojibwe, the Odawa, and the Potawatomi (CPN Cultural Heritage Center). Also known as the Council of the Three Fires the Anishinaabe alliance have a deep history with the land as from the late 17th century until the early 1800s they have waged battle to protect their cultural interests (Fixico, 1). They began to create alliances with other Indigenous groups along the Great lakes, as they found that this was the only way to help preserve their land. Today, located right by the river in Ontario, is the Caldwell First Nations facility that promotes traditional Indigenous teachings, mostly for those who identify as Anishinaabemowin (Caldwell First Nation).
The Detroit River also played a major role during the time of slavery in the United States. The Underground Railroad, active between the 1800s-1860s was a "secret network of financial, spiritual, and material aid for … enslaved people on their path from plantations … to freedom" (Detroit Historical Society) in where is now Amherstburg, Ontario. There were an estimated 200 Underground Railroad stops along Michigan and Detroit was one of the most critical stops as the Detroit River was able to safely transport nearly 30,000 American slaves to freedom (Canadian Heritage Rivers System).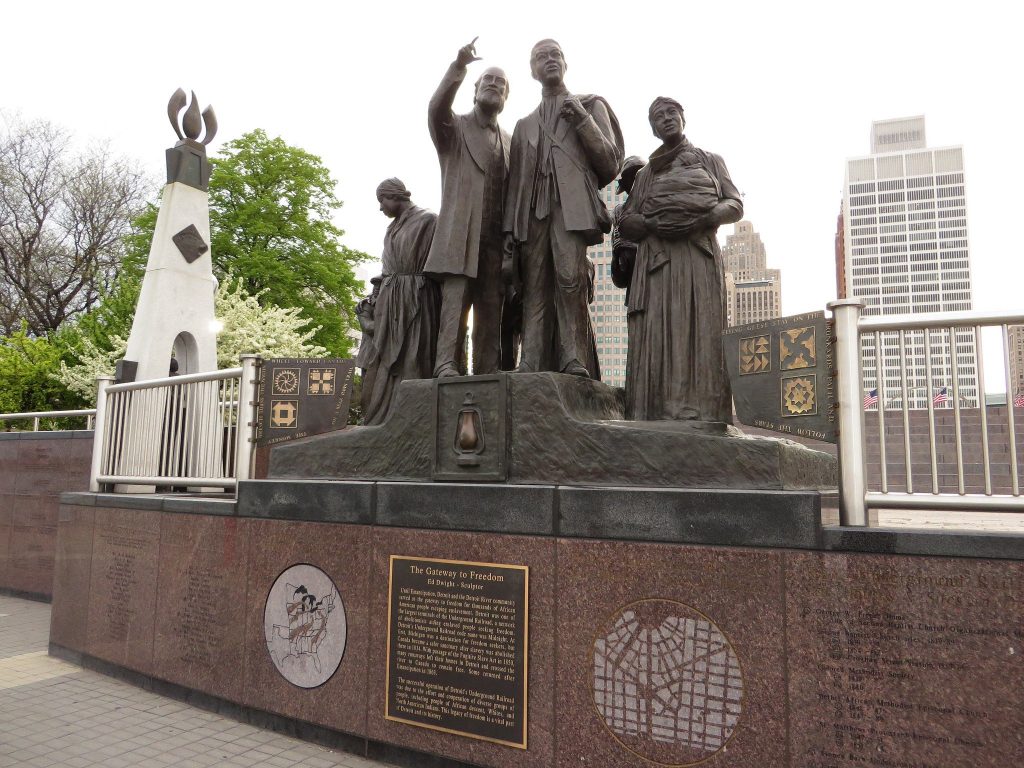 With the National Prohibition starting in 1920, the Detroit River also participated in a very crucial role in developing what is called rumrunning which refers to the "smuggling [of alcohol] over water" (Canadian Heritage Rivers System). This improved Windsor's economy as brewing companies like Hiram Walker and distilleries now had to produce enough for both cities. The way it worked was that shipping vessels from Windsor would have documentation that they would be shipping to South America but would have illegal alcohol shipments ready for bribed officers at the Detroit border to receive them.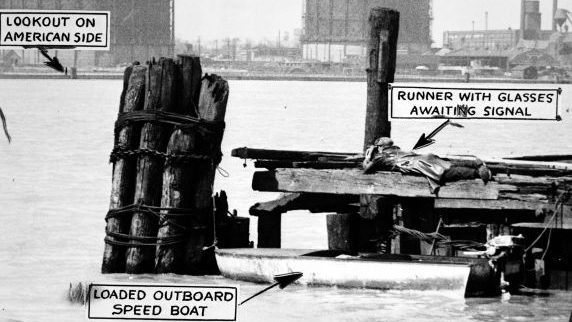 SUSTAINABILITY
Environmental sustainability: Dumping toxic sewage and chemicals has affected the Detroit River the past 200+ years and continues to degrade the overall watershed even until today. The DRIWRconsists of "6,000 acres of unique habitat, including islands, coastal wetlands, marshes, … within an authorized boundary extending along 48 miles of shoreline" (US Fish & Wildlife Service). The DRIWR was able to expand their reach onto Humbug Marsh in 2004, a 410-acre unit which serves as an important habitat for many aquatic species (Hartig 2015, 15084). Adjacent to this marsh was once a Chrysler Corporation manufacturing facility for car parts, but in 2002 Wayne County was able to purchase this land and remediate it into an ecological buffer for the marsh (Hartig 2012, 1043). The DRCC as well was able to start restoration projects on Collavino Wetland which is located down the Detroit River. They hope to "increase native plant presence within the wetland to improve habitat use" (Canadian heritage Rivers System).
Standard shoreline engineering methods are made along coastal cities to help combat erosion, as well as protect urban development from flooding. Hard shoreline engineering uses concrete or steel pillars to fortify the shorelines (Detroit River Canadian Cleanup), which also allows for human development on top of the fortification, increasing its overall efficiency. However, these developments took a toll on the natural environment, disrupting wave currents and altering sediment drift and buildup, ultimately losing coastal wetland habitats (Detroit River Canadian Cleanup). Initiatives like the DRIWR and the DRCC aims to change these structures to soft shoreline engineering which uses organic materials like vegetation to help naturally absorb wave pressure and reduce erosion (State of the Strait: Soft Shoreline Engineering).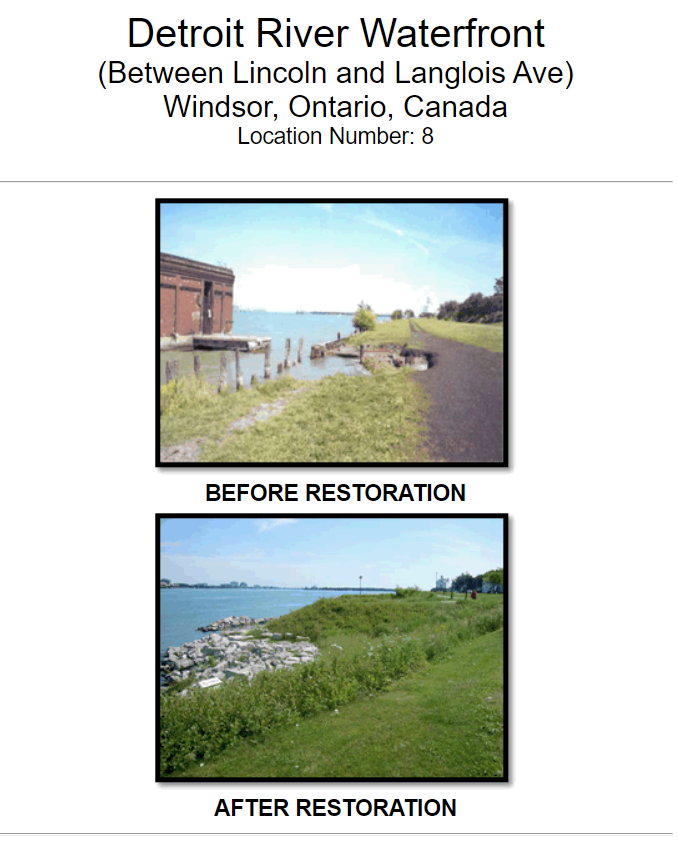 Socio-Economic Sustainability: The pillars of social and economic sustainability work almost hand in hand along the coastline of the Detroit River. The river is a popular landmark for both border cities; Detroit and Windsor, which offers kilometres long of space for parks and additional recreational uses. In a social aspect, the river hosts numerous parks where families can bring their children and spend some quality family time, or even make friends. The Detroit River also hosts more than 10,000 marina slips, allowing for canoeing, recreational boating, and more (Canadian Heritage Rivers System). The installation of stadiums on the river has allowed for concerts, drive in movies, and even carnivals to take place on both sides of the river, making this a local hotspot contributing to the social fabric of both Windsor and Detroit. Due to its long stretch, the river is even known to host numerous marathons and fundraisers such as The Colour Run or even Dragon Boat for a Cure where contestants can sign up and race on a scenic pathway.
These events contribute to the overall economy of both cities as people from across the country are drawn to these events and in turn, money to the businesses along the coast. This allows for businesses like casinos, hotels and even restaurants, to prosper along the river as more people come to enjoy activities by the river, the more profit their businesses will make. Keeping the overall health of the river is not only crucial environmentally, but if the river were to lose its glimmer and glow, then so too will the revenue it attracts.
MEASUREMENT
The Canada-U.S. State of the Strait Conference is a forum that brings numerous stakeholders from both countries together to evaluate the ecosystem status for the Detroit River and overall western Lake Erie (State of the Strait, 4). They compile findings form numerous initiatives along the watershed to help assess the overall success of collective sustainability efforts.
| | |
| --- | --- |
| List of measures | How the project/policy/place does |
| Phosphorus Loads to Lake Erie: The Detroit River provides approximately "80% of the flow that enters Lake Erie" (State of the Strait, 4). It is largely responsible for the large portion of algae production due to high phosphorus discharge. See figure 10. | Detroit River phosphorus loads have declined over the past 18 years, and this was due to the contributions of the Detroit Water and Sewerage Department making improvements in wastewater treatment (State of the Strait, 73). |
| Habitat Restoration: The DRCC, along with partnerships with other agencies, implements actions such as shoreline softening, reef enhancements, and more, to help species repopulate and thrive (State of the Strait, 336). | Regular monitoring has found that native aquatic species such as walleye have been increasing in population around the reef. (State of the Strait, 341). However, the Detroit River is still listed as an Area of Concern despite all this progress and the number one challenge this measure will face is restoring environments within privately owned property. |
| Upkeep of Coastal Wetlands: Coastal wetlands are valuable resources that numerous ecosystems rely on, and is even a source of popular ecotourism. Urbanization has disrupted these ecosystems through destroying shorelines and replacing it with "steel sheet pilling, concrete breakwaters, [and more]" (State of the Strait, 37). | By expanding their reach along the Detroit River coast, the DRIWR was able to acquire more essential wetlands to upkeep the natural biodiversity of the river area (ie. The acquiring of Humbug Marsh). The DRIWR's main goal is to expand their reach to protect the natural biodiversity of the Detroit River area and through small steps, they are truly reaching success. |
| Bald Eagle Reproductive Success: the bald eagle, selected by LAMP, is an indicator of aquatic ecosystem health (State of the Strait, 145). | Bald eagle populations were reported to be declining in the 1950s, almost facing extinction in 1970s due to loss of nesting habitat and healthy prey. Through avid reporting of bald eagles in the area, especially after the banning of DDT in the United States, population numbers have risen to a point where it has been removed from the endangered species list (State of the Strait, 146). |
| Common Tern Breeding Colonies: human activity and structures along the Detroit River promoted the nesting habitat for these species. However due to erosion and predator pressures, their numbers have significantly declined (State of the Strait, 171). | The DRIWR, along with various local organizations, were able to clean up Belle Isle Island by removing vegetation and adding gravel substrate. In about two years, terns began nesting and repopulating again (State of Strait, 172). |
| Osprey Nesting: Osprey, also known as "sea hawks" are one of the largest birds of prey in North America. Similarly with bald eagles, their populations have suffered through the spread of DDT, harming their offspring, and infecting their food source (State of the Strait, 293) | The DRIWR was able to aid the Osprey reintroduction program by not only tracking their populations, but by also nesting pairs of these birds and have them create offspring in a safe environment. The project however has found that international efforts are much needed as birds are still vulnerable to killing or even capture, as one of the tracked birds was found in Cuba where it was hypothesized to be killed by a fish farmer (State of the Strait, 294). |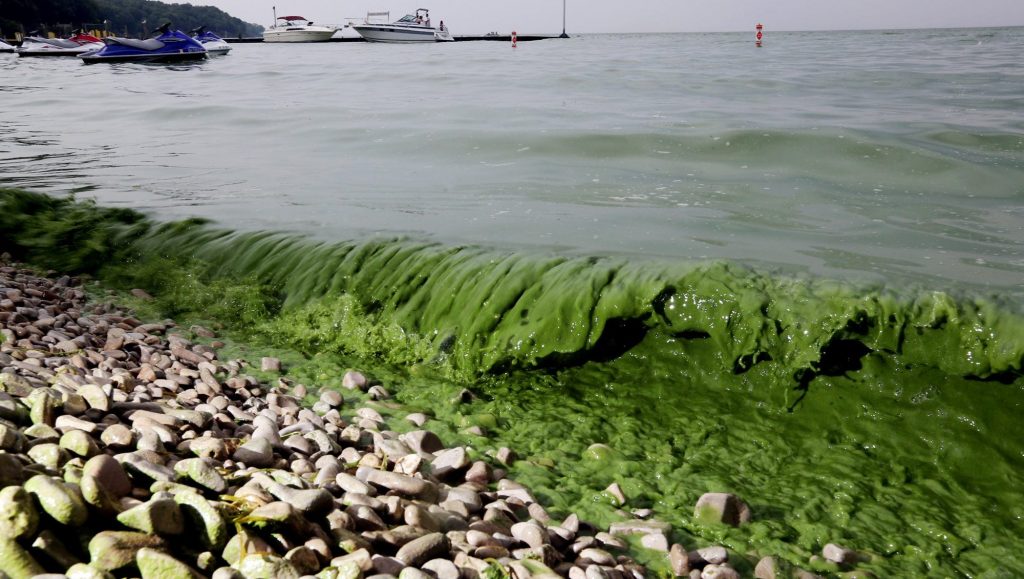 United Nations Sustainable Development Goals (SDGs)
There are three main United Nations SDGs that directly relate to the Detroit River rehabilitation process.
SDG 6: Clean Water and Sanitation. Although this goal focuses more on clean drinking water for communities, target 6.3 aims to improve water quality by reducing the dumping of hazardous chemicals (UN, SDG 6). and that is the goal most of the initiatives along the river try to do as they aim to reduce the dumping of phosphorus, mercury, and other toxic chemicals.
SDG 14: Life Below Water as it clearly focuses on restoring the water for aquatic species to prosper. This can be seen in target 14.1 as it deals with significantly reducing marine pollution of all kinds, and these projects aim to reduce phosphorus loads, among with the dumping of other chemicals, into the river (UN, SDG 14).
SDG 15: Life on Land can also be connected to the mentioned two goals as it focuses on maintaining healthy ecosystems for all forms of life. This can be witnessed in target 15.1 as it deals with conserving and restoring freshwater ecosystems, and more importantly wetlands (UN, SDG 15). As initiatives like the DRIWR and the DRCC focus on maintaining wetlands and their properties, they can be seen to satisfy the proposed target.
WORKS CITED
Books/Book chapters/Journal articles
Fixico, Donald L. "The Alliance of the Three Fires in Trade and War, 1630-1812." The Michigan Historical Review, vol. 20, no. 2, 1994, p. 1-23., doi:10.2307/20173458.
Hartig, J. H., et al. "Habitat Rehabilitation in the Detroit River Area of Concern." Aquatic Ecosystem Health & Management, vol. 21, no. 4, 2018, pp. 458–469., doi:10.1080/14634988.2018.1536437.
Hartig, John H., et al. "Transformation of an Industrial Brownfield into an Ecological Buffer for Michigan's Only Ramsar Wetland of International Importance." Sustainability, vol. 4, no. 5, 2012, pp. 1043–1058., doi:10.3390/su4051043.
Hartig, John & Wallace, Mark. (2015). Creating World-Class Gathering Places for People and Wildlife along the Detroit Riverfront, Michigan, USA. Sustainability. 2015. 15073-15098. 10.3390/su71115073
Hartig, John H., Rebecca S. Robinson, and Michael A. Zarull. "Designing a Sustainable Future through Creation of North America's only International Wildlife Refuge." Sustainability 2.9 (2010): 3110–3128. Available: http://dx.doi.org/10.3390/su2093110.
Policies and reports
Dingell, D. John, et al., A Conservation Vision for the Lower Detroit River Ecosystem. Metropolitan Affairs Coalition, 2011. 1-12.
Essex Region Conservation Authority. Detroit River: A Canadian Heritage River Background Report. 1998
Essex Region Conservation Authority. Detroit River, A Canadian Heritage River Management Strategy. 2001.
Environment and Climate Change Canada and the U.S. Environmental Protection Agency. Lake Erie Lakewide Action and Management Plan, 2019-2023, 2019.
Environment and Climate Change Canada and the U.S. Environmental Protection Agency.Lake Erie, Lakewide Action and Management Plan 2020 Annual Report, 2020.
National Research Council of the United States and the Royal Society of Canada. The Great Lakes Water Quality Agreement : an Evolving Instrument for Ecosystem Management. Washington, D.C. Ottawa, Ontario:National Academy Press; Royal Society of Canada, 1985.
United Nations (2015). Sustainable Development Goal 6.
United Nations (2015). Sustainable Development Goal 14.
United Nations (2015). Sustainable Development Goal 15.
Websites
Banner image: Blanquart, R. Freighter on the Detroit River. [Photograph]. The Detroit Free Press, 2019. A section of the Detroit River that showcases the Ambassador Bridge connecting the two countries together. This bridge is a physical portrayal of the connection both cities have due to sharing the river and its resources.