UBC Renew – Renewal of University of British Columbia's Chemistry Building Centre Block through Retrofits for Energy Efficiency
Case study prepared by Renée Hallé, Carleton University
Keywords: Energy Savings, University, Sustainability, Historic Campus, LEED, Renew
LESSONS LEARNED:
The University of British Columbia is oriented around their sustainability goals, which is reflected in campus policies, development and education. UBC Renew is a program that manifests aspects of environmental, social, cultural and economic sustainability by extending the life of both the individual selected campus buildings but also for the campus as a whole.
"Through UBC Renew, the university has shown it's possible to combine sound fiscal planning, safety, and heritage preservation,"
Janet Leduc, Heritage Vancouver executive director (Campus + Community Planning , 2013)
The foundation of the program is based on how energy savings can help to fund an initiative to reduce the amount of deferred maintenance that UBC has accumulated, this is done by extending the life of campus buildings through renovations and upgrades. UBC Renew provides and example framework to future UBC sustainability initiatives related to improving campus buildings, as well for other universities across Canada, where there is around $3.58 billion in deferred maintenance (UBC News, 2007). This case study focuses on the UBC Renew Chemistry Centre Block project in specific due to its associated heritage value, being one of the oldest buildings on campus. The Chemistry Building provides an example of how to provide retrofits for energy efficiency while still being able to conserve the heritage fabric. It embodies a case that manages to continue its historic use while adapting to be more sustainable.
UBC is unique, as they have taken advantage of the opportunity to become a living laboratory throughout the campus. All utilities, roads and infrastructure are owned by the university, which allows for innovative planning and programs to be developed (UBC Sustainability , n.d.). UBC provides opportunities for the community to be involved in the initiatives by integrating operational and academic challenges. The university recognizes that they represent many communities, which is why stakeholder engagement is important within the planning phase of the program in order to create spaces that are positive.
PRESENTATION
An in class presentation was done on November 14, 2019. The presentation was done based on preliminary research in order to receive feedback on the direction of the case study. The slides can be viewed through the link attached.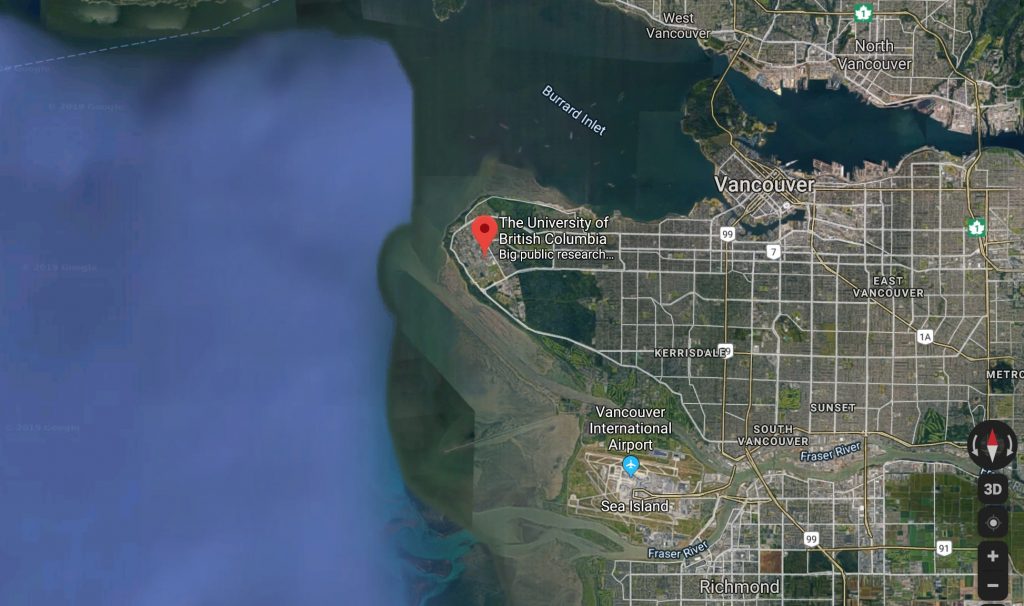 Figure 1. Aerial image of the University of British Columbia in context with Vancouver [Photo from Google Maps https://www.google.com/maps]
DESCRIPTION
The University of British Columbia (UBC) Vancouver Campus is situated on the traditional territory of the Musqueam people, within the city of Vancouver at the western tip of the Point Grey peninsula. Sustainability is one of the core principles within the university, which is reflected through their policies, planning, programs, clubs, courses and other initiatives. One of the sustainability related initiatives which started in 2003 is UBC Renew, a program created to achieve cost savings through upgrades to aging campus buildings. UBC Renew is an equal collaboration between UBC and the BC Government, providing $120 million in funds to allow for upgrades, which allows for long-term cost savings through reduced energy use within existing buildings (UBC News, 2007). The program targeted 10 campus buildings (as seen in the image below) focusing on five categories for renewal (CAUBO, 2007):
Academic improvements,
Capital renewal (building systems upgrades – extend life and renew capital assets),
Code and safety upgrades (access, fire safety, etc),
Seismic upgrades,
Asbestos abatement
In order to decide which buildings would qualify for the program, the cost for renewing the building had to be no more than 67% of the cost of a comparable new building, meaning that essentially every third building is free (KD Engineering, n.d.). Each building must also achieve a Leadership in Energy and Environmental Design (LEED) Silver certification or better, which is a North American system for rating green buildings. On top of achieving LEED standards, each project must also align with the Sustainability goals set out by UBC.
Over the years, UBC has accumulated $320 million in deferred maintenance due to multiple reasons such as aging facilities, the need to build for new space, funding cutbacks, limited budgets, etc.
"Deferred maintenance is the is the total dollar amount of existing major maintenance repairs and replacements identified through an audit of buildings, grounds, fixed equipment and infrastructure needs"
(UBC News, 2007)
UBC Renew will reduce the amount of deferred maintenance by $77.4 million, while also prolonging the life of the existing buildings by 25-40 years (UBC News, 2007).
This case study focusses specifically on the Chemistry Centre Block UBC Renew project. The Chemistry Centre Block is a significant campus building as it was one of the three original permanent buildings apart of the Point Grey Campus. Being the oldest campus building, by 2008 it was due for maintenance and upgrades. The building contains both synthetic labs that need fume hoods and analytical labs with computers. UBC Renew gave the opportunity to create state of the art laboratory spaces, which allow for adaptability (KD Engineering, n.d.). Table 1 gives an overview of the upgrades done to conserve energy, water and heritage features, enhance interior environments and safety, and reduce construction waste. Although not designated heritage, the Chemistry Centre Block has both architectural and historical importance to the university and makes a unique case for UBC Renew in order to preserve the heritage fabric throughout the renewal process.
Table 1. Chemistry Centre Block UBC Renew Overview (KD Engineering, n.d.)
Energy Conservation
-High efficiency lighting
-Heat recovery from building exhaust
-High efficiency pumps
-Hot water heat savings – low flow fixtures
-District steam heating incorporated to heat hot water
-2 year contract with Bullfrog Power
-700.3 MJ/m2 annually – 21% savings
Interior Environment
-Large operable windows
-Non-load bearing concrete masonry walls removed -Brighter open spaces
-Existing skylights uncovered
-Drop ceilings removed
-Cross ventilation High thermal mass – stable indoor conditions
-Ventilation system upgraded to meet ASHRAE
-New piping to existing radiators
-All finishes low volatile organic compounds (VOC)
Water Conservation
-Low flow and flush fixtures installed
-20% water savings
Heritage Conservation
-Repaired and cleaned granite facades
-Preserved structure
-Preserved copper scuppers
-Preserved interior corridors
-Preserved and repaired single-paned leaded windows
-Preserved details
-Refurbished oak doors when possible
Safety
-Seismic upgrades – foundation, columns, beams and roofing
-Brought up to current codes
Construction Materials/ Waste
-60% interior retained – ceilings, walls, floors
-80% of construction waste sent to recycling or refurbishment facilities
-Used 18.9% of materials with recycled content – gypsum board, steel studs, toilet partitions
-22.4% of building finished came from local sources
Costs
-$31.8 million
-67% savings – compared to $47.7 million to build new
Rating System
-LEED Silver certification – See measurement section for more details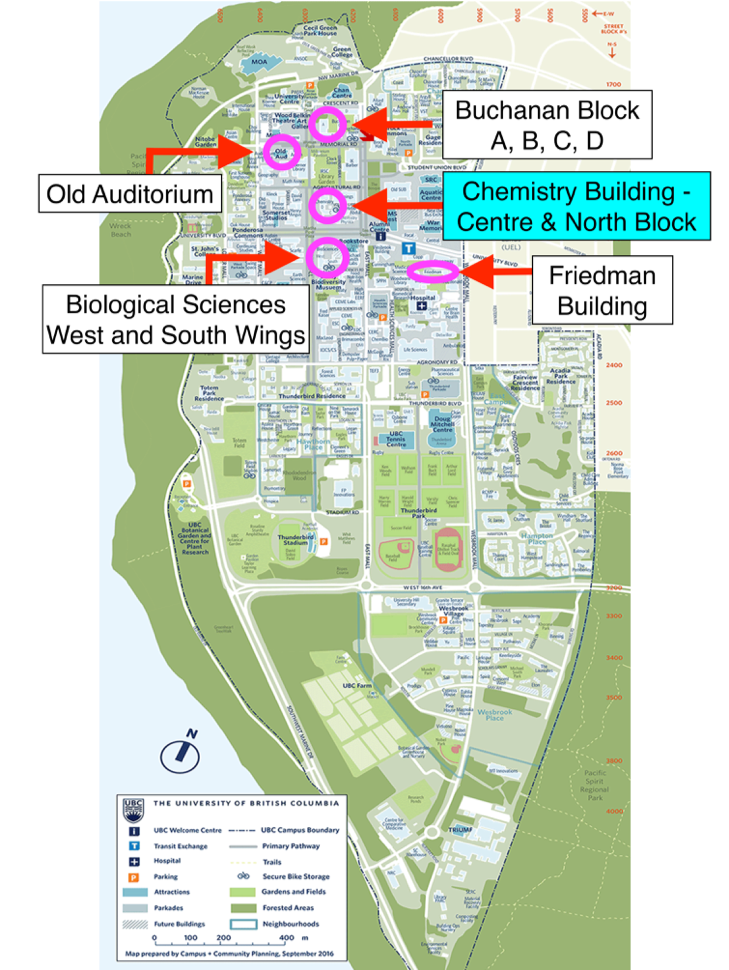 TIMELINE
The link above provides a longer timeline including more dates relating to the universities establishment, student growth and indigenous initiatives. The bolded text throughout the timeline represents events that are related directly to the Chemistry Building.
Pre-University
| | | |
| --- | --- | --- |
| Pre-contact | | For thousands of years land inhabited by the Coastal Salish Peoples, in particular the Musqueam First Nation, as well the Squamish and Tsleil-Waututh peoples (A Brief History of UBC, 2018) |
| 1791 | | First contact between European explorers and Indigenous peoples on what is now Point Grey (Vancouver Planning Chronology , 2016) |
| 1859 | | Pre-emption Law and Creation of Military and Indian Reserves (A Brief History of UBC, 2018) |
| 1860 | | Point Grey established by British government as Colonial Admiralty reserve (A Brief History of UBC, 2018) |
| 1865 | | 21-year timber lease on Point Grey (A Brief History of UBC, 2018) |
University Establishment
1877
Initial proposal for a provincial university (A Brief History of UBC, 2018)
1890
An Act Respecting the University of British Columbia passed (A Brief History of UBC, 2018)
1907
University Endowment Act provides funding for a provincial university (A Brief History of UBC, 2018)
Land carved away from part of South Vancouver to create Point Grey Municipality (A Brief History of UBC, 2018)
1908
Provincial legislature passes new University Act to establish UBC (A Brief History of UBC, 2018)
1910
Point Grey selected as site for UBC campus (A Brief History of UBC, 2018)
1913
Sharp and Thompson appointed as University Architects (A Brief History of UBC, 2018)
1914
Point Grey campus construction begins. Halted due to the First World War (A Brief History of UBC, 2018)
1922
"The Great Trek" from downtown Vancouver to Point Grey to persuade completion of campus buildings (A Brief History of UBC, 2018)
1925
Point Grey Campus opens. Science (now Chemistry) Building construction complete (A Brief History of UBC, 2018)
Post Point Grey Campus Opening
1949
Science building name changed to Chemistry Building (Department of Chemistry, n.d.)
1959
B Block addition to Chemistry building – houses teaching laboratories (Department of Chemistry, n.d.)
1962
E Block addition to Chemistry building – housed administrative offices, now used for research
Annex behind Chemistry building torn down to make space for C Block addition (Department of Chemistry, n.d.)
1963
C Block addition to Chemistry building – new spaces for undergraduate laboratories (Department of Chemistry, n.d.)
1989
A Block addition to Chemistry building – area for research (Department of Chemistry, n.d.)
1997
UBC became Canada's 1st university to adopt a sustainable development policy (History of UBC Campus Sustainability , 2010)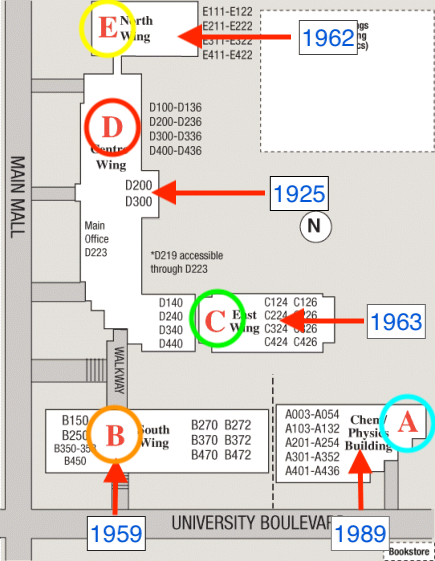 Figure 5. Floor plan of the Chemistry Building including dates for each block addition. Image modified by author from https://www.chem.ubc.ca/floorplan-chemistry-complex
UBC Renew Projects
2003
UBC Renew program began (CAUBO, 2007)
2006
Chemistry North Building project completed (UBC News, 2007)
2007
[April] Buchanan Block D project completed
[November] Buchanan Block C project completed (UBC News, 2007)
2008
[May] Chemistry Centre Block project completed
[September] Friedman Building project completed (UBC News, 2007)
2009
[May] Buchanan Block B project completed (UBC News, 2007
2010
[May] Old Auditorium project completed (Infrastrucutre Development , n.d.)
[June] Buchanan Block A project completed (UBC News, 2007)
2011
[April/May] Biological Sciences West and South Wings project completed (Infrastructure Development , n.d.)
STAKEHOLDERS
The stakeholders listed below under organizations and owners/users apply broadly for the entire UBC Renew program, while the consultants listed are specific to the Chemistry Centre Block project. UBC ensured that engagement between stakeholders was present throughout the program. Through surveys, questionnaires, group meetings, one-on-one conversations and on-going communication, stakeholders could address their opinions and concerns for any of the plans within UBC Renew (CAUBO, 2007). By making the process more inclusive and collaborative, spaces could be renovated so that they are more beneficial and enjoyable, meeting the needs of those who make use of spaces within the buildings.
Organizations

Provincial Government of British Columbia

Owners/Users

University of British Columbia: Owner of UBC Renew selected buildings

UBC community: Users

On campus: facilities, sustainability officers and the academic departments

Consultants

Henriquez Partners Architects: Architect

Stantec Consulting Ltd.: LEED consultant, Mechanical and Energy Engineering

Loh CY & Associates: Structural

Phillips Farvaag Smallenberg: Landscape architecture

Ledcor Special Projects: General contractor

KD Engineering Co.: Commissioning agent

UBC Project Services: Project manager
HERITAGE
Over the past 100 years, UBC has undergone different visions for campus planning, influenced by changing social movements and Board of Director members. The 1914 Campus Plan envisioned by Henry Esson Young was for the University to be in a prominent visible location to be seen from the Buarrd Inlet. Post Second World War, the campus took a turn towards modernism and away from the direction of the 1914 plan, with the majority of the academic core being built between 1950-80. A new plan in 1992 criticized this sprawl and planned to bring cohesion back to the academic core while establishing UBCs identity as a beautiful campus within a natural setting. The 1997 Official Community Plan for Point Grey expanded around the perimeter of the university by adding varying housing developments, transforming UBC to resemble a small city. Throughout UBC's changing campus, it has remained a model for how natural and cultural heritage are interconnected through the use of land and growing community within the landscape. A cultural landscape study was done in 2009 to define what is valued within UBCs campus by providing a thematic framework to better understand these values. Some of the heritage character defined under the thematic framework includes the forested edge, significant trees, campus malls, vistas to the natural setting, and the modernist landscape to name a few (Birmingham, Wood, Cook, Barman, & Damer, 2009).
Natural Heritage: When analyzing the Chemistry Centre Block as a building, it is more evident to understand the tangible cultural heritage aspects. It is necessary to step back from the building in order to understand the natural heritage components through the landscape in which the building is set in. UBCs landscape is defined by its context with views overlooking the Georgian Strait and mountains north and west of the campus with forests enclosing the campus perimeter on land. The Chemistry Centre Block entrance is located on Main Mall rd, which is a vibrant pedestrian walkway that has been converted into a greenway eliminating all vehicular traffic and incorporating more greenery and public spaces. The building entrance is also shaded by several red oak trees, which can be seen throughout the Main Mall greenway. Some of the red oaks were planted in the 1920s and have been maintained in order to honour the history of the 1914 campus plan (Campus + Community Planning, 2019).
The UBC Renew program indirectly promotes the continuation of the campus's natural heritage. Each renewal project approaches waste in a way that minimizes and carefully sorts it out so that materials can be recycled or refurbished, limiting the contribution to landfills. Renewing existing buildings also reduces the need for new infrastructure to be built, which may have adverse on the natural heritage aspects of the campus.
Cultural Heritage: The Chemistry Centre Block is a significant historic building on campus, designed by architects Sharp and Thompson it was part of the original vision of the 1914 campus master plan to create a grand campus. The neo-classical stone structure represents the establishment of the Point Grey campus and the student campaign that went into building the campus. The Great Trek in 1922 involved students marching from downtown Vancouver into Point Grey, with students sitting on the frame of the Chemistry Building (Science Building at the time), in order to persuade the completion of the campus buildings.
Through UBC Renew, the tangible and non-tangible aspects of cultural heritage were conserved throughout the renewal of the Chemistry Building. It is essential that the heritage fabric, such as the leaded windows and exterior granite façade not be replaced as they are key features that create a sense of place by representing a certain period in history. The images below show before and after UBC Renew project completion, giving a sense of the extend of upgrades done to the interior.
Although there is no official heritage designation, the heritage fabric of the building includes its grey BC granite exterior, leaded glass windows, oak panelled doors and granite tiles. The province of British Columbia does not designate heritage within the province, the Vancouver Heritage Register is responsible for recognizing buildings, trees, parks, monuments and archaeological sites within the city.
Stewardship: A synergy between cultural and natural heritage within UBC is seen through their relationship with the Musqueam First Nation. UBC Renew and the Chemistry Centre Block represent a fairly recent culture and history, but it is not possible to celebrate and conserve the creation of UBC without acknowledging the past and continued use of the land. Musqueam First Nation and UBC have a long-standing partnership, which was formally established in 2006 through the Memorandum of Affiliation (A Brief History of UBC, 2018). By working together the university seeks to interlace the lands history and culture through art and language. The university also provides strategies for academic programs, financial support, inclusion of indigenous languages and youth engagement for indigenous peoples. The image below is of the installation of the Reconciliation Pole in 2017, carved by Haida master carver James Hart, it represents the history of residential schools with the hope that people can understand their responsibility to reconciliation (Ward, 2019).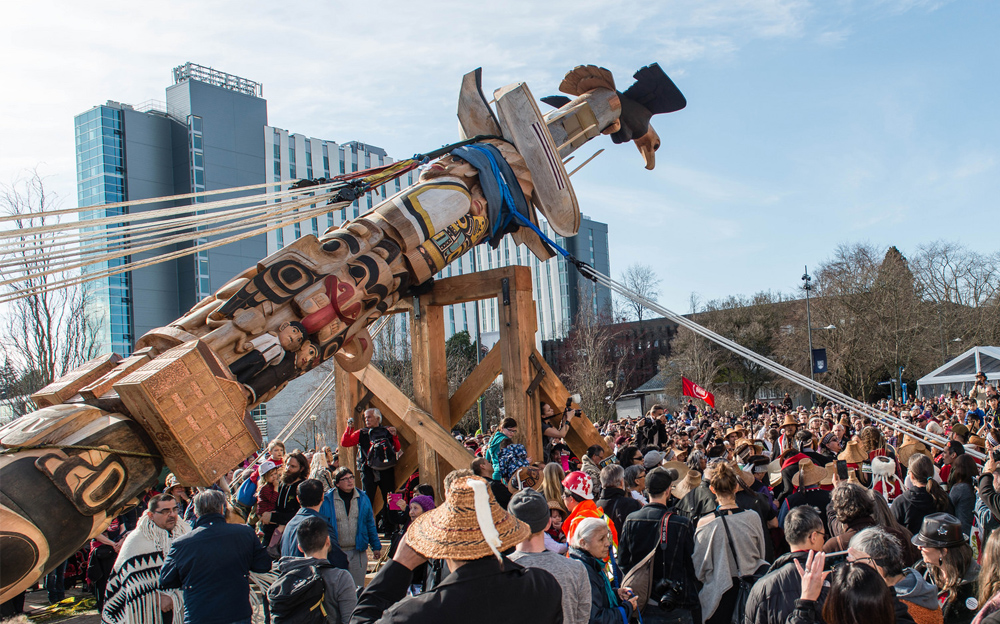 SUSTAINABILITY
UBC is committed to integrating sustainability throughout the entire campus. Certain university policies such as the 20 Year Sustainability Plan (2014), Annual Sustainability Reports including performance charts, Climate Action Plan (2020), etc., help to develop goals and targets in which programs such as UBC Renew can help to achieve. UBC Sustainability works with the Musqueam First Nation in pursuit of sustainability and caring for the land. UBC's Campus as a Living Laboratory initiative allows for unique experimentation to be done regarding sustainability initiatives.
Environmental Sustainability: Energy use in buildings accounts for 95% of UBCs greenhouse gas (GHG) emissions (Lankester, 2018 ). UBC Renew was created in order to address the GHG emissions from energy demand within existing buildings by upgrading to more energy efficient systems for lighting, HVAC and water heating. Table 1 shows the UBC Renew Chemistry Centre Block interventions for environmental sustainability, including the amount of energy and water savings and the amount of waste reduction achieved. Seismic upgrades to the UBC Renew buildings also provides resiliency towards earthquakes of a stronger magnitude. A major earthquake could occur at anytime in British Columbia, therefore designing for risk is important within sustainability planning.
Sociocultural Sustainability: Before implementing UBC Renew projects, collaboration with stakeholders, including future users, is done in order to understand what upgrades are needed to create better spaces. Social inclusion within decision-making is a vital step in the planning process, as it can create a stronger sense of community and inclusion. According to Landorf: "individuals who actively participate in a local community have stronger ties to that community and, furthermore, individual participation is enhanced by strong feelings of connection and identification with a community" (Landorf, 2011, p. 466). This is important within a university as it is an intersection of diverse communities and different buildings may be of importance to different people. The Chemistry Centre Block developed spaces that are more conducive to learning by creating spaces that are more open and adaptable to different uses. By conserving the main heritage aspects of the building, a sense of place for the community is retained with the existing building while allowing for upgrades to be done enhancing user experience and safety.
Economic Sustainability: The economic model for UBC Renew is made possible through the long-term energy savings that will occur as a result of the energy efficient retrofits provided to each building. Funding for the program was received from UBC and the Provincial Government, each contributing $60million (UBC News, 2007). One of the requirements for each project was that the renewal had to be no more than 67% of the costs of a comparable new building, meaning that essentially every third building renewed is free (UBC News, 2007). Addressing the universities deferred maintenance reduces some of the debt the university has accumulated.
MEASUREMENT
Leadership in Energy and Environmental Design (LEED): LEED is a rating system that provides a framework for designing healthy, efficient cost saving green buildings. LEED provides different rating systems depending on the type of project whether it's building design, interior design, building operation and maintenance, etc (CaGBC, 2013). The rating focuses on five key areas of both environmental and human health such as sustainable site development, energy and water efficiency, material and resource selection, and indoor environment quality. The Chemistry Centre Block was rated using LEED Canada for New Construction and Major Renovations 1.0, achieving 39/70 points to obtain a LEED Silver Certification. Based on the scorecard seen in Table 2, the Chemistry Building achieves high scores in the resources and materials, and indoor environment quality sections due to the focus on waste reduction and interior environment initiatives as seen in Table 1. There is the potential to have achieved more points in water and energy efficiency by creating water efficient landscapes and further optimizing the energy performance of the building, however both of these interventions may cause further impact to the heritage fabric. For example, further energy optimization could be achieved by replacing the windows since the historic single-pane leaded windows are energy inefficient, but replacement of the windows would detract from the overall character of the heritage building. UBC has also created a LEED Implementation Guide in 2009 to help guide future LEED projects within the Vancouver Campus, mandating that all new construction and major renovations be up to LEED Gold certified or better (UBC Sustainability , n.d.).
Table 2. UBC Chemistry Centre Block Renewal Project Score Card LEED Canada for New Construction and Major Renovations 1.0
39/70 Points achieved (CaGBC, 2013)
Category
Points Achieved
Sustainable Sites
7/14 Points achieved
-Erosion & Sedimentation Control
-Site Selection
-Development Density
-Alternative Transportation, Public Transportation Access
-Alternative Transportation, Bicycle Storage
-Heat Island Effect, Non-roof
-Heat Island Effect, Roof
-Light Pollution Reduction
Water Efficiency
1/5 Points achieved
-Water Use Reduction, 20% Reduction
Energy & Atmosphere
9/17 Points achieved
-Fundamental Building Systems Commissioning -Minimum Energy Performance CFC Reduction in HVAC&R Equipment
-Optimize Energy Performance
-Renewable Energy, 5%
-Renewable Energy, 10%
-Ozone Protection Green Power
Materials & Resources
9/14 Points achieved
-Storage & Collection of Recyclables
-Building Reuse: Maintain 75% of Existing Walls, Floors, & Roof
-Building Reuse: Maintain 95% of Existing Walls, Floors, & Roof
-Building Reuse: Maintain 50% of Interior Non-Structural Elements Construction
-Waste Management: Divert 50% from Landfill
-Construction Waste Management: Divert 75% from Landfill
-Recycled Content: 7.5% (post-consumer + ½ post-industrial)
-Recycled Content: 15% (post-consumer + ½ post-industrial)
-Regional Materials: 10% Extracted & Manufactured Regionally
-Regional Materials: 20% Extracted & Manufactured Regionally
Indoor Environment Quality
9/15 Points achieved
-Minimum IAQ Performance Environmental
-Tobacco Smoke (ETS) Control
-Construction IAQ Management Plan: During Construction Construction
-IAQ Management Plan: Testing Before Occupancy
-Low-Emitting Materials: Adhesives & Sealants
-Low-Emitting Materials: Paints & Coating
-Low-Emitting Materials: Carpet
-Low-Emitting Materials: Composite Wood & Laminate Adhesives
-Controllability of Systems: Perimeter Spaces
-Thermal Comfort: Compliance with ASHRAE 55-2004
-Thermal Comfort: Monitoring
Innovation & Design Process
4/5 Points achieved
-Innovative in Design: Green Education
-Innovative in Design: Green Housekeeping
-Innovative in Design: Exemplary Performance: Green Power
-LEED Accredited Professional
Sustainable Development Goals: The sustainable development goals (SDG) can be used as another measurement tool for this case study. The SDGs were developed in 2015 to be used as a guide to achieve more a sustainable future for all. I have chosen two SDGs, 4 and 11 that relates to education and sustainable cities and communities respectively.
| | |
| --- | --- |
| Goal 4: Quality Education: Target 4a. Build and upgrade education facilities that are child, disability and gender sensitive and provide safe, non-violent, inclusive and effective learning environments for all | Through UBC Renew, old campus facilities were upgraded to create more inclusive environments for learning. This was done through upgrades for accessibility as well as creating environments that allow for effective learning. By providing the proper tools for education and research UBC Renew helped to further the academic potential for both students and staff. |
| Goal 11: Sustainable Cities and Communities: Target 11.4. Strengthen efforts to protect and safeguard the world's cultural and natural heritage | As mentioned in the heritage section, cultural and natural heritage are important aspects of the universities campus landscape. UBC Renew strengthens the protection of the historic fabric of the buildings, which enhances the overall university landscape. (United Nations , n.d.) |
REFERENCES:
Books/Books chapters/ Journal articles
Landorf, C. (2011). Evaluating social sustainability in historic urban environments . International Journal of Heritage Studies , 17 (5), 463-477.
Policies and Reports
Birmingham, Wood, Cook, Barman, & Damer. (2009). UBC Campus Historical Context and Themes. University of British Columbia.
Lankester, C. (2018 ). Campus Energy Infrastructure Study . University of British Columbia , UBC Sustainability Scholars Program .
Websites
A Brief History of UBC. (2018, Febuary 19). Retrieved November 2019, from The University of British Columbia: https://archives.library.ubc.ca/general-history/a-brief-history-of-ubc/
Canada Green Building Council. (2013, September 25). Project Database. Retrieved from https://leed.cagbc.org/LEED/projectprofile_EN.aspx
Campus + Community Planning . (2013, September 04). UBC recognized by Heritage Vancouver for building revival program. Retrieved from The University of British Columbia: https://planning.ubc.ca/news-events/newsletter/2013-07-30/ubc-recognized-heritage-vancouver-building-revival-program
Campus + Community Planning. (2019). The Red Oaks of Main Mall. Retrieved 2019, from The University of British Columbia: https://planning.ubc.ca/vancouver/planning/policies-plans/trees/red-oaks-main-mall
CAUBO. (2007). Quality and Productivity Database . Retrieved 2019, from CAUBO: https://www.caubo.ca/knowledge-centre/quality-productivity-database/entry/4788/
Department of Chemistry. (n.d.). History. Retrieved October 2019, from The University of British Columbia: https://www.chem.ubc.ca/history
History of UBC Campus Sustainability . (2010, Janurary 25). Retrieved November 2019, from The University of British Columbia: https://sustain.ubc.ca/news/history-ubc-campus-sustainability
Infrastructure Development . (n.d.). Biological Sciences West and South Wings UBC Renew. Retrieved October 2019, from The University of British Columbia: http://infrastructuredevelopment.ubc.ca/projects/biosciences-west-south-renew/
Infrastrucutre Development . (n.d.). Old Auditorium UBC Renew. Retrieved October 2019, from The University of British Columbia: http://infrastructuredevelopment.ubc.ca/projects/old-auditorium-renew/
KD Engineering. (n.d.). UBC Chemistry Centre. Retrieved 2019, from https://kdengineering.ca/services/projects/
UBC Aboriginal Timeline. (n.d.). Retrieved November 2019, from The University of British Columbia: https://archives.library.ubc.ca/general-history/a-brief-history-of-ubc/
UBC News. (2007, November 19). Arts Building Renovated: Part of Sustainable Campus Renewal. Retrieved October 2019, from The University of British Columbia: https://news.ubc.ca/2007/11/19/archive-media-releases-2007-mr-07-101/
UBC Sustainability . (n.d.). Campus as a Living Laboratory . Retrieved 2019, from The University of British Columbia : https://sustain.ubc.ca/campus-living-laboratory
United Nations . (n.d.). About the Sustainable Development Goals . Retrieved 2019, from Sustainable Development Goals : https://www.un.org/sustainabledevelopment/sustainable-development-goals/
Vancouver Planning Chronology . (2016). Retrieved November 2019, from Tiki-Toki : https://www.tiki-toki.com/timeline/entry/473727/Vancouver-Planning-Chronology/#vars!date=1790-09-15_15:12:11! Ward, K. (2019, March 30). UBC Life Blog . Retrieved from The University of British Columbia : https://students.ubc.ca/ubclife/what-reconciliation-pole